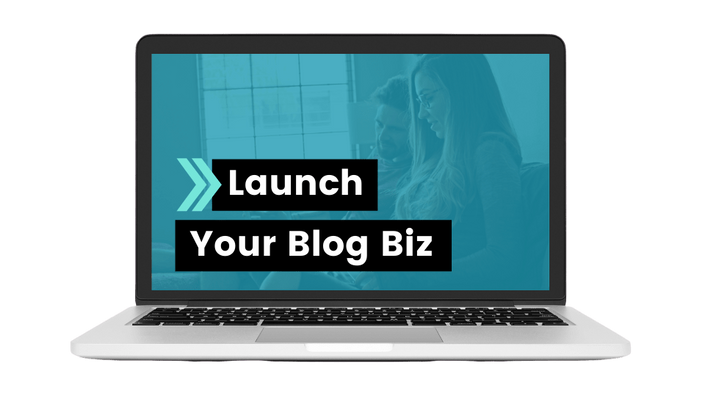 Launch Your Blog Biz
Your solution to launch and grow a blog to $1,000/month – without tech wizardry or scammy sales tactics!
Our Blogging Career Started Out With a Big Fat Failure
Hey, there! We're Lauren and Alex, and the photo below is from our very first health and wellness blog.
Back when we believed we could get drunk off mimosas and put pictures of our food on the internet to make money. Hats off to all of you influencers that have that one figured out! 🥂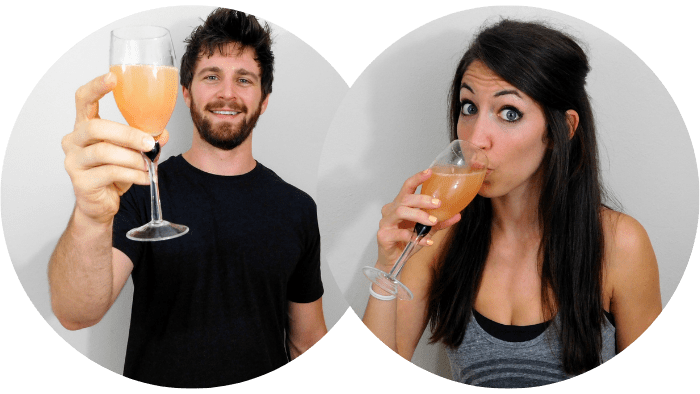 We're pretty average people that led pretty average lives before we started a blog.
I was a recently licensed CPA and tax accountant at a small firm in Dallas. Alex was a personal trainer advising people to please-for-the-love-of-god-stop-eating-so-much.
Like many people, we had thoughts of escaping our 9-5 and traveling the world before we were old enough to retire.
We were tired of limited vacation time and chasing weekends that never lasted long enough.
We were tired of capped salaries to build someone else's dreams.
So, we started a blog.
We worked nights and weekends and poured our hearts and souls into it. We had so many great ideas and we truly wanted to help people.
But it wasn't enough.
We had absolutely NO idea what we were doing, and our first blog BOMBED HARD because of it.
And it wasn't just the wasted time... We spent a LOT of money on software and other things that we didn't need at the time.
Courses on courses. Webinars on webinars. Launches on launching. The things everyone was else was saying would lead us to our online money tree.
But a few months later, we learned that none of it was truly a waste.
Because it was through these experiences, early failures, and trial and error that we finally found our path.
We Made Every Mistake In the Book the First Time Around
🙇🏻‍♀️ 1. We weren't focused on the right things at the right time.
The courses that we took and the advice that we got weren't all bad. They just weren't right for us at that time. We didn't know what we should be focused on when. We just tried to throw everything up at the wall to see what would stick.
🤯 2. We got really hung up on some of the techy parts.
We spent weeks messing with the design of our blogs, trying to learn some coding to make it perfect. In reality, this was a huge waste of time and it slowed us down tremendously. We didn't have any direction on what really mattered or how to get there. We just tried to mimic other websites.
💭 3. We didn't know anything about creating content with a purpose.
We created the content that WE thought other people wanted to read. Our blog very quickly became about us – not our readers. Instead, we should have been listening to our readers and doing research into what they were looking for.

🤑 4. We were too focused on making money and not on building an audience.
We had people showing up to read our blog, but we had no idea how to connect with them and learn more about them – which is the first step towards helping them and making money. So, we just simply kept doing the same thing over and over again hoping for a different result.
But we learned a thing or two along the way...
We Started a Second Blog...
Despite the failures, we were REALLY enjoying working on our blog and learning so much from it. We weren't giving up.
We stayed in our lane with health and wellness, because this was the only thing we knew.
And we started a completely new blog called Avocadu.
After months of blogging with zeros across the board, we had a breakthrough.
We tried something new.
And we made our first $172.82 with our blog!
It doesn't sound like much, but it meant the world to us.
It meant that we could do this. We proved it was possible.
It was gas money. Grocery money. Money to pay for some of our blogging expenses

We just needed to learn how to make MORE!
And that we did...
You see, the setup is everything.
If you build the right foundation and you focus on the right things, you'll save yourself months of zeroes and question marks.
From here, we grew and grew.
We earned $103,456.98 in our first year.
Now, we make much more than that: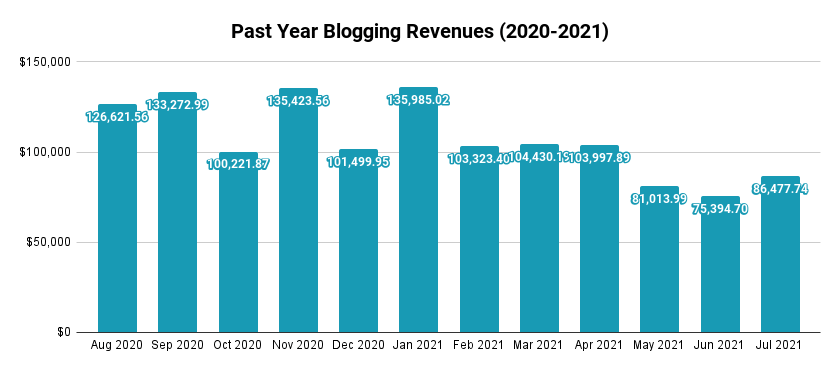 We took all the lessons we learned and built not just one but TWO successful, six-figure blogs.
This is our health and wellness blog, Avocadu.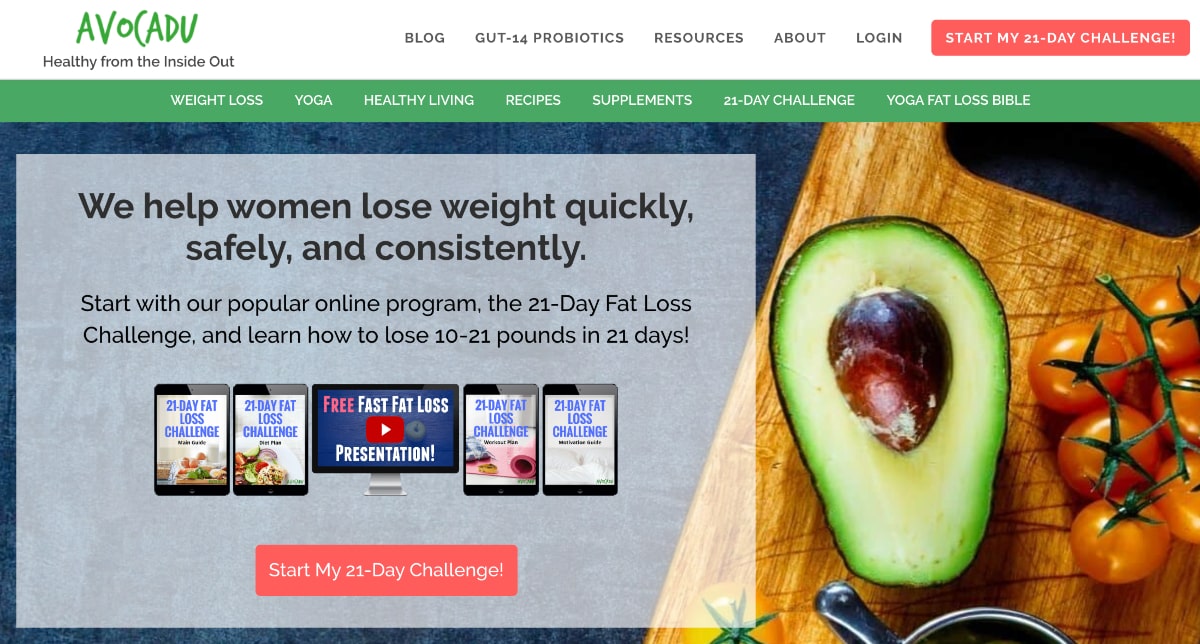 Month 1: We successfully launched and built our blog from scratch!
Month 3: We got tons of visitors to our blog, grew our email list, and started building an audience.
Month 6: We made $17,163.98 with our blog!
Year 1: We earned a total of $103,467.98 and started traveling the world!

Then We Launched Another Blog
This is our business blog, Create and Go.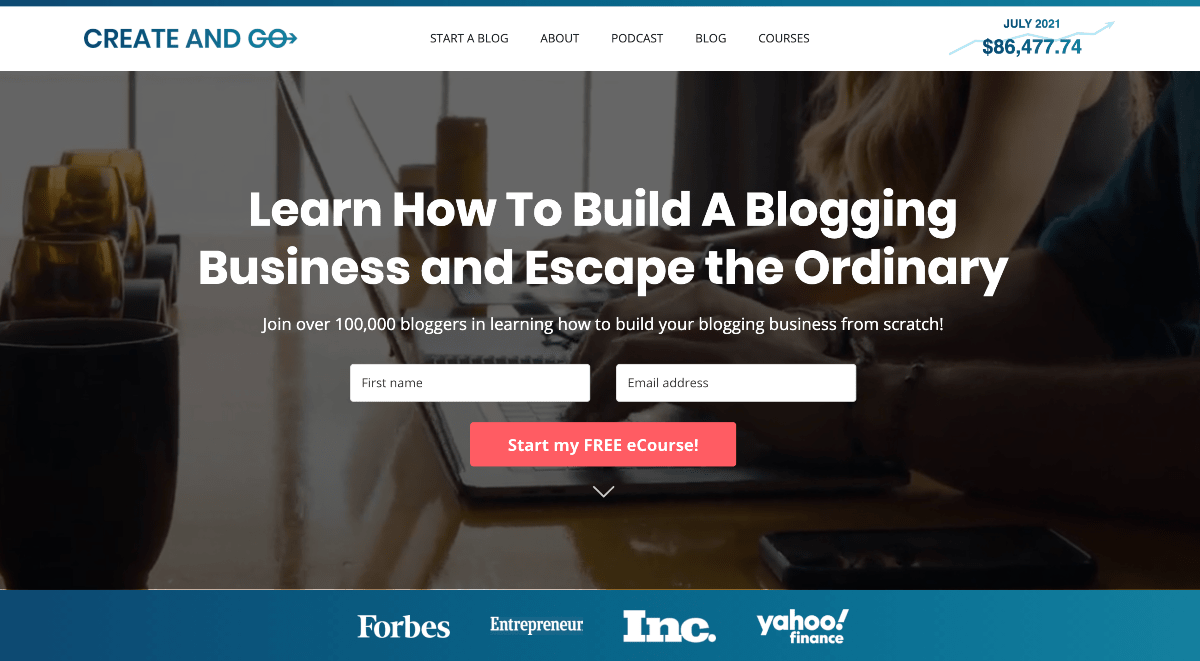 Month 1: We successfully launched and built our blog from scratch!
Month 3: We created our first course!
Now: We make over $75,000/month with both of our blogs.
Learning this path to success has allowed us to help thousands of others start a money-making blog...
The right way.
Pat Started Earning Money with His New Blog for the First Time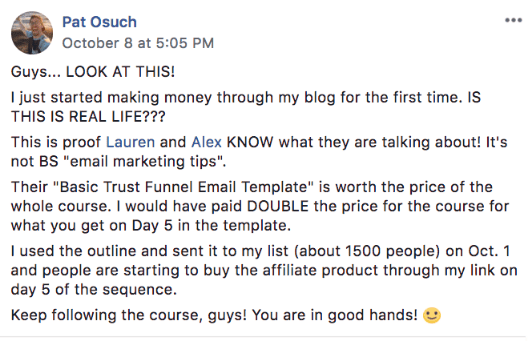 "I just started making money through my blog for the first time.
IS THIS REAL LIFE???
This is proof Lauren and Alex KNOW what they are talking about!
Their "Basic Trust Funnel Email Template" is worth the price of the whole course. I would have paid DOUBLE the price for the course for what you get on Day 5 in the template."
- Pat Osuch, Launch Your Blog Biz Student
Does any of the following resonate with you?
1. You feel like life seems to pass you by sometimes.
Maybe you're staring out the office window watching the sunny days pass by. Maybe you just want more time at home with your kiddos. Maybe you want to travel. We all have different whys, but they're all truly a deeper desire for more freedom.
2. You like the idea of making money online but are feeling overwhelmed.
Everyone and their grandmother is an influencer these days with something to offer you. How do you navigate the options and decide what's right for YOU? Getting started is often the hardest part.
3. You don't know what you would even blog about.
As an accountant and personal trainer, this didn't come "naturally" to us either. We learned everything on the fly. We're here to tell you that there is no secret success gene. You will figure it out, and we can help you do it.
We all have these feelings. As an accountant, I thought I didn't have a creative bone in my body.
It's time to cast those limiting beliefs aside...
Take a Second to Imagine That You Could...
👩🏻‍💻 Launch your very first blog in just a month.
It doesn't have to take months to do this. You just need to focus on what really matters in the very beginning. Leave the rest for later down the road. It's all about taking the right steps at the right time.

👥 Build an audience of people that actually care about what you have to say.
Wondering why people would ever listen to you? We all feel this when we get started. There are so many others out there already doing it, so what makes you any different or special? Your knowledge, your experiences, and your voice are what make you unique.
💚 Listen, connect, and grow from your audience.
This is where it starts to get really fun. When real people are engaging with your content and they're actually listening and responding to what you have to say. Building relationships with your audience is going to lay down a solid foundation for your continued success.
💸 Start earning real money by helping these people solve their problems.
Making money doesn't have to feel weird. You don't have to be overly salesy. You can be yourself. Honesty and transparency are at the core of everything that we teach, and we'll show you how you can make money honestly and transparently.
THIS is how you build a foundation for your online blog business and start your journey towards making your first $1,000/month.
Introducing...
Launch Your Blog Biz
---
Your solution to launch and grow a blog to $1,000/month – without tech wizardry or scammy sales tactics!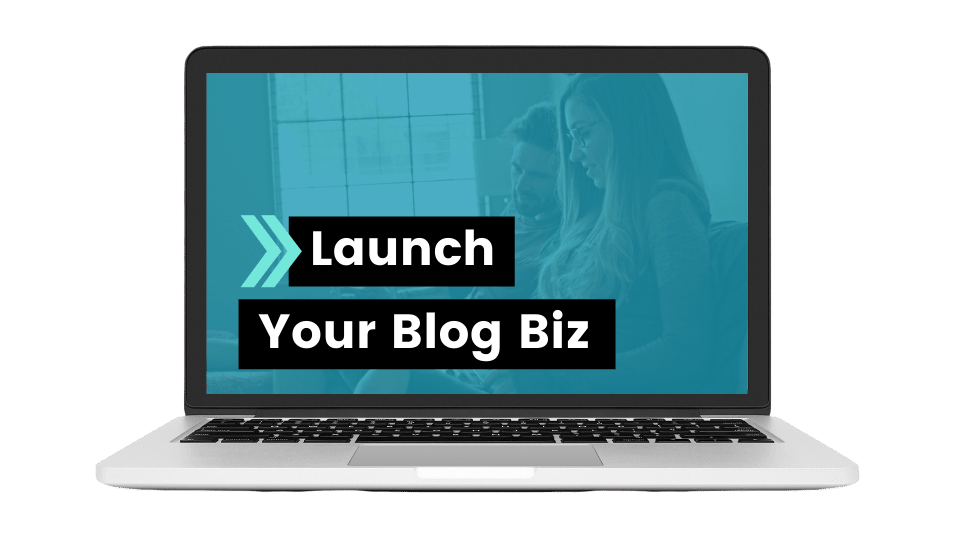 With this course, you will learn how to...

Set Up and Launch Your First Blog
In the first few modules, you will learn how to set your blog up with WordPress. This part can get technical if you aren't careful, but we'll show you the ropes and help you stay focused on what's the most important. Everything from menus, categories, plugins, images, and more.

Design Your Blog with a Customizable Theme
This is the part where most people get really hung up in the beginning. Website design does require coding, so it's important to use a theme that allows you sufficient customization without needing to touch the coding yourself. We'll give you some solid recs so you can design your blog the way that you like it in as little time as possible.

Create Great Content That Stands Out
Before I started blogging, the extent of my writing skills was B+ research papers in college. There are all sorts of different types of content out there now – articles, videos, photos, and more. We'll help you figure out what path is right for you and make sure you're always creating content that attracts the right people.

Get Tons of Visitors to Your Blog
Getting people to actually read, listen, and/or watch your content is often the most difficult part. There's nothing more disappointing than creating great content only to have it never see the light of day. In our traffic modules, we'll take a deeper dive into multiple platforms, including Pinterest, YouTube, Google, and even Podcasting!



Build an Audience and Email List of Raving Fans
Your email list is going to be the lifeblood of your business. It connects everything that you do. It's how you will build relationships with the people that you are helping and how you will offer them solutions (and earn money). It's also how you get your new content in front of people again and again – with little to no effort on your part.
Earn Your First $1,000 of Income
Money money money! That's why you're really here, right? We have several monetization modules on everything from how to earn a little bit of income (ads and sponsored posts) to earning your first $1,000 with your blog (mainly through affiliate marketing).
And so much more!
Course Curriculum
Introduction and Course Objectives
Available in days
days after you enroll
Blogging Mindset
Available in days
days after you enroll
Getting Started: Hosting, WordPress, and Initial Setup
Available in days
days after you enroll
Plus, You'll Also Get These Awesome Bonuses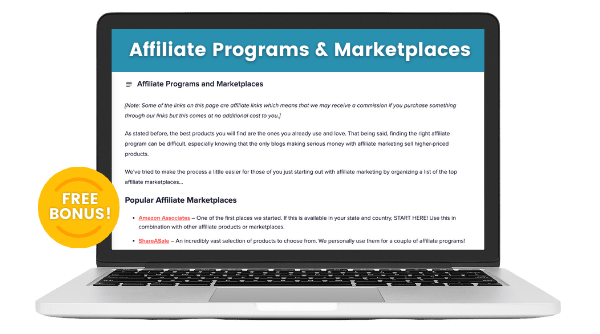 Bonus #1. Affiliate Programs and Marketplaces Round-Up ($47 Value)
---
Hunting for good affiliate programs, networks, and marketplaces is time-consuming and some of them kind of suck. We've done some homework for you and compiled a list of some of the best in various niches!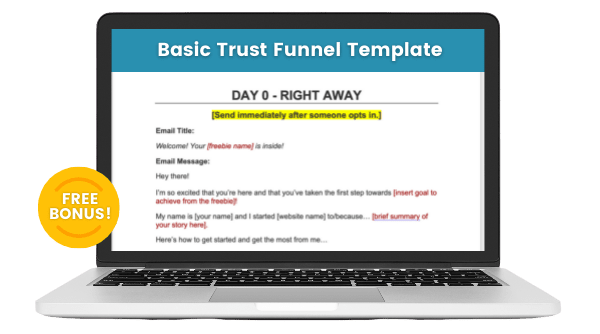 Bonus #2. Email Trust Funnel Templates ($297 Value)
---
These templates will guide you through creating your first email sales funnel designed to build trust with your audience and sell your first affiliate product! They're worth the price of the entire course alone, in our humble opinion!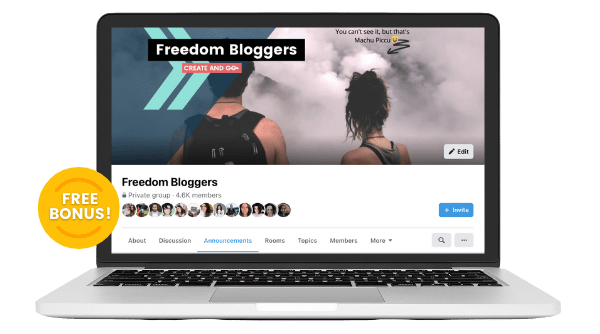 Bonus #3. Community Support Group ($47/m Value)

---
In this group, you will be able to ask us questions about the course, get updates, discuss strategies, and more. You can also chat with other members to toss around ideas, develop new strategies, and get feedback on your progress!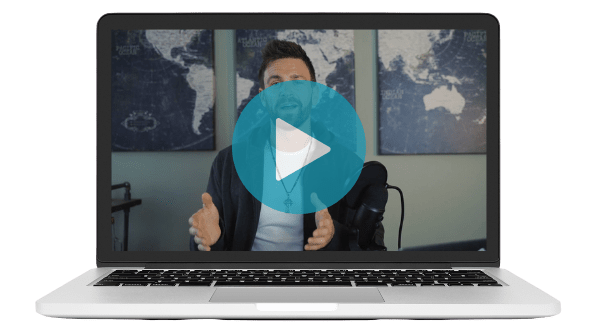 PLUS + Lifetime Access and Updates

---
The online business world is constantly changing. As algorithms change and we update our strategies, we continue to update all of our courses! You will always get access to these updates right within the course!
Kari is Finally "Making Money in Her Sleep"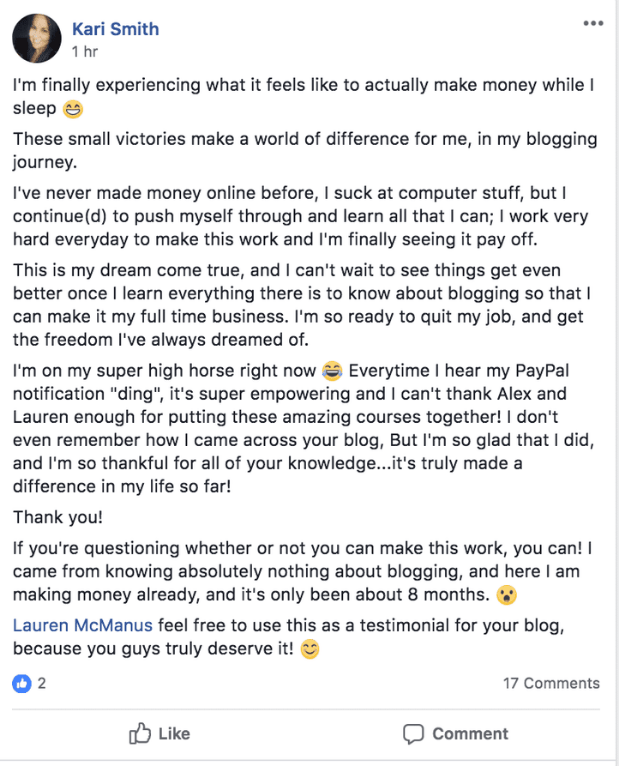 "I'm finally experiencing what it feels like to actually make money while you sleep.
This is my dream come true, and I can't wait to see things get even better once I learn everything there is to know about blogging so that I can make it my full-time business.
If you're questioning whether or not you can make this work, you can! I came from knowing absolutely nothing about blogging, and here I am making money already, and it's only been about 8 months!"
- Kari, Launch Your Blog Biz Student
Some of the Beautiful Blogs Our Students Have Created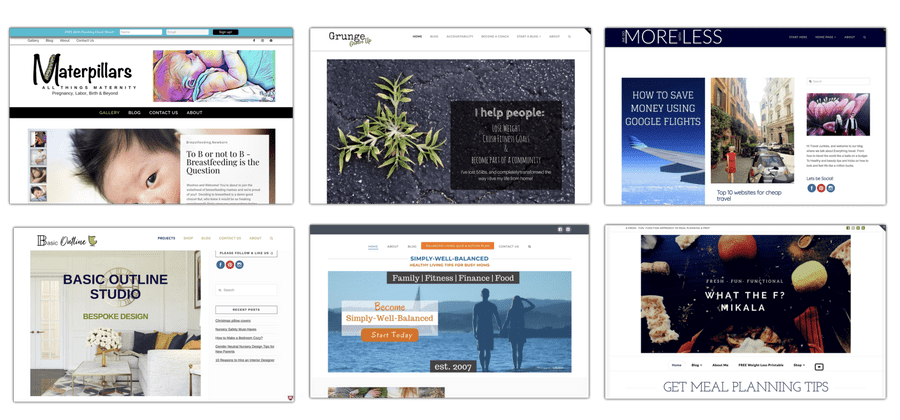 The course includes several different theme tutorials so that you can choose which theme is right for YOU and design it just how you want it!
"This Course Cut My Learning Curve in Half, Literally"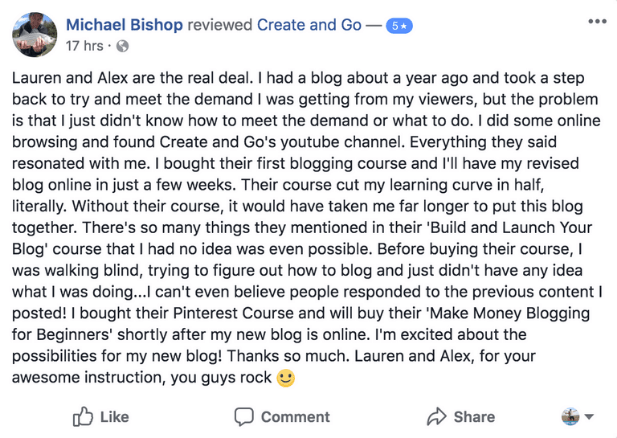 "Their course cut my learning curve in half, literally. Without their course, it would have taken me far longer to put this blog together. There are so many things they mentioned in their course that I had no idea were even possible.
Before buying their course, I was walking blind, trying to figure out how to blog and just didn't have any idea what I was doing..."
- Michael, Launch Your Blog Biz Student
Christina Feels "Empowered and Confident" About Her Blog Launch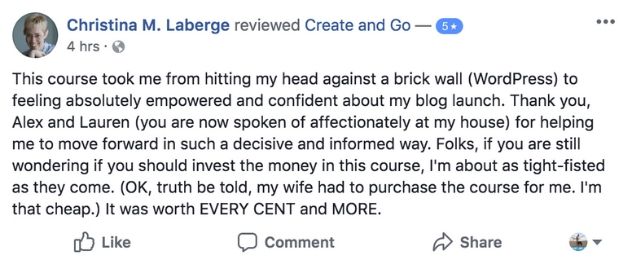 "This course took me from hitting my head against a brick wall (WordPress) to feeling absolutely empowered and confident about my blog launch."
- Christina, Launch Your Blog Biz Student

Who is this course for?
---
Beginner Bloggers and Soon-to-be Bloggers
Newbie bloggers, this is your jam.
Whether you've just started a blog (or haven't even started yet!), this course will help you do everything from getting a domain name all the way through setting your blog up, creating content, building your first email list, driving traffic, and making money with your blog.
Motivated and Busy People

We've taught everyone from busy young professionals to moms with 3 kids how to make money with a new blog.
Everyone has their own schedules and their own sh*t going on. You CAN make this work -- even if you're super busy -- as long as you're super motivated! We'll teach you exactly what you need to focus on and when to focus on it, so you can still make this work for you even if you're up to your eyeballs in to-dos.

Who is this course NOT for?
---
Experienced Bloggers Looking to Make Extra Money

This course was designed to take new and beginner bloggers to an intermediate level. Therefore, there are sections in this course that are geared more for intermediate bloggers and can help you make more money.
BUT if you've already set up and designed your blog, built your email list, written a ton of content, and started monetizing -- this course is not for you.
Our next courses would be more up your alley! Consider SEO Blueprint for Bloggers or Pinterest Traffic Avalanche if you're interested in getting more traffic to your blog and/or and Six-Figure Blogger if you're ready to scale your income by creating and selling your own products.
Corner Cutters and Hand-Holders
This course requires WORK. That's because starting an online business requires work. If you're one to cut corners or take shortcuts, you won't find them here. Just solid strategy.
Additionally, if you need someone to hold your hand the entire way, this also probably isn't for you. We teach strategy and concepts and show you how to implement them. But it ultimately falls on you to be a go-getter and a problem-solver to put these strategies into action.
You will need to be resourceful and learn how to solve problems as they arise. But we do have a support group that is there to help!
We are teaching you how to build your own online blogging business -- one that you can run YOURSELF! 😉
Frequently Asked Questions
What if I haven't started my blog yet?
No problem! We will walk you through the steps to selecting the best domain + hosting package to get your blog started and launched. We've got you covered!
Will I need to purchase anything else once I buy the course?
The only thing you really need is a paid hosting service. We do strongly recommend a few other paid software services because of their ease of use, customization, and power (and ability to get you results faster) but they are all completely optional. We provide free recommendations in the course as well. Oh, and you need a computer! (duh)
Do you offer any refunds or guarantees?
Absolutely. We want you to be super happy with your purchase and feel like our courses are the right fit for you. If you are unhappy or feel that this isn't the right investment for you, you can request a refund within 30 days of purchase. Please see the refund policy linked at the bottom of this page for the full terms and conditions.
Will this course help me get traffic to my blog?
Absolutely! This course is both on driving organic (free) traffic from Pinterest, Google, and YouTube as well as making money - the two things every newbie needs for their growing blog!
What format is the content delivered in?
Video + a few written explanations and summaries here and there. The bulk of the content is delivered through video content, which allows us to explain and demonstrate our strategies for success. There are also transcripts available for most lessons.
Can I find this information for free online?
Free information is generally fragmented and/or outdated. Course creators will always keep their best secrets and strategies for their paying customers. It's how they earn a living. We are no different. This course contains all of the strategies that we wish we had access to in the beginning and everything that has worked and continues to work for us!
Do you ever update the course?
Absolutely. We update this course regularly as software is updated, algorithms change, and as we learn new strategies that are working! We still run our two blogs full-time, so we've got a lot of skin in this game too!
Is there a time limit to complete the course? How long do I have access?
There is no time limit to completing the content in this course. It's totally a go-at-your-own-pace thing! Your access to the course doesn't expire, including any and all future updates to the course, which are added regularly as software, strategies, and algorithms change.
Do you have another question that we didn't answer?
You can send us a message through the chat box at the bottom corner of this page OR you can send us an email to
[email protected]
and we'll do our best to help you figure out if this course is right for you!
Who are the bloggers that are teaching this madness??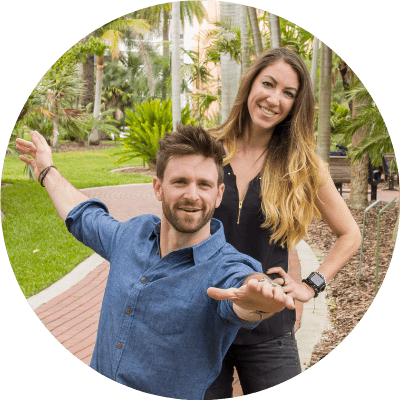 Alex Nerney & Lauren McManus
Co-Founders, Avocadu & Create and Go
Hey there, blogger! We're Alex and Lauren, and we own a health and wellness blog at avocadu.com as well as a blog called createandgo.com, where we teach people just like you how to turn your passion into a profitable business you love.
We absolutely love what we do here at Create and Go, and we've been featured on some major websites for what we do.

In less than 9 months of working online together, we turned our health and wellness blog into a passive income machine making $20,000 per month in blogging income.
We were able to quit our full-time jobs working as a personal trainer (Alex) and a CPA (Lauren) to pursue our dreams of being able to work from home and we now make over $100,000/month with our two blogs. We have even been able to travel to countries like Nicaragua, Per, Portugal, and more - all while working on our blogs!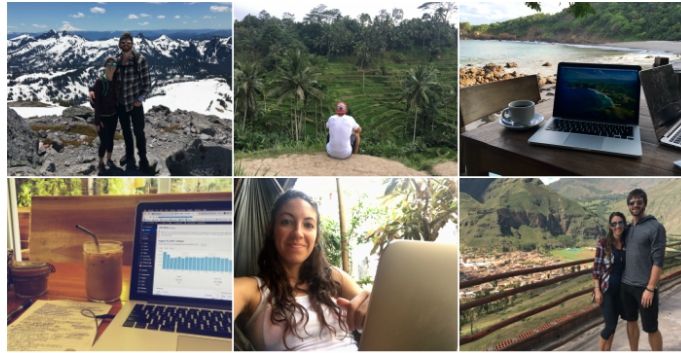 Don't get us wrong... It takes hard work and dedication, but you'll find that working on something you LOVE and that has the ability to majorly impact your future is a million times more rewarding and fun than a job that you hate.
Now, it's your turn to experience the fun and success that we've been able to achieve!
Let's do this thing together!