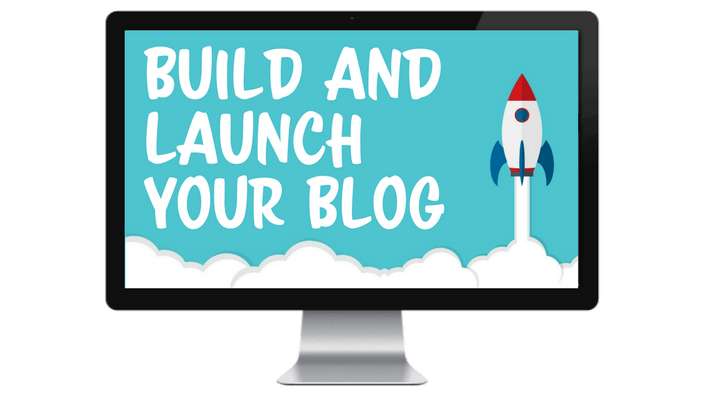 Launch Your Blog
A Solution to Successfully Build and Launch Your Blog with Wordpress in 1 Month or Less, Without Knowing Any Code or Needing to be a Tech Wizard, Guaranteed!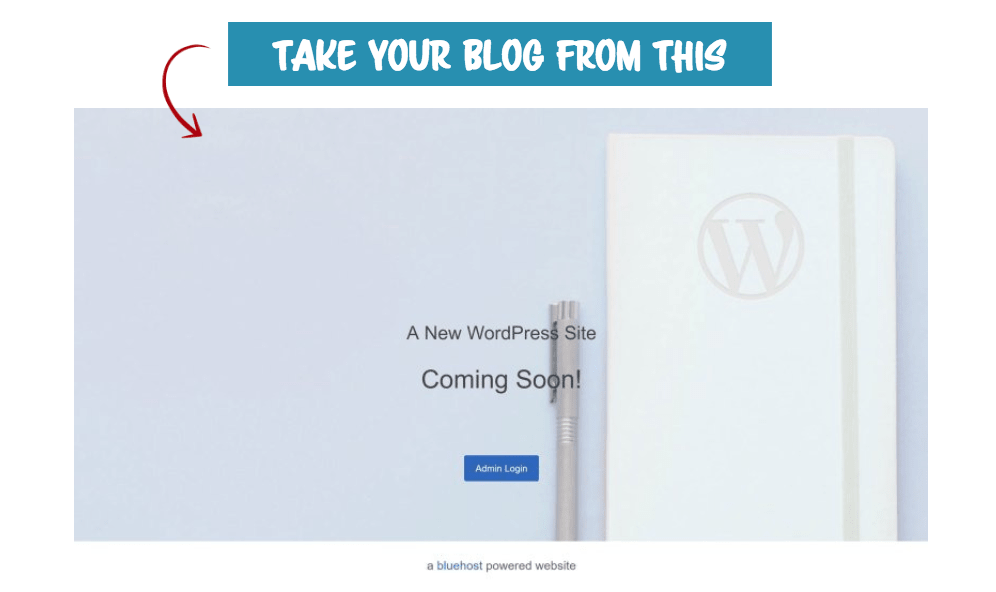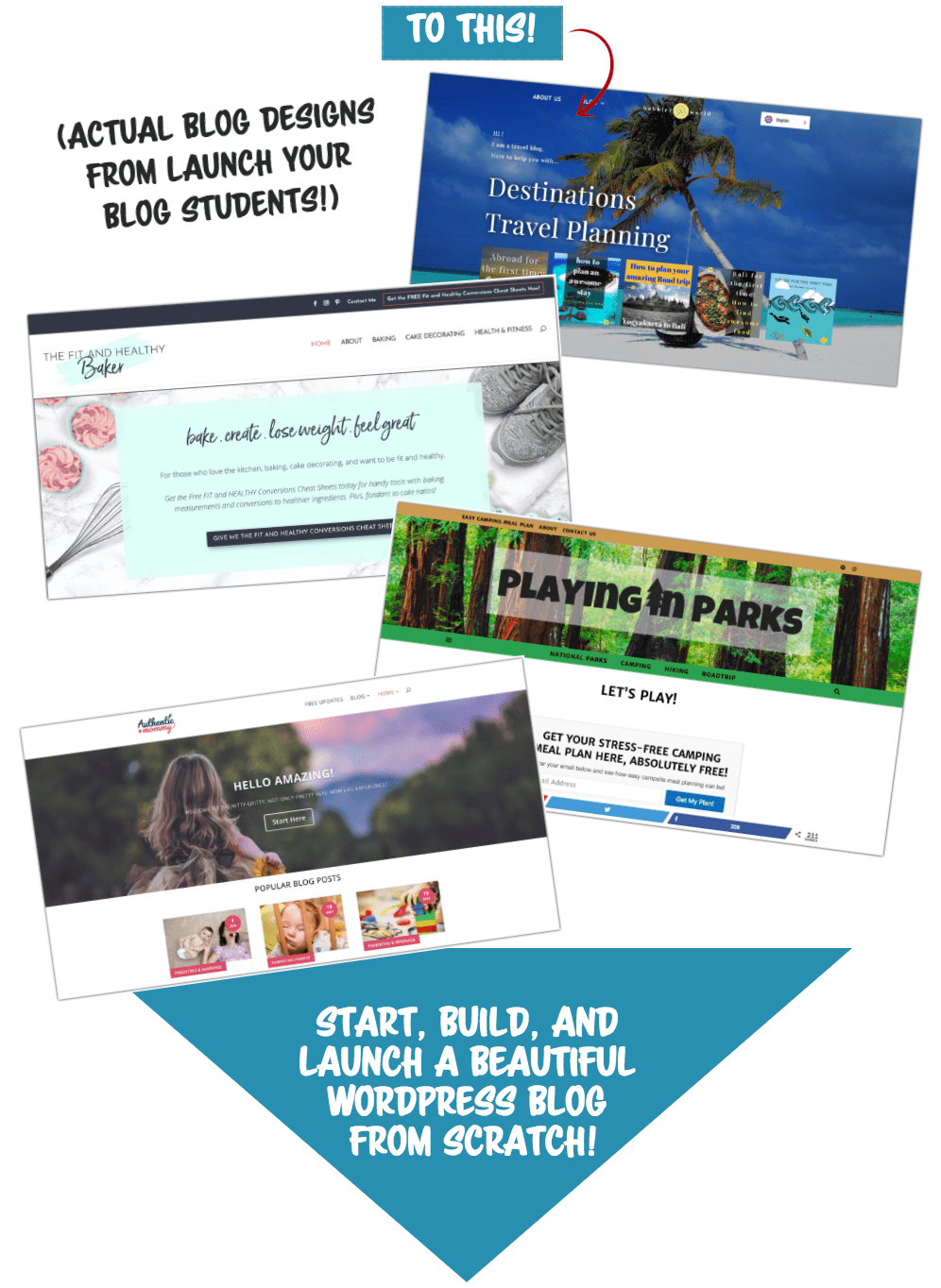 Rookie bloggers "stumble upon" how to build a blog the right way through previous failure and discover the secrets to launching a successful blog FAST...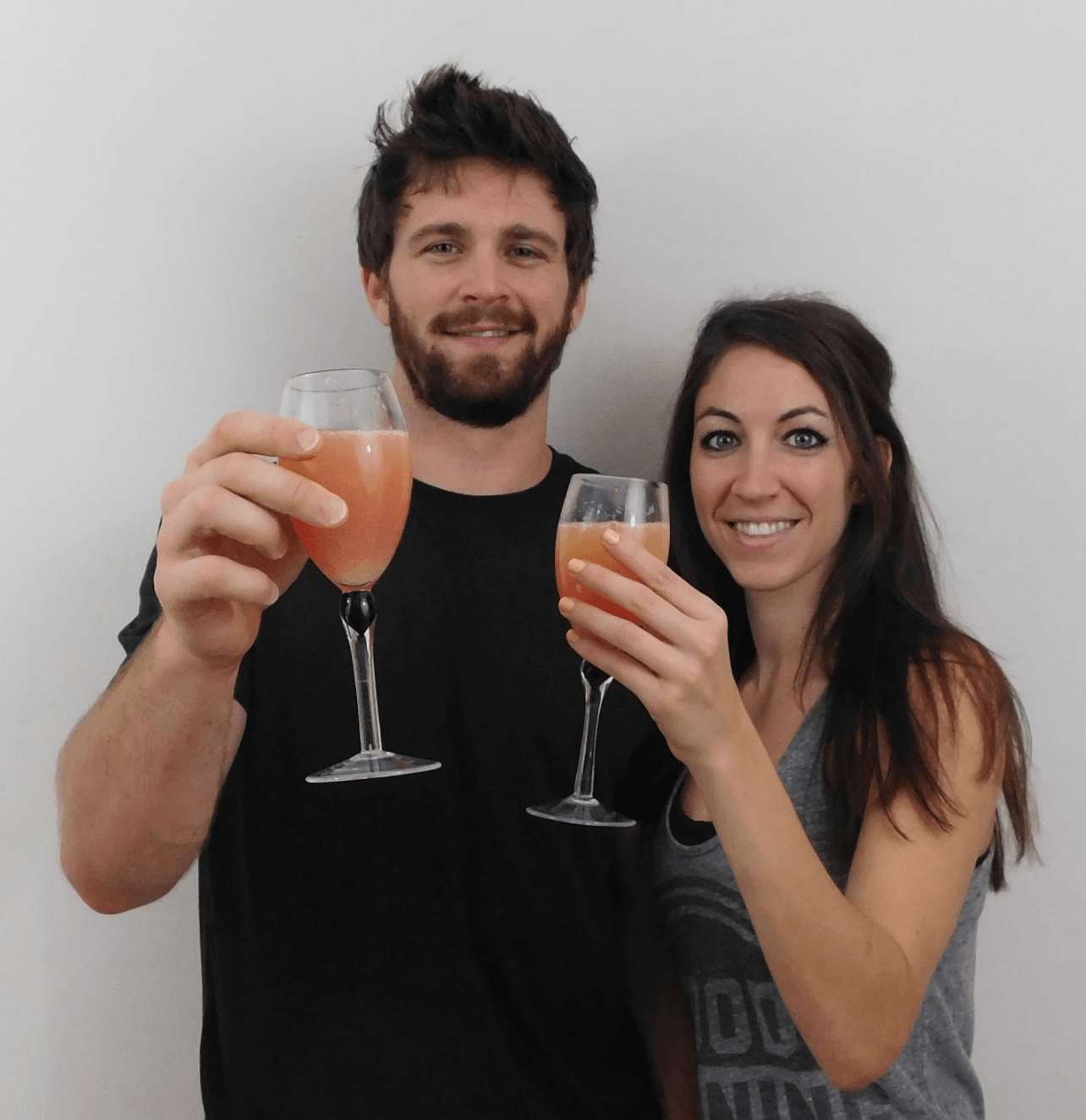 Our blogging career started with a big fat failure...

Hey guys! We're Alex and Lauren, and this is a photo from our first blog - Health and Happy Hour.
While most bloggers would probably not openly talk about this stuff, our first blog failed, HARD.
It's a tough pill to swallow, but it's the truth.
Not everyone starts a blog the right way or becomes successful - actually, the majority don't!
We had lots of excitement for our blog and energy for our ideas, but we never felt like we got anywhere. We felt like we we just spinning our wheels and "hoping" it would work.
The worst part - we spent a TON of money on things we didn't need.
Things other bloggers and entrepreneurs told us we had to have...
It's not all doom and gloom though:
It was through these experiences that we learned how to successfully launch a blog the right way.
Fast forward to today, and we have successfully launched not just one blog, but 2 different blogs in completely different niches + a Youtube Channel!
We want to share with you right now the 5 reasons why our first blogged failed to launch and how you can make sure you don't make the same mistakes we did...
The 5 Reasons Why Our First Blog Failed to Launch...
Mistake #1. We Started Slowwwww!
We spent over a week trying to perfect and nail down our About Us page of Health and Happy Hour... a blog that never actually launched...
We didn't know what we should focus on or what we should ignore. This led us to waste 1,000's of dollars and hours on things we did not need!!!
Mistake #2. We Didn't Take the Time to Truly Learn WordPress!
---
Wordpress is the most powerful free blogging platform in existence, but we had NO CLUE what we were doing with it. It's like we were given a powerful MacBook computer, but were using it only to browse Facebook.
We looked for information for free online, but most of it went over our heads and was TMI for a newbie blogger.
We just needed to create a beautiful blog and get our message out there.
Mistake #3. We Didn't Know How to Create Awesome Content People Loved.
---
This led to HOURS spent going over our blog posts, again and again, trying to "get it right."
It was only later on that we learned that creating great content people love is a much simpler process than we realized! That finding your writer's voice was much more about being authentic than about being gramatically perfect.
Mistake #4. We Didn't Understand the Importance of Collecting Email from Day 1.
---
We had droves of people showing up to read our blog, but had no idea how to organize them and make a deeper connection with them. We thought everyone hated email.
It was only later on that we learned how to collect email the easy way with powerful platforms like ConvertKit, and our fans grew by the thousands!
Mistake #5. We Didn't Have Any Good Guidance.
---
We purchased quite a few "expert" courses that never seemed to work. It was like all of them got really lucky with their first blog and just made a career off the thing.
Not sure how much of this was our fault, but the problem was that we never had any honest guidance from successful bloggers to help us along. We just did our best to guess at everything, which never led anywhere special...
These mistakes actually turned out to be blessings in disguise..

.
We took all the lessons we learned and built a second health and wellness blog, Avocadu.com, which was successfully launched in less than 1 month!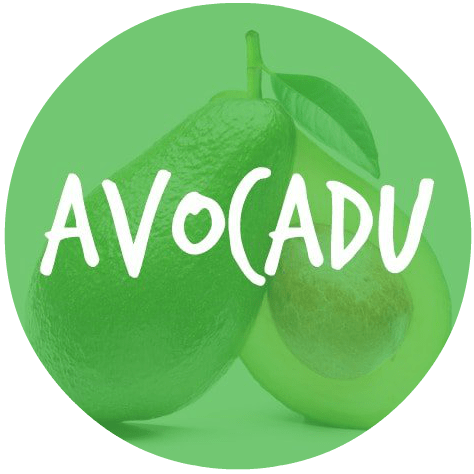 - By the end of our 1st month, we successfully launched and built our blog from scratch!

- By the end of our 3rd month, we had 300,000+ visitors and readers and had and quit our full-time jobs!

- By the end of our 6th month, we had made $17,163.98 with our blog!


- By the end of our 1st year, we had made $103,467.89 blogging and got to travel the world!
Our third blog, CreateandGo.co, was also successfully launched in less than 14 days!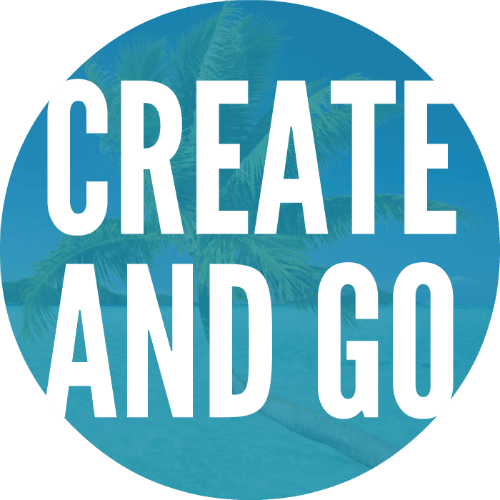 - By the end of our 1st month, we successfully launched and built our blog from scratch!

- By the end of our 3rd month, we had 30,000+ monthly visitors and had made our first product!
And Now It's Your Turn to Finally Build and Launch Your Very Own Successful Blog From Scratch!
Pam went from feeling overwhelmed, scared, and lost to excited and thankful after finding our course: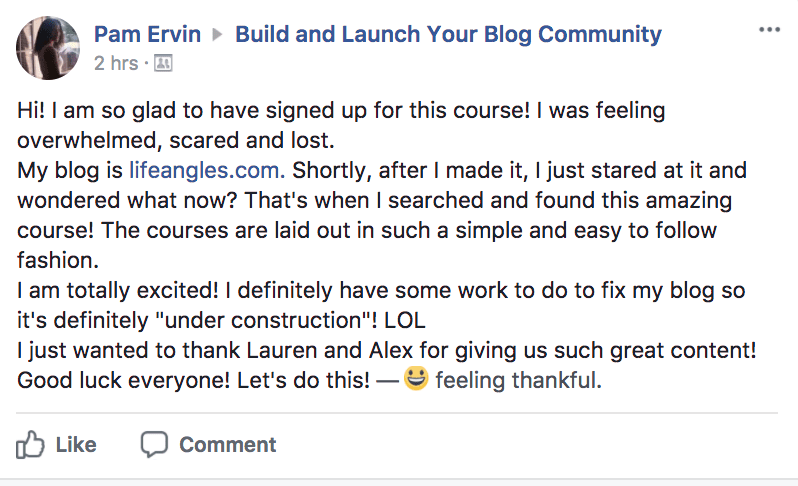 "Hi! I am so glad to have signed up for this course! I was feeling overwhelmed, scared, and lost.
My blog is lifeangles.com Shortly, after I made it, I just stared at it and wondered what now? That's when I searched and found this amazing course! The courses are laid out in such a simple and easy to follow fashion.
I am totally excited! I definitely have some work to do to fix my blog so it's definitely "under construction"! LOL
I just wanted to thank Lauren and Alex for giving us such great content! Good luck everyone! Let's do this! -- feeling thankful"
-- Pam, Create and Go Student
Here is what Beth had to say about the course in our private support group (access comes with the course!):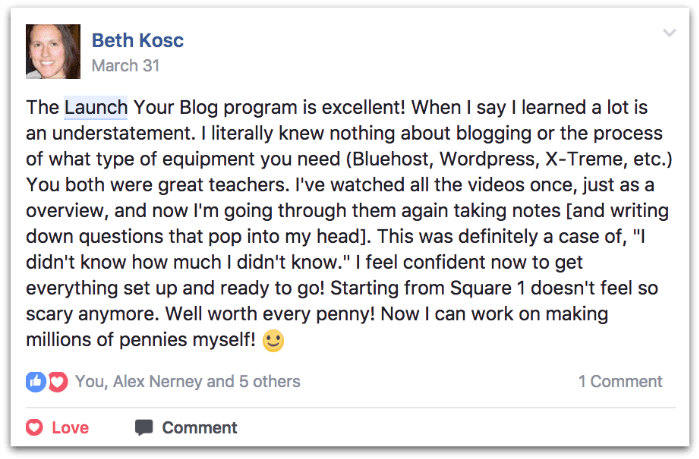 "The program is excellent! When I say I learned a lot is an understatement. I literally knew nothing about blogging or the process of what type of equipment you need (Bluehost, WordPress, X Theme, etc.).
You both were great teachers. I've watched all the videos once, just as an overview, and now I'm going through them again taking notes [and writing down questions that pop into my head].
This was definitely a case of "I didn't know how much I didn't know." I feel confident now to get everything set up and ready to go! Starting from Square 1 doesn't feel so scary anymore. Well worth every penny! Now I can work on making millions of pennies myself! :)"
-Beth Kosc, Create and Go Student
Introducing...
The Ultimate Beginners Guide to Building and Launching Your Wordpress Blog in 1 Month or Less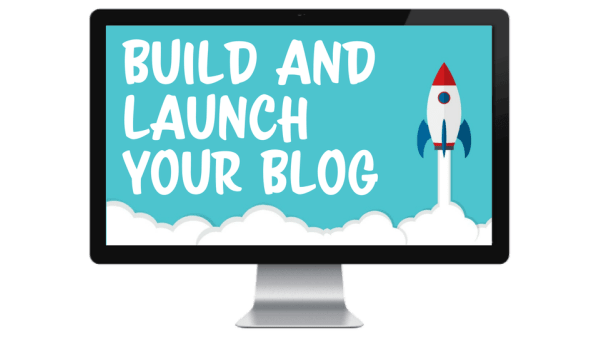 COMPREHENSIVE CURRICULUM ($997 Value)

---
8 Modules and Video Trainings That Will Rock Your Socks Off!
Over 4+ hours of video walkthroughs and tutorials with two professional bloggers!
Just sit back, watch, take notes, and learn everything a bloggers needs to know about starting your blog off on the right foot.
With It, You Will Learn How to...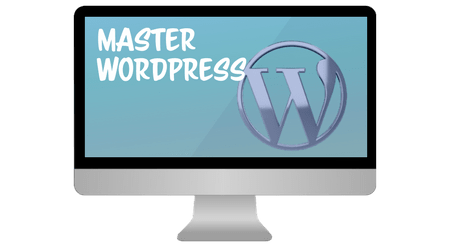 ---
Comprehensive WordPress training for non-techies. We know how daunting WordPress can be. It was just a little over two years ago that we had to learn it as well. This course covers everything from setting up menus, creating categories for your blog posts, understanding plugins, how to add images to your blog posts, and all kinds of other settings and customizations.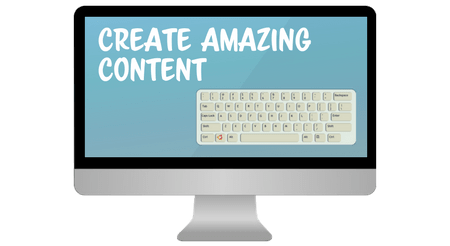 ---
Learn how to create incredible content with ease, find your writer's voice, what to blog about, and get step-by-step help on your first 10 blog posts. We also teach you how to find great headlines for your content to ensure that you can attract the most readers to your content.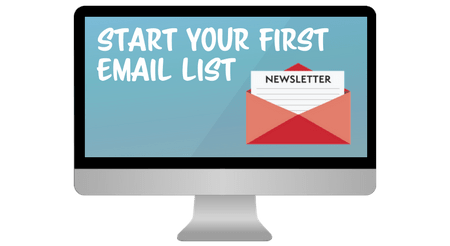 START COLLECTING EMAILS EFFORTLESSLY
---
An email list is incredibly important and is the single most important tool you will use as a blogger to connect with your audience and eventually start earning an income. Learn how to set up your first email list, including what to write in those first few emails so that you can start building trust with your readers right away!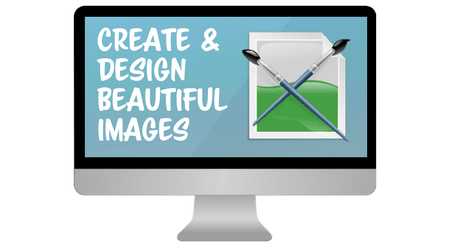 DESIGN BEAUTIFUL IMAGES
---
Learn how to create a custom logo for your blog as well as other images to add to your blog posts. There are all sorts of terms and conditions associated with using images on the Internet these days, and we'll show you what tools you need to make sure you're covered with awesome and professional-looking images.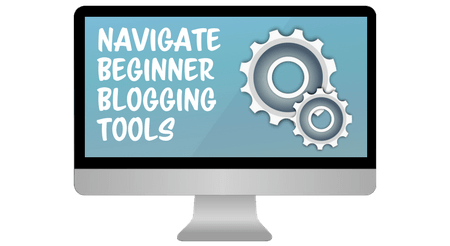 NAVIGATE BLOGGING TOOLS
---
This section is full of skills, hacks, and resources for new bloggers, including tools to help you quickly proofread your content, find popular blog topics to write about, add social media icons to your site, increase your productivity, and more!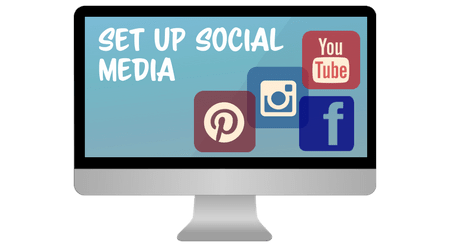 SET UP SOCIAL MEDIA
---
Social media is how you will begin to drive traffic (aka get readers to your blog), and we will cover exactly how to create new social media accounts and how to select which ones you should start with!
AND SOOOOO MUCH MORE!
Take a peek inside the program...

Course Curriculum
Tools and Downloads
Available in days
days after you enroll
Strategies, Objectives, and Expectations
Available in days
days after you enroll
"I started to take the plunge into blogging without knowing what I was doing, looking up all sorts of info on the internet... which is incredibly overwhelming when you're first starting out. The course breaks everything you need to know down to the most important parts so you aren't going crazy and spending time on the wrong things."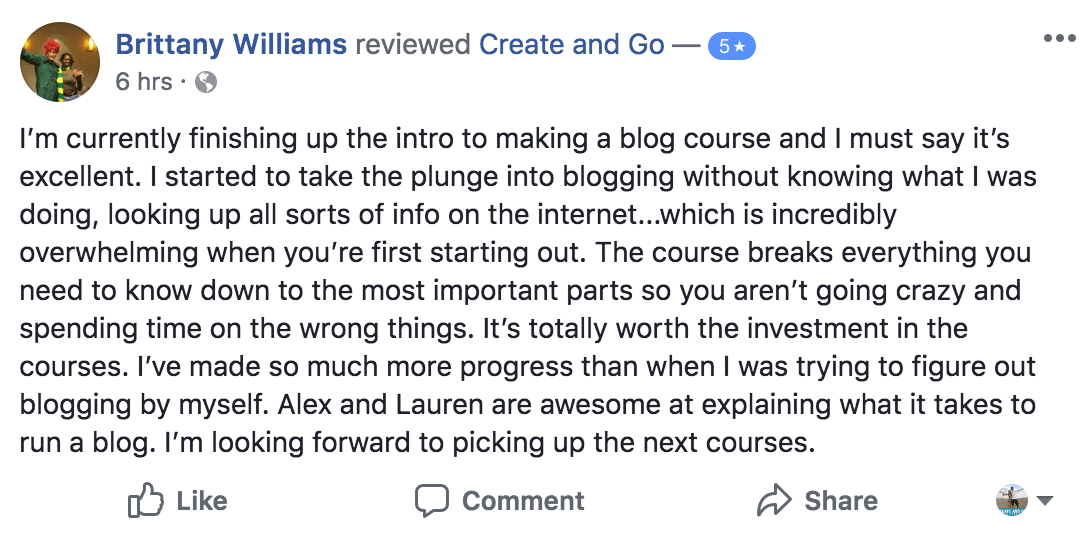 - Brittany, Create and Go Student

"This course took me from hitting my head against a brick wall (WordPress) to feeling absolutely empowered and confident about my blog launch."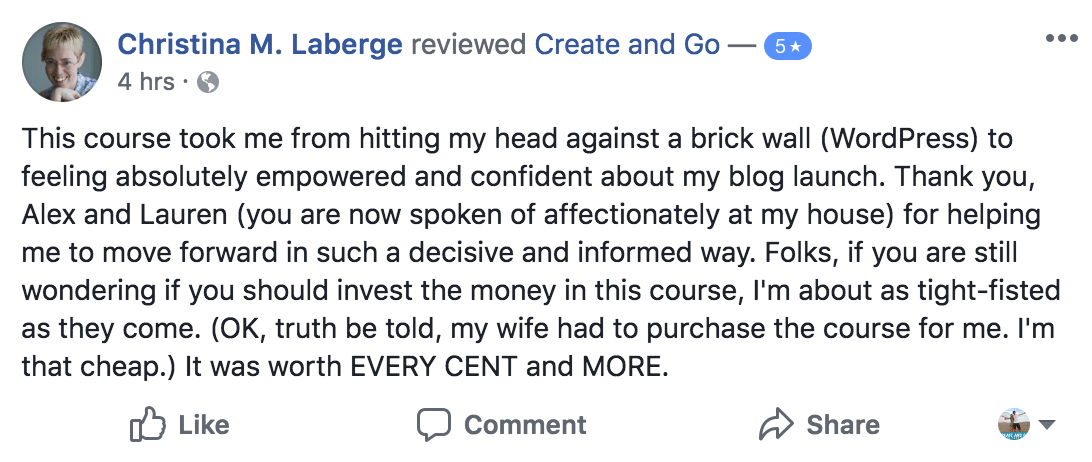 - Christina, Create and Go Student

Here is what Danielle emailed us about her experience with the course: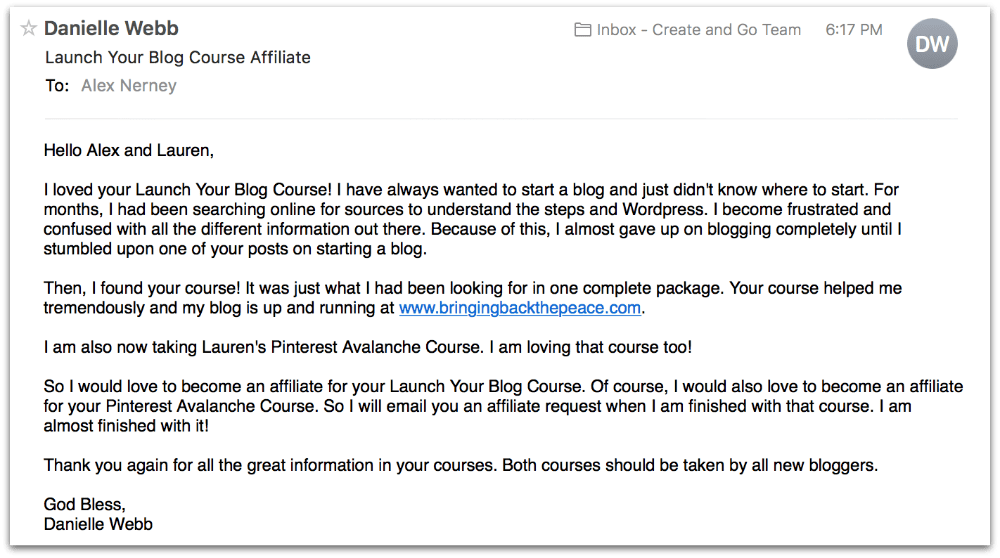 "I loved your Course! I have always wanted to start a blog and just didn't know where to start. For months, I had been searching online for sources to understand the steps and WordPress. I became frustrated and confused with all the different information out there. Because of this, I almost gave up on blogging completely until I stumbled upon one of your posts on starting a blog.
Then, I found your course! It was just what I had been looking for in one complete package. Your course helped me tremendously and my blog is up and running at www.bringingbackthepeace.com.
I am also now taking the Pinterest Traffic Avalanche Course. I am loving that course too!"
-Danielle Webb, Bringingbackthepeace.com
We Heard You Like Bonuses!
Everything you possibly need to launch your blog the right way...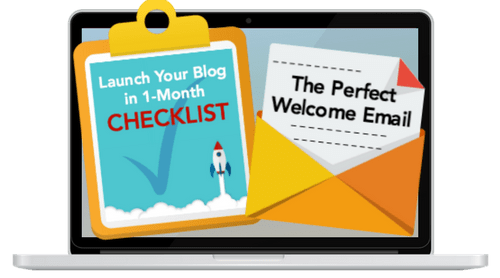 BONUS #1 FREE DOWNLOADS ($297 Value)

---
The 1-Month Blog Launch Checklist + The Perfect Introduction Email
Making a good first impression is the ULTIMATE way to turn a fan into a lifelong customer and friend.
The first email your visitors get when they subscribe to your blog is massively important. And here's the thing, we've created a simple template for you to use.
Just plug in your name and some quick additional content, and you will make a KILLER first impression on your new subscribers.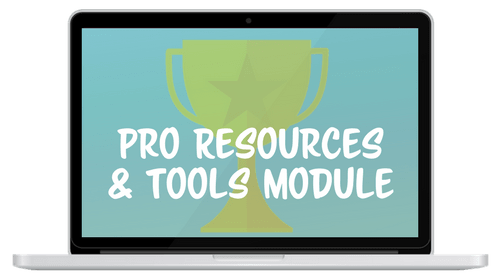 BONUS #2 PRO BLOGGER RESOURCES ($197 Value)

---
Pro-Resources and Tools Module With Alex Nerney
Blogging for over a year and a half has given Alex access and knowledge about the most powerful tools from around the web for blogging (most of them are FREE).
You will be able to access free tools and learn how to use them like professional bloggers do, saving you more time and money!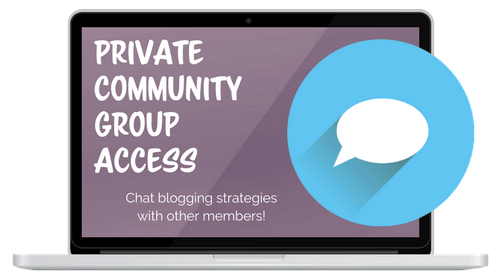 PRIVATE COMMUNITY SUPPORT ($47/m Value)

---
Assistance, Feedback, and Community in our Private Facebook Group!
In this group, you will be able to ask us questions about the program, get updates, discuss strategies, etc.
You can also chat with other members to toss around ideas, develop new strategies, and get feedback on your progress!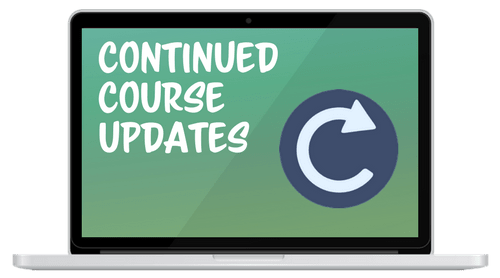 LIFETIME ACCESS AND UPDATES!

---
As we all know, the world of blogging is changing constantly. It seems like every month a major change happens changes everything and we'll be there for you when that happens.
We will update the course as needed and help you overcome any unforeseen hurdles that may arise (as they will!).
Here are a a few of the BEAUTIFUL blogs some our new bloggers have created with the course: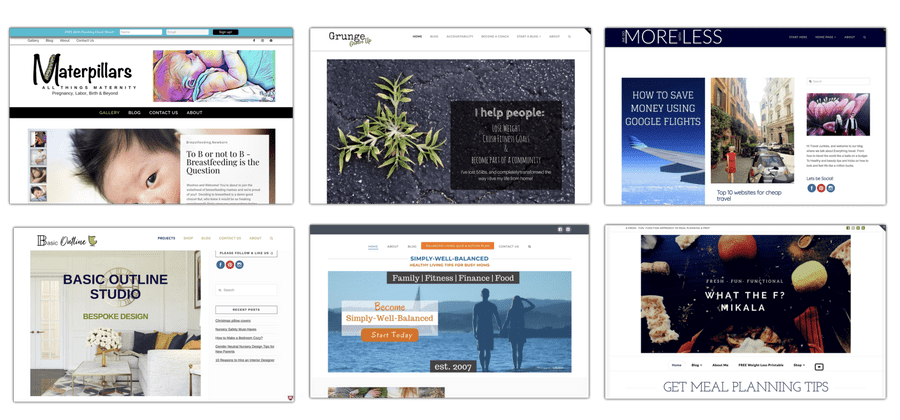 The course includes several different theme tutorials so that you can choose which theme is right for YOU and design it just how you want it!
"I would never have been able to put my blog together if it weren't for Alex and Lauren."

- Sheila, Create and Go Student
"Their course cut my learning curve in half, literally. Without t heir course, it would have taken me far longer to put this blog together. There are so many things they mentioned in their course that I had no idea were even possible. Before buying their course, I was walking blind, trying to figure out how to blog and just didn't have any idea what I was doing..."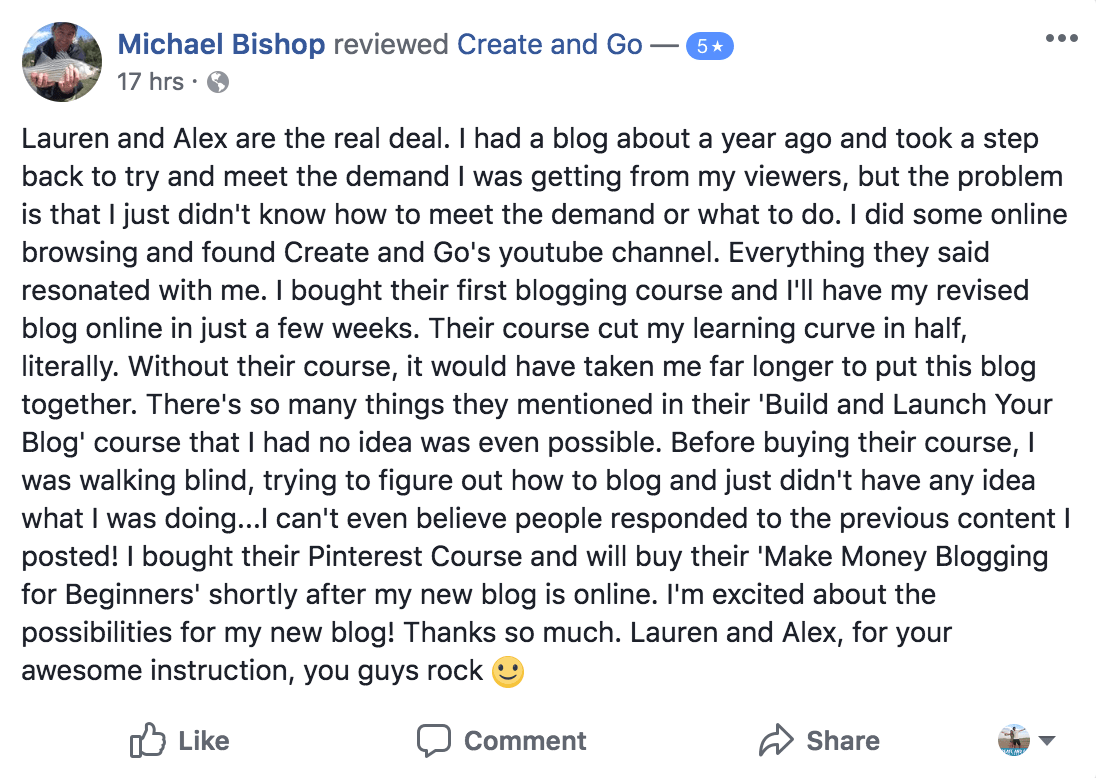 - Michael, Create and Go Student
Who is the course For?
---
Anyone Who Has JUST Started Their Blog
If you're in the early stages of starting your blog, writing your first few posts, and getting the rest of your blog set up and looking beautiful, you're in the right place!
Those That Haven't Started a Blog Yet
Haven't started yet? No problem! We have a step-by-step tutorial on the inside that will get you started right away and then you can hop right in to the rest of the course!
Beginner Bloggers Stuck in the Building and "Design" Stage
If you're feeling a little lost or overwhelmed by the technical side of navigating WordPress and designing your blog with a theme, no worries! We have all kinds of tutorials in the course to walk you through these stages!
Who is the course NOT For?
---
Intermediate to Advanced Bloggers
If you've been blogging for a few months now and feel like you've got the hang of WordPress, have designed your blog, and have already written your first few blog posts, this course is not going to be for you.
Those Looking for Traffic or Monetization Help
This course is NOT designed to get you blog traffic or help you monetize your blog, because we have OTHER courses dedicated entirely to these subjects. There is WAY too much info to pack into just ONE course on all of these topics!
If you'd like to get ALL the steps and go through them at your own pace, check out our Pro Blogger Bundle. It contains all 4 of our courses at a BIG discount! From Step A - Building a Blog to Step Z - Taking Your Blog to $10k and Beyond!
Frequently Asked Questions
What if I haven't started my blog yet?
No problem! We will walk you through the steps to selecting the best domain + hosting package to get your blog started! The majority of this course is dedicated to content that will help you build and launch your blog, but there is a beginner introduction on starting and setting up your blog if you haven't already! We've got you covered!
Will I need to purchase anything else once I get the course?
Nope! We DO recommend a few paid softwares because of their ease of use, customization, and power. These recommendations can actually SAVE you so much time (and therefore money - time is money in our book), but they are all completely optional. We also provide recommendations for free software options as well. There is nothing that you will absolutely NEED to purchase beyond this course (unless you haven't started your blog yet - in that case, you will need to purchase domain + hosting, but we will walk you through those steps as well!).
Will this course help me get blog traffic or monetize my blog?
No, it will not. We do provide some initial training on how to set up your social media accounts and the welcome emails provided are the first steps in getting a solid email funnel that could help you make some money down the road. But this course is strictly about getting your blog set up and launched, including navigating WordPress, writing your first several posts, getting your emails set up, creating images, etc. It's not about driving traffic or making money because we have three courses entirely dedicated to that: Make Money Blogging for Beginners, Pinterest Traffic Avalanche, and Six-Figure Blogger.
Do you offer any refunds or guarantees?
Absolutely. If you go through the course, implement our strategies, and don't see any results, then you can email us within 60 days for a full refund. All we ask is that you provide evidence that you've put these methods into place with your blog and they have not worked for you. Note that this eCourse is designed for beginner bloggers and not for advanced users. We are so confident in the strategies that we teach that we specifically don't offer refunds simply because you went through the course and claim that you didn't learn anything. This isn't fair to us or to others. All refunds are subject to the terms of the full refund policy linked on the footer of this page.
Can I find this information for free online?
Not really! 90% of the information we find on starting a blog is incredibly fragmented and incomplete. This is just the nature of blogging and how the internet works. Yes, you can start trying to hunt out this information on your own, but you will spend hundreds if not thousands of hours like we did looking in the wrong spots. This is 100% the course we wish we had when we started out. It would have saved us so much time and money, it's painful for us to think about!
Is there a time limit to complete the course? How long do I have access?
There is no time limit to going through the content in this course. It's a completely go-at-your-own-pace thing! Your access to the course doesn't expire. The blogging world is an ever-evolving and changing monster that you have to stay on top of if you want to win! This is why you get lifetime access to this content, including videos, worksheets, and any future updates to the course!
What format is the content delivered in?
Video! You will have video instruction and step-by-step walkthroughs of every major topic. This is by far the best way to learn the material we provide - by us demonstrating exactly what we have done to have so much success.
Is my credit card secure?
Credit card security is extremely important to us. That's why we've partnered with Stripe to handle the billing and provide a secure socket layer, 128-bit encryption. Frankly, your credit card data is safer making an online purchase through our secure site than it is using it to pay for gas or buy food at a restaurant. So feel comfortable knowing your transaction is 100% completely protected from fraud. We also offer PayPal as a payment method as well!
Who are the bloggers that are teaching this madness??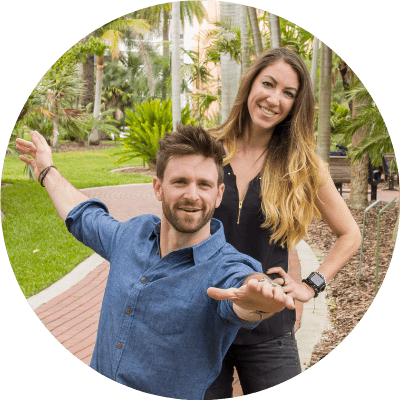 Alex Nerney & Lauren McManus
Co-Founders, Avocadu & Create and Go
Hey there, future blogger! We're Alex and Lauren, and we own a health and wellness blog at avocadu.com as well as a blog called createandgo.com, where we teach people just like you how to turn your passion into a profitable business you love.
We absolutely love what we do here at Create and Go, and we've been featured on some major websites for what we do.

In less that 9 months of working online together, we turned our health and wellness blog into a passive income machine that generates over $20,000 per month in blogging income.
We were able to quit our full-time jobs working as a personal trainer (Alex) and a CPA (Lauren) to pursue our dreams of being able to work from home and we now make over $100,000/month with our two blogs. We have even been able to travel to countries like Nicaragua, Peru, Bali, Portugal, and more - all while working on our blogs!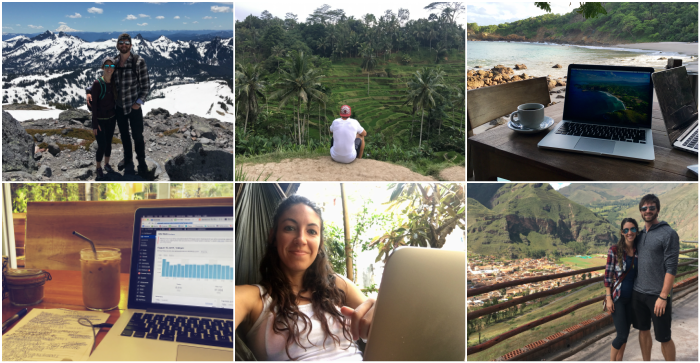 Don't get us wrong... It takes hard work and dedication, but you'll find that working on something you LOVE and that has the ability to majorly impact your future is a million times more rewarding and fun than a job that you hate. Now, it's your turn to experience the fun and success that we've been able to achieve!
Let's build your blog together!

Check out what others are saying in the private support group that comes with the course: