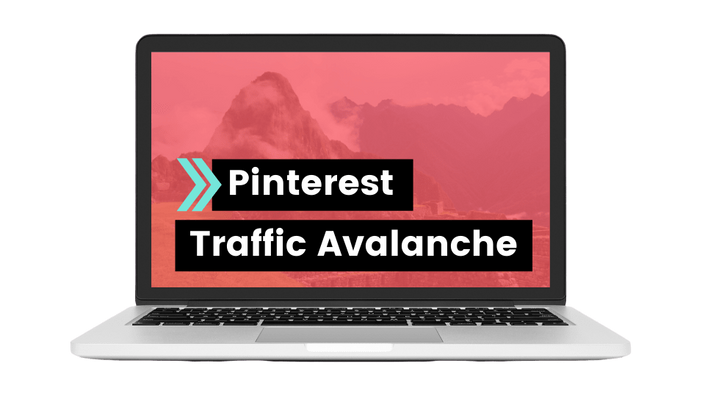 Pinterest Traffic Avalanche
The solution for beginner bloggers to drive 10,000 - 100,000+ FREE monthly visitors to your blog (no ads required) - on autopilot!
We're constantly updating our course as the Pinterest algorithm changes, so your lifetime access includes the most up-to-date information and strategies!

Do any of the following statements resonate with you?
---
Have you just started your blog or website and are feeling a little lost looking for the best way to get people to actually visit it?
Maybe you have already spent HOURS running in the "turtle race" that is Google SEO traffic, only to not be ranking for any posts and have hardly anyone visit your blog.
You know bloggers talk about Pinterest traffic a LOT, but you have no idea how to go about using it to get people to visit your blog...
And maybe you feel like nobody knows your blog exists...YET...
What if we told you that you could...
---
Generate THOUSANDS of new unique views for FREE.
Spend LESS time on trying to drive traffic to your blog and more time on what you love - creating blog posts and monetizing your blog.
Bring hundreds of raving fans to your blog every day.
Become a leading expert in your niche in just a few months.
It's no joke, y'all... Check out what our fellow bloggers are saying...
Meet Maria and Alyssa, the Spinach for Breakfast girls!
---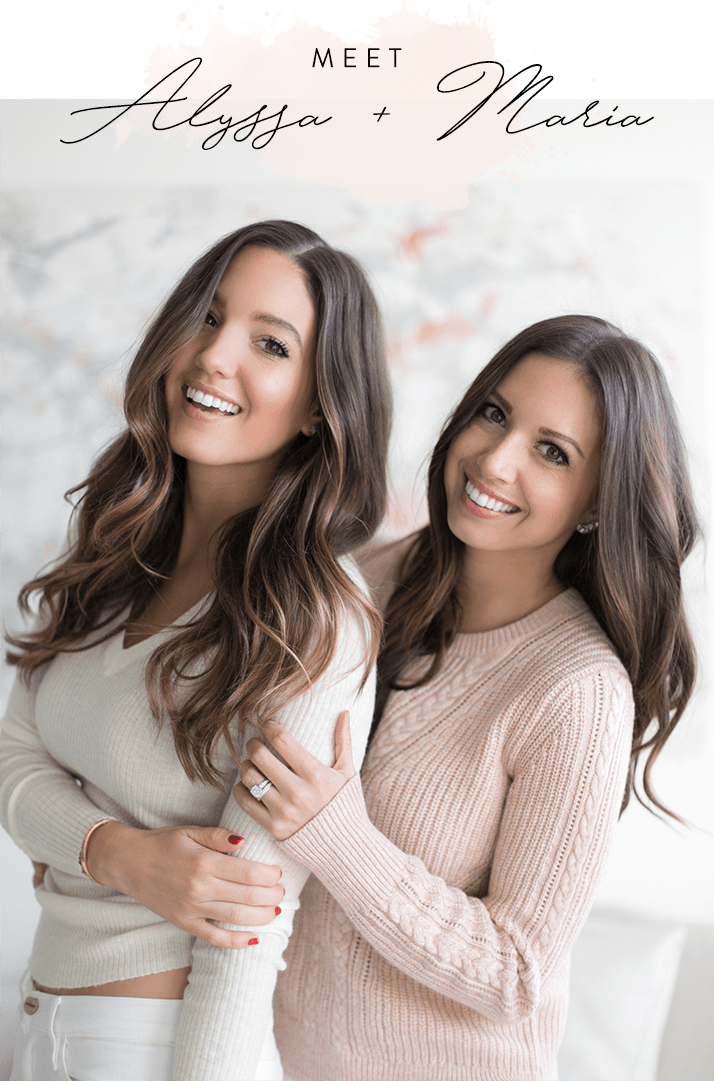 "Thanks so much Lauren! I've been binge watching the course since yesterday, and I'm almost all the way through (two Ninja courses left)!
This course is unbelievable! It's so easy to follow. You guys did an amazing job!
I can't believe how much we were not doing on our Pinterest account. It's embarrassing haha. I am so happy I naively reached out to you!"
-Maria,
Spinach for Breakfast
Maria also told us that the traffic to her blog shot up 50k page views in the FIRST MONTH that she followed our course:

Pinterest users are NOT your average website visitors...

Pinterest users are an amazing demographic of people:
They spend more money than ANY social media per day (yes, even Facebook).

They are FULL of kind and wonderful people who leave comments and share your blog (they truly are AWESOME).


The majority of users make over 50k per year, and 10% of users make over 125k per year!

They are SHOPPERS and are there looking for things to BUY.

The majority of Pinterest users have a college degree and higher education.

Learn the exact secrets, methods, and insider tips that took our health and wellness blog from unknown to a Pinterest Powerhouse, which eventually led to us being able to quit our jobs and work online full-time!
Here's exactly what happened when we implemented these Pinterest Avalanche techniques into our business...

In the first 2 months of running our blog, we had virtually no traffic. We were new to Pinterest and didn't really have any idea what we were doing.
Month 1: 4,961 views
Month 2: 5,325 views
In month 3, we began to figure things out and learn which strategies were working -- and which were not. This is where things really got interesting (and exciting!):
Month 4: 224,013 views
Month 5: 221,538 views
Month 6: 223,239 views
And then just 3 months after that, we had our first pin go MEGA-VIRAL. It was absolutely crazy and it was that moment that we realized the true, untapped potential of Pinterest for our blogs.
Month 10: 990,639 views
Month 11: 587,092 views
Month 12: 777,636 views
In months afterward, that traffic has ranged from 200,000 - 400,000 views per month, depending on the time of year and other factors.
As you can see, it's not linear growth. This is due to the nature of Pinterest and the "virality" of content. But if you pin the best content have the right strategies in place, you WILL continue to grow.
P.S. This is ALL organic Pinterest traffic. No ad spend, no Facebook, and no Google traffic.
And this course is CONSTANTLY updated as the Pinterest algorithm changes! These strategies and updates STILL work in 2021!
Here is a recent update from one of our current PTA students: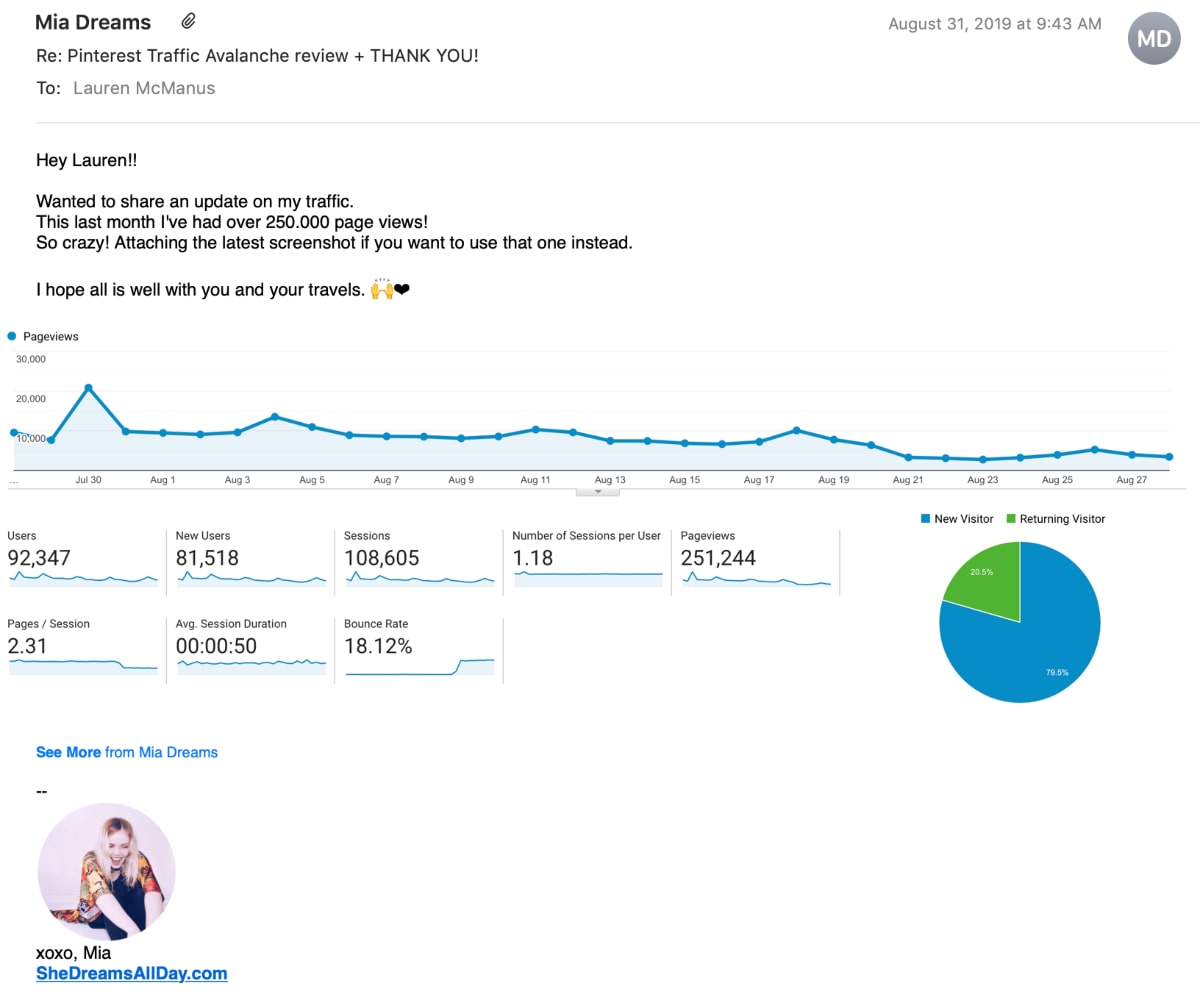 Before we move onto our Pinterest account and stats, let me tell you a little about us...
You see, we didn't start out in this niche. We don't just blog about blogging or coach about coaching...
We actually started out in the health and fitness niche. Our first blog, that still run today, is Avocadu, and these are the stats that you are about to see!
Here is our main Pinterest account...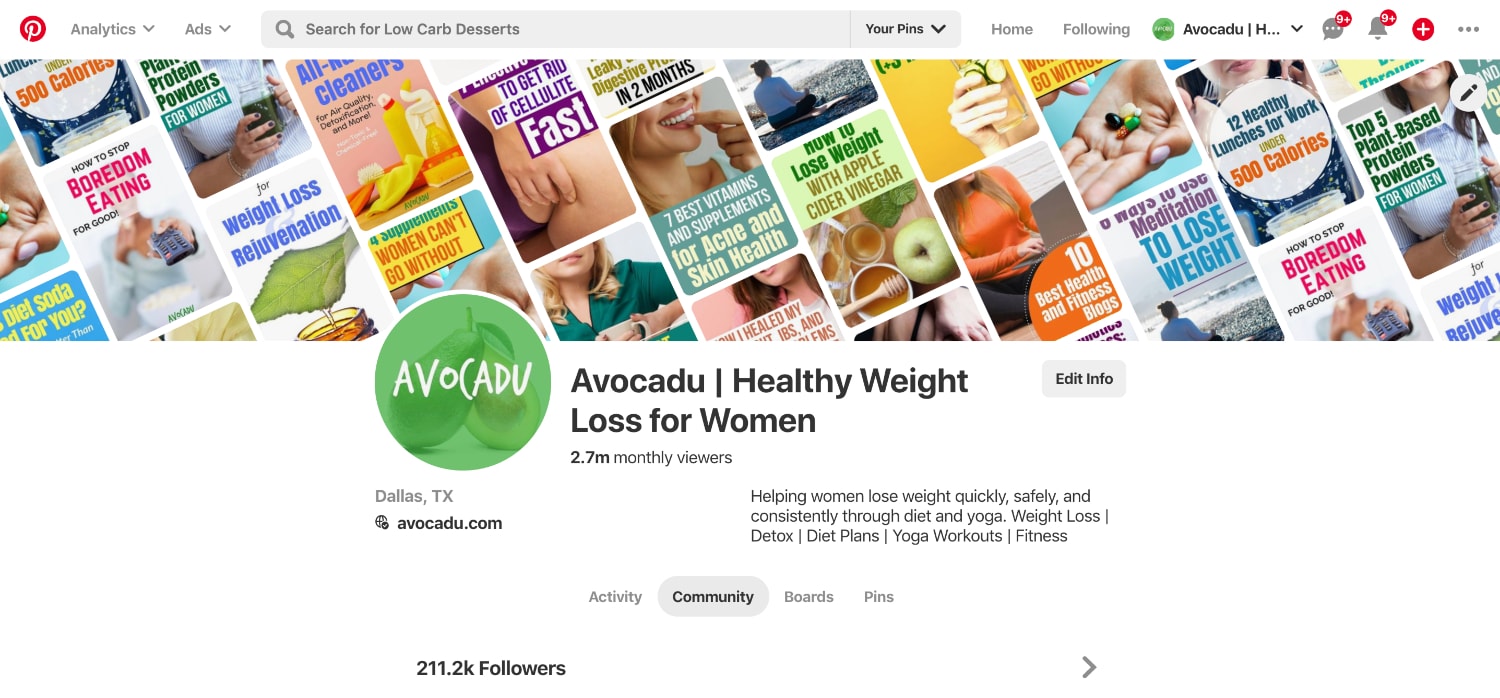 We now have over 200,000 followers!
The Truth: There are lots of Pinterest and other traffic "experts" out there who don't know what the bunk they talkin' about...
They know only how to get you basic results and some even brag about getting 5,000 views per month...
They certainly can't help you reach 10,000 - 100,000 views per month (they've never done it).
They don't truly know the real secrets behind Power Pinners and the real virality power of Pinterest.
----------
Take a second to imagine the potential of that much traffic to your blog...
Imagine the amounts of comments, shares, and engagement you would have on each post.
Imagine waking up every morning to droves of new subscribers signing up for your list and hungry for your next product.
Imagine explosive growth and the ability to quit your full-time job and go live life on YOUR TERMS.
Meet Amy, the Wherever Writer!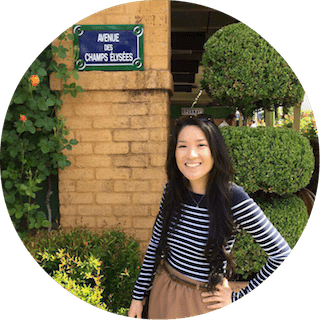 "I bought your course Feb. 5 and devoured it in 2 days. I am obsessed with learning about Pinterest and all things digital marketing.
I really mean it when I say your course is one of my favorite (if not THE favorite) courses!
I've completed 4 online courses about various marketing/social media-related topics, and yours was the only one that showed me real results after I put in the work.
My Pinterest traffic doubled in 4 weeks and continues to grow.
I bought Pinterest Traffic Avalanche on February 5 and was getting an average of 50 clicks from Pinterest per day. By March 5, I hit a record number of clicks in one day EVER at 132!
And it's been climbing ever since, as you can see from this screenshot from my Pinterest analytics dashboard:"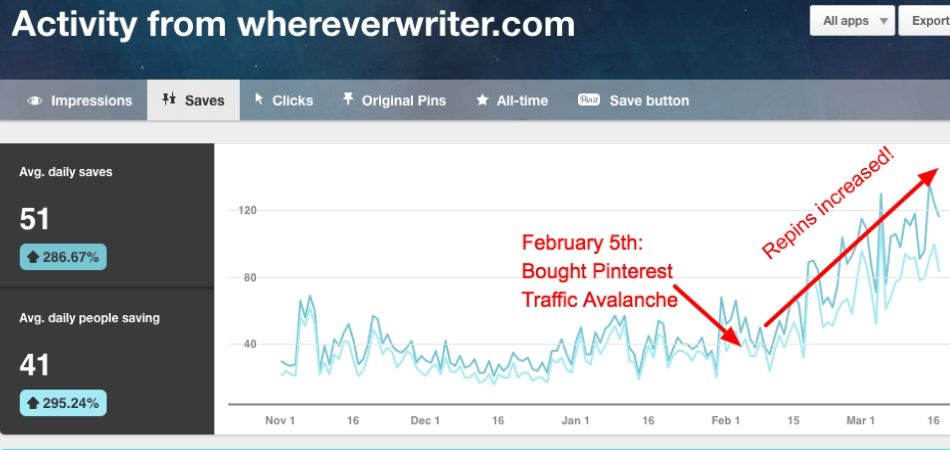 -Amy, The Wherever Writer
Pat had his traffic skyrocket from 1,000 views to 3,000 views in 24 hours when he had his first pin go viral using the strategies in Pinterest Traffic Avalanche: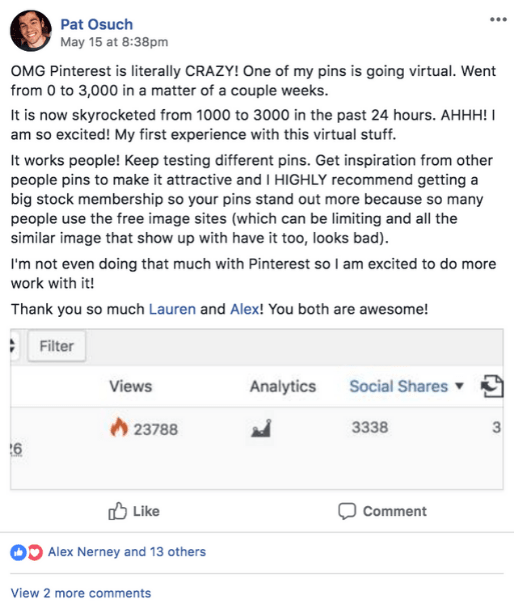 "OMG Pinterest is literally CRAZY! One of my pins is going viral. Went from 0 to 3,000 views in a matter of a couple of weeks.
It is now skyrocketed from 1000 to 3000 in the past 24 hours. AHHH! I am so excited! MY first experience with this viral stuff.
I'm not even doing that much with Pinterest so I am excited to work more with it! Thank you so much Lauren and Alex! You both are awesome!"
-- Pat, new blogger to Pinterest
Introducing...
Pinterest Traffic Avalanche
A Solution for Beginner Bloggers to Drive 10,000 - 100,000+ FREE Monthly Visitors to Your Blog - on Autopilot!
8 Modules with Over 25 Training Videos
+ a BONUS module on our Ninja Pinterest Secrets!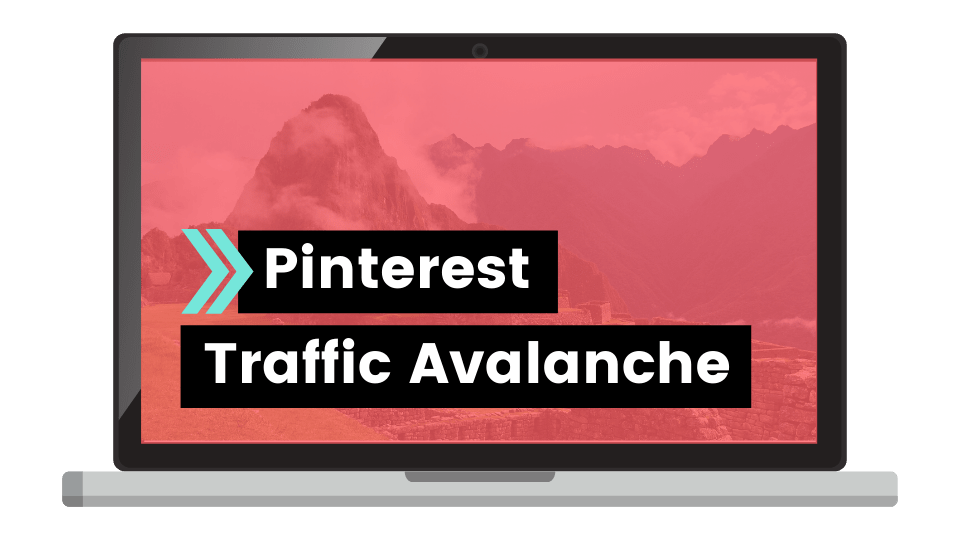 With this course, you will learn how to...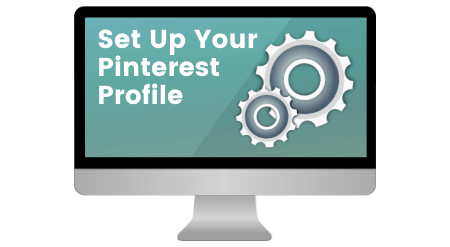 SET UP YOUR PINTEREST PROFILE
---
Set up your profile for success, including using search engine optimization (SEO) to boost your visibility in Pinterest search. Learn how to organize your boards, your pins, create beautiful board covers, and so much more!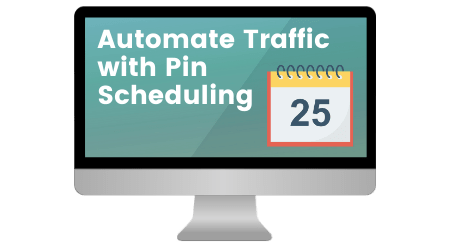 AUTOMATE TRAFFIC WITH PIN SCHEDULING
---
The thought of keeping up with constant posting on social media is a drag, right? Who has time for that? Scheduling out your content allows you to get continuous traffic while you're sleeping, traveling, etc!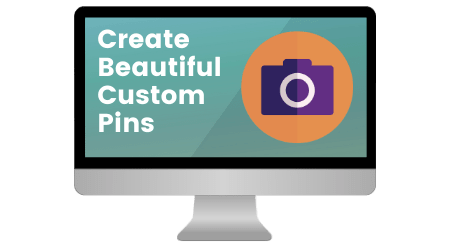 DESIGN YOUR OWN CUSTOMIZED PINS
---
This is THE name of the game on Pinterest! The best and most beautiful content wins at the end of the day. Learn how to create show-stopping pins that represent your brand and have the best chance of getting viral traffic!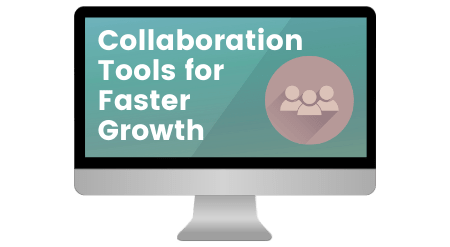 USE COLLABORATION TOOLS FOR FASTER GROWTH
---
Driving any amount of traffic can be tough when you're just starting out with no followers. The beautiful thing about Pinterest is that you don't have to have tons of initial followers to start driving traffic to your blog. The ability to collaborate on group boards solves this problem!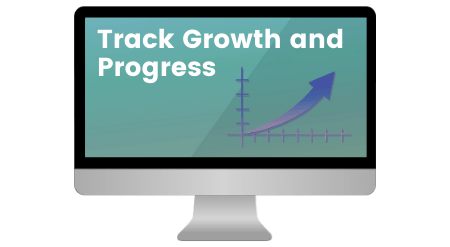 TRACK PROGRESS AND ANALYTICS
---
Learn awesome tools and metrics to track your progress and growth so you always know what's working and what's not! This will help you continue to improve your strategies and increase your blog traffic with Pinterest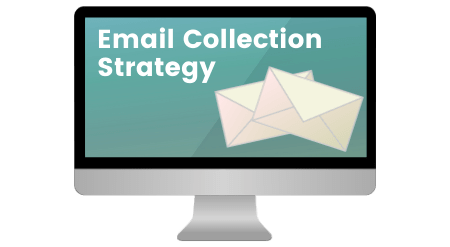 USE PINTEREST FOR EMAIL COLLECTION
---
It's hard enough getting people to visit your blog, let alone getting them to also sign up for your email list. Learn the strategies that we used to grow our email list like CRAZY by directly pinning our opt-ins on Pinterest!
And soooo much more!
Take a peek inside the course...
Course Curriculum
Tools and Downloads
Available in days
days after you enroll
Introduction to the Program
Available in days
days after you enroll
We Heard You Like Bonuses!
Signing up for Pinterest Traffic Avalanche will not only give you access to all 8 modules, but you also get these amazing bonuses absolutely FREE: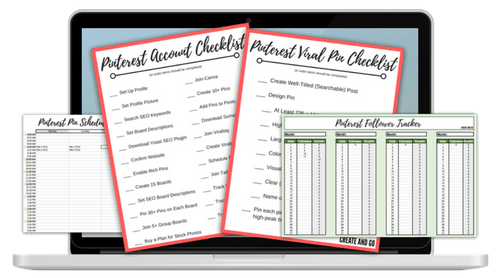 Worksheets and Checklists to Track Success ($47 Value)
---
Because your TIME is the most valuable resource you have when it comes to the success of your blog. These resources will save you time and help you track your growth.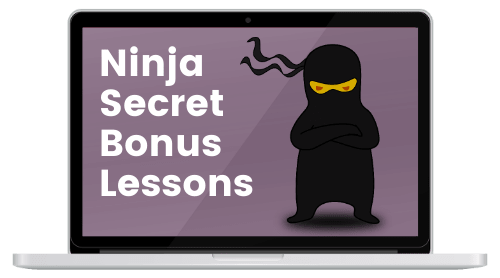 Get the Ninja Secrets Pinterest Bonus Lessons ($497 Value)
---
These lessons ALONE are worth the value of the entire course. We guarantee you have not heard any of this material before and walk you through some incredible in depth secrets to becoming a power pinner.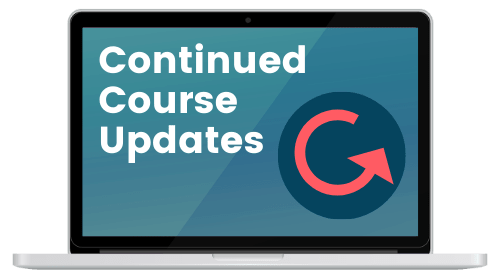 Get Updates as the Pinterest Algorithm Changes
---
The hardest part of finding good social media advice is that most of what you see is outdated and old. That's why we are constantly updating the course and support group with the latest content and strategies as the Pinterest algorithm continues to change.
Private Support Group Access ($47/m Value)
---
In this group, you will be able to ask us questions about the program, updates, Pinterest strategy, etc.
You can also chat with other members to toss around ideas, develop new strategies, and get feedback on your progress!
"I bought the Pro Blogger Bundle from Create and Go. I launched my blog on the 8th of December and I can't even keep up with the success I've had from it! I completed the Pinterest Traffic Avalanche course around the last week of Dec and in just a few weeks, I'm at 1800 visits to my site per day.
Thanks Lauren and Alex... You guys make dreams come true! FYI... we just quit our soul sucking jobs and will blog full time!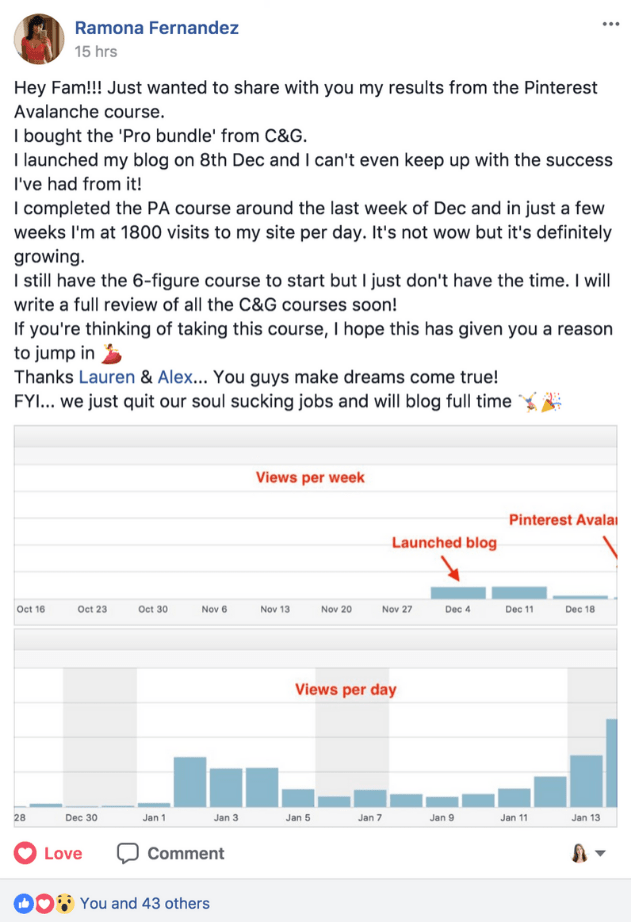 - Ramona, Pinterest Traffic Avalanche Student
Who is Pinterest Traffic Avalanche Designed For?
This course is perfect if...
You currently have a blog or have just started a blog and want to grow it FAST and the smart way.

You've been blogging but are new to Pinterest or are not getting the results you want.

You're not afraid of rolling up your sleeves and putting in some "work" to get good at Pinterest. This is not some overnight traffic explosion scheme to get low quality visitors. This is about how to build a growing and engaging audience for your brand and requires effort.
You're sick of things moving slowly and really want to crank things up a notch.
This course isn't going to be a good fit if...
You want the "secrets" to blogging but don't intend to put in any actual work. If you don't want to put any time or money into your blog, this is not for you.
You have not started a blog yet.
You are just blogging for fun and have no intention of making any profit with your blog.
You have an eCommerce website with no blog attached.
You consider yourself an advanced user of Pinterest, are jaded, and/or have "heard it all before".
There are two real ways to grow your blog right now...
- Spend $1,000+ every month with Facebook Ad traffic
- Constantly updating new ads as ads become stale after just a few short weeks
- Get slow as a turtle Google SEO Traffic
- Spend hours guest posting on other blogs in hopes of sending a few people to your own blog
- Frustration and stress over trying to solve overly complex data-driven platforms
Pinterest Traffic Avalanche
- Organic, completely free traffic to your blog
- Pins stay "viral" over time and are continually searched for on the platform (aka consistent traffic)
- Fast growth potential if willing to put in the work
- Fun and exciting, where the focus is on making beautiful pins that people love to share
- Enjoyable and entertaining
"I had a pin go viral using your techniques and the results have been amazing. Thank you for a great course. 89K page views in 7 days."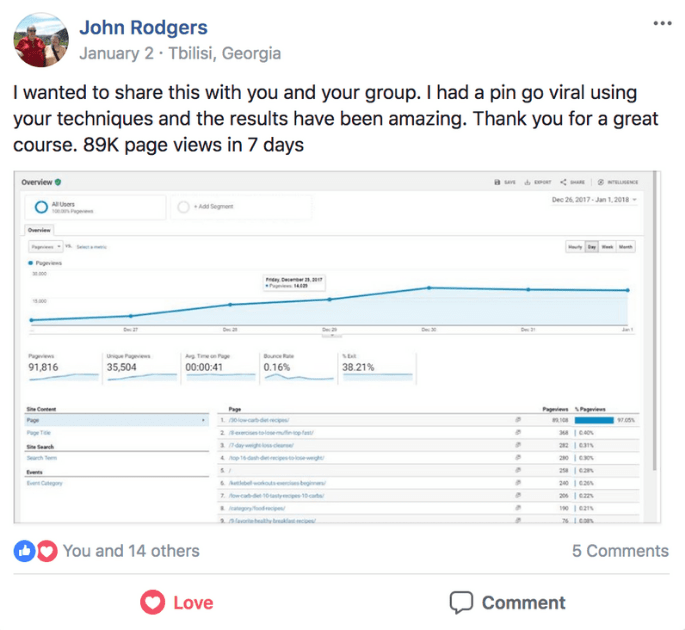 - John, Pinterest Traffic Avalanche Student
Who are the bloggers that are teaching this madness??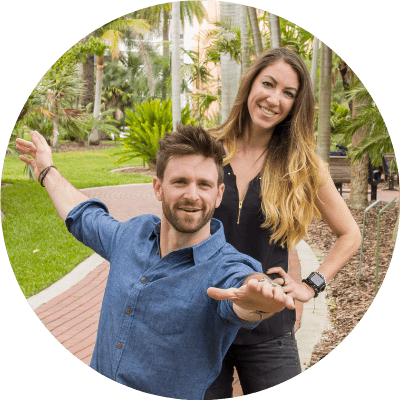 Alex Nerney & Lauren McManus
Co-Founders, Avocadu & Create and Go
Hey there, blogger! We're Alex and Lauren, and we own a health and wellness blog at avocadu.com as well as a blog called createandgo.com, where we teach people just like you how to turn your passion into a profitable business you love.
We absolutely love what we do here at Create and Go, and we've been featured on some major websites for what we do.

In less that 9 months of working online together, we turned our health and wellness blog into a passive income machine that generates over $20,000 per month in blogging income.
We were able to quit our full-time jobs working as a personal trainer (Alex) and a CPA (Lauren) to pursue our dreams of being able to work from home and we now make over $100,000/month with our two blogs. We have even been able to travel to countries like Nicaragua, Peru, Portugal, and more - all while working on our blogs!
Don't get us wrong... It takes hard work and dedication, but you'll find that working on something you LOVE and that has the ability to majorly impact your future is a million times more rewarding and fun than a job that you hate. Now, it's your turn to experience the fun and success that we've been able to achieve!
Let's do this thing together!

Frequently Asked Questions
Will this work for me if I have an eCommerce store?
That depends. If you have a purely eCommerce store with no blog or articles attached to it, then this course is not for you. A lot of the strategies that we teach are centered around creating content designed for Pinterest, but as it relates to bloggers or other websites that publish articles and similar content.
What format is the content delivered in?
Video! You will have video instruction and step-by-step walkthroughs of every major topic. This is by far the best way to learn the material we provide - by us demonstrating exactly what we have done to have so much success.
Do you update the course with algorithm changes?
Yes! We are constantly updating the course as the Pinterest algorithm changes and strategies change with it. Pinterest is the main source of traffic for both of our blogs, so we pay very close attention to it and to algorithm changes. We update the course regularly and discuss other updates and changes in our private support group as well.
How long do I have access to the course?
Now and forever! As stated before, social media is an ever evolving and changing monster that you have to stay on top of if you want to win! This is why you get lifetime access to this content, including videos, worksheets, and anything added to the program!
Do you offer any refunds or guarantees?
Absolutely. If you go through the course, implement our strategies, and don't see any results, then you can email us within 30 days for a full refund. All we ask is that you provide evidence that you've put these methods into place with your Pinterest account and can show that they have not worked for you. Note that this eCourse is designed for beginner to intermediate users of Pinterest and not for advanced users. All refunds are subject to the terms of the full refund policy linked on the footer of this page.
How long will it take before I can expect to see results?
That depends on a variety of factors, including how much time you put into the strategies each day, how many articles you currently have, how many you are publishing each week, how much time you spend creating pins, and others. There is no magic number here, but if you put in serious work and dedication, you should see results within 2-4 weeks!
Is this course for intermediate to advanced Pinterest users?
This is a difficult question to answer because many Pinterest users don't consider themselves to be "beginners," but they also aren't quite sure if they are intermediate or advanced either. This leaves a lot of gray area. We will tell you that while this course does include advanced strategies, the majority of the course was written with the beginner in mind. You'll find that most Pinterest courses are written this way because it's just too difficult to ascertain what more advanced users "know and don't know." This course is not for you if you already "know everything" and are just looking for the "golden nugget" of information that is going to skyrocket your traffic. - P.S. It doesn't exist and if it did, true marketers probably wouldn't share it anyway! ;)
This is a lot of money. Is it really worth that price?
Let's do a little thought experiment. The most common "guru" method of driving traffic to a website these days is Facebook ads. If you are an ELITE Facebook Ad expert, you may be able to get .05 cents per click. The average these days is more like .10 - .15 cents. In order to drive 200,000 unique visitor from Facebook, you'd need to pay $10,000 per MONTH just to get the same kind of traffic we do. Or you could do the turtle method of building your website for Google SEO. Yes, the traffic is free, but real results may take you a year or, for most, MUCH longer. Lastly, let's pretend you were only able to drive an extra 10,000 visitors to your blog per month using these methods. If you could convert 1% of those visitors into buyers on a $17 product, you'd make an extra $1,700 per month. Basically, this course is worth the high price, and should even be priced much higher. Sooo yeahhh...
Can I find this information for free online?
Most content creators save their best information for their paid courses because it's how they earn a living. Our course is no different. ​Additionally, most of the information you'll find at the top of google searches is outdated, incorrect, and/or fragmented at best. This is just the nature of social media and the algorithm changes that need to be made for growth. This is also the reason we constantly update this course, and you get access to these continual updates for FREE. It's not just about getting access to the right information. It's about having the guidance to know exactly what to do with that information and when.
Do you have transcripts available?
We have detailed outlines for most of the videos, but not full transcripts. They will help you follow along and skip to the parts of the videos that you will benefit from the most. They're also great for taking notes!
Is my credit card secure?
Credit card security is extremely important to us. That's why we've partnered with Stripe to handle the billing and provide a secure socket layer, 128-bit encryption. Frankly, your credit card data is safer making an online purchase through our secure site than it is using it to pay for gas or buy food at a restaurant. So feel comfortable knowing your transaction is 100% completely protected from fraud.
Meet Darlene, a diehard country music fan from Texas!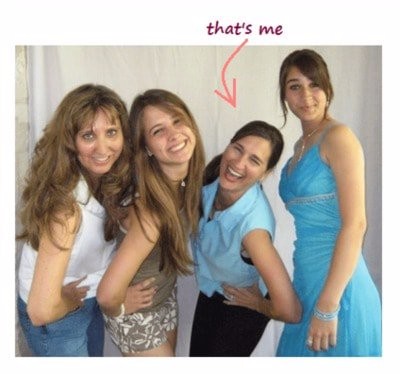 "I purchased several Pinterest courses in the last few months, because when I want to master something I don't mind spending the money. :)
Pinterest Traffic Avalanche gives all the good basics that I found in the other courses. The basics are important so you don't want to skip, but here's where it gets interesting...
Oh, those Ninja tips! There are several that gave me huge "Aha!" moments. But I'll speak of one in particular that should explode your sales. It's when Alex explains about how to use curiosity.
This one shows you the difference between merely getting a lot of repins versus getting repins WITH people clicking through and buying your product. FYI, I'm not talking CTA. This is much bigger than that.
The Ninja tips are worth the price of the course alone, but you also get a well-rounded course, plus a closed Facebook support group for questions and assistance."
Darlene has been a huge part of our community blogging AND Pinterest groups, and she's always quick to share her ideas when other bloggers ask for help!
- Darlene, Her Country Music
Check out what others are saying in the private support group that comes with the Pinterest Traffic Avalanche Course: