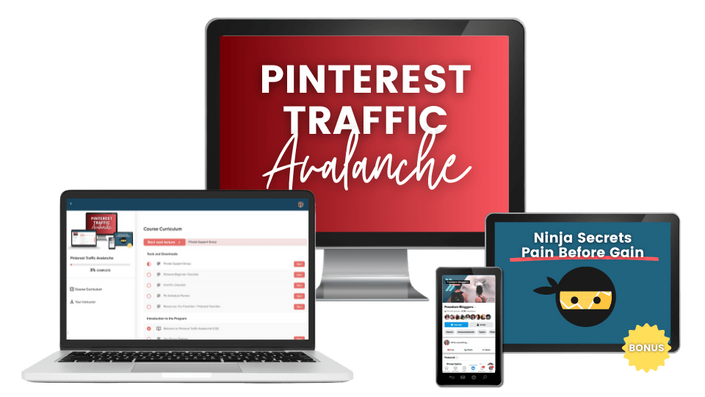 Pinterest Traffic Avalanche
The solution for beginner bloggers to drive thousands of FREE monthly visitors to your blog (no ads required) - on autopilot!
Do any of the following statements resonate with you?
---
Have you just started your blog or website and are feeling a little lost looking for the best way to get people to actually visit it? 🙇🏻‍♀️
Are you feeling like you'll try anything before you have to settle for becoming an Instagram influencer or putting yourself on YouTube? 📸
Maybe you have already spent HOURS running in the "turtle race" that is Google SEO traffic, only to find your posts still not ranking for anything worthwhile. 🐢
Maybe you've already gotten started on Pinterest but it just isn't making sense for you and you want to know how to get your content NOTICED. 👀
Or maybe you feel like nobody knows your blog even exists...YET... 🙈
If so, you're in the right place.

With Pinterest, we've been able to...
---
📊 Generate THOUSANDS of new unique views for FREE.
This was especially important for us when we first started our blog because we didn't have any money in our budget for ads (or any idea how to even run successful ads). This free traffic is what launched our blog into early success.
🤑 Spend LESS time focused on traffic and more time on what really matters: content and monetization.
As a blogger, it feels like you never have enough time to get everything done. Getting our content established on Pinterest and using scheduling to automate it has allowed us to turn our sights to other important areas of our business like creating more content, starting a podcast, and focusing on our sales strategies.
💛 Build an audience of incredible people.
We've been able to use our Pinterest traffic to grow our email list and build an audience of tens of thousands of people who really care what we have to say. This connection has helped us to build better relationships and sell more products.
🎙 Open the doors to so many other opportunities.
The audience that we started building from Pinterest has helped us successfully launch so many other endeavors, including a popular YouTube channel, a podcast, and so much more. We've been able to diversify and grow our business SO much since getting started with Pinterest.
And it's not just us...
Meet Maria and Alyssa, the Spinach for Breakfast girls!
---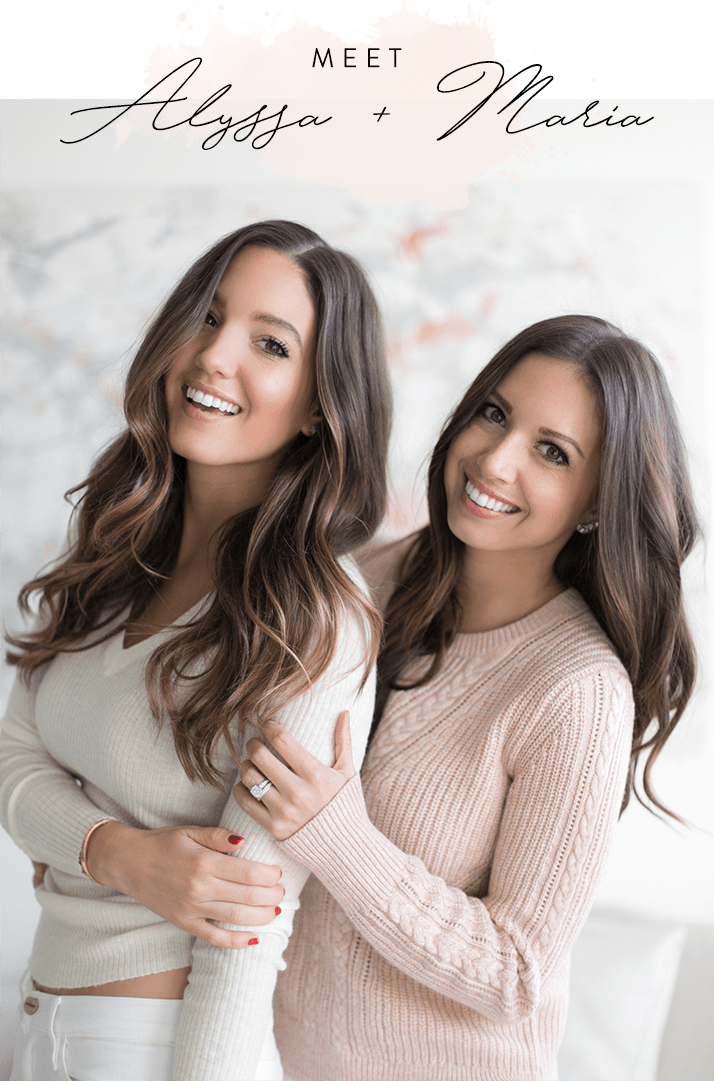 "Thanks so much Lauren! I've been binge-watching the course since yesterday, and I'm almost all the way through (two Ninja courses left)!
This course is unbelievable! It's so easy to follow. You guys did an amazing job!
I can't believe how much we were not doing on our Pinterest account. It's embarrassing haha. I am so happy I naively reached out to you!"
Why should you care about Pinterest traffic for your blog?
That's a great question. Here's the deal… Pinterest users are not your average website visitors... They are an amazing demographic of people that happens to be every marketer's dream:
They spend more money than ANY social media platform per day (yes, even Facebook).

The majority of users make over 50k per year, and 10% of users make over 125k per year.

The majority of Pinterest users have a college degree or some form of higher education.
Basically, they are an affluent group of people that can afford to purchase things on the internet. They're waiting for you to show them how you can help them!

Additionally, here are some of our favorite reasons for using Pinterest:
👩🏻‍💻 Most of the people with content on Pinterest are also small bloggers.
This means that you're not competing as often with major media and publishing companies like you are on Google or other platforms. It also means that there is all kinds of great inspiration from other bloggers in your niche.
🚦 It's less competitive than Google.
We will admit that Google SEO will give you the potential for more (and more consistent) traffic -- it's why we also sell an SEO course. But Google is still FAR more competitive than Pinterest. Pinterest is still a better place to start to get some initial traffic to your blog.
💁🏼‍♀️ You don't have to be an influencer to get traffic.
This one might just be me, but I am NOT an influencer and I truly don't want to be. That's why my Instagram photos are mainly of the places that I've been and any photos of myself are far away, turned away from the camera, or with sunglasses. I like driving my traffic from sources that don't require me to influence in that way.
💥 You can generally get traffic to a new blog pretty quickly.
I already mentioned that it's less competitive. But it's also a search engine that doesn't place too much emphasis on followers or subscribers. Sure, the more views you get, the more you will grow. But it's generally much easier to start at 0 in this platform compared to other platforms.
And here is an update from Mia below...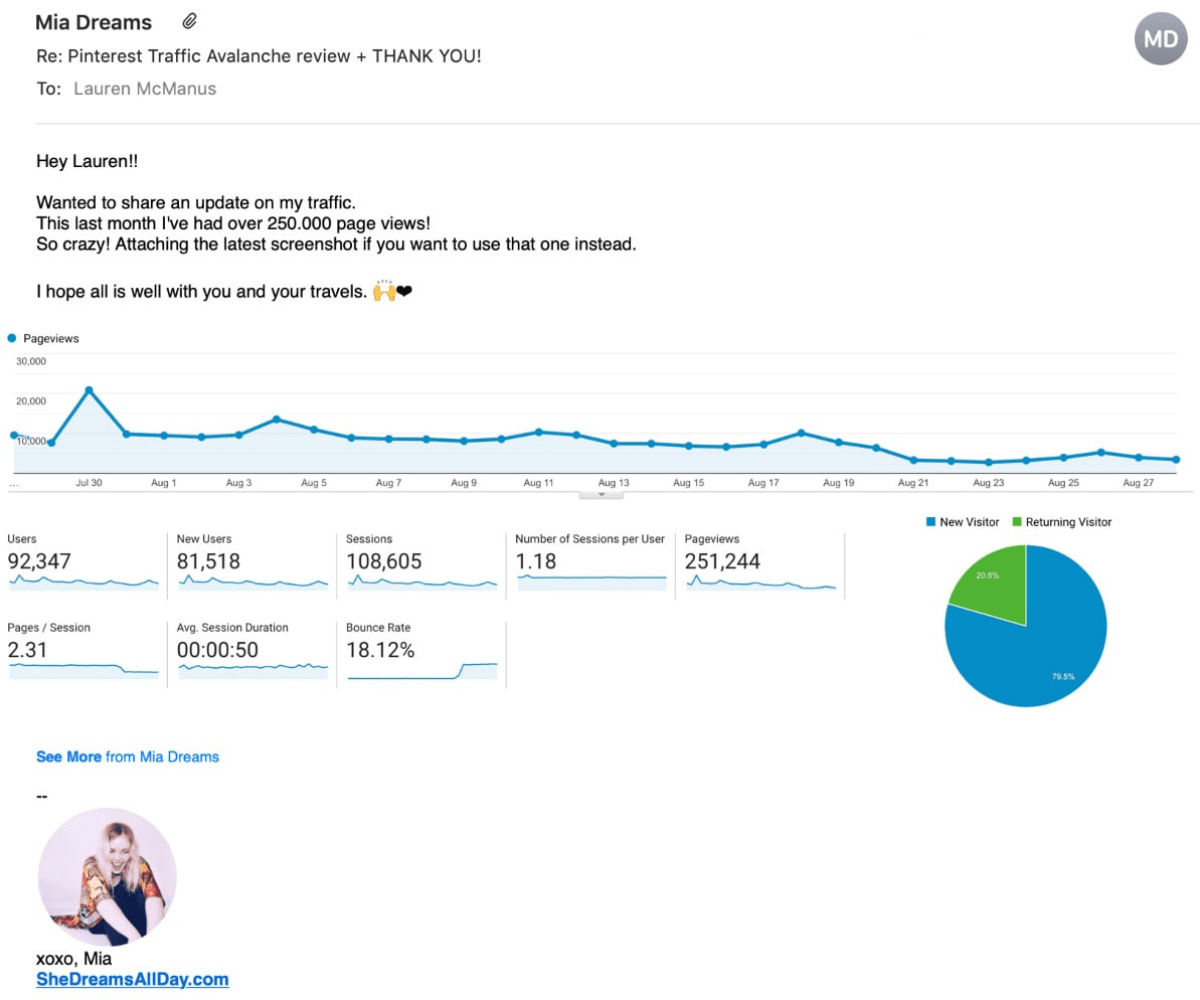 We are going to teach you the strategies that we used to take our two Pinterest accounts to...
251,000 Followers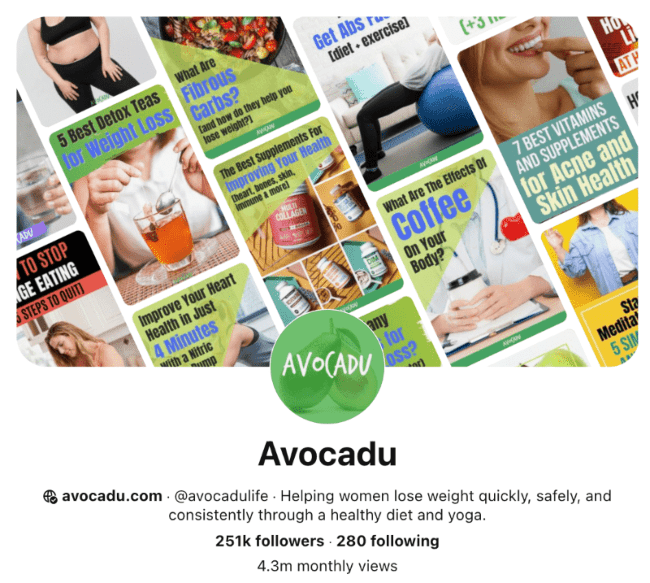 and 42,300 Followers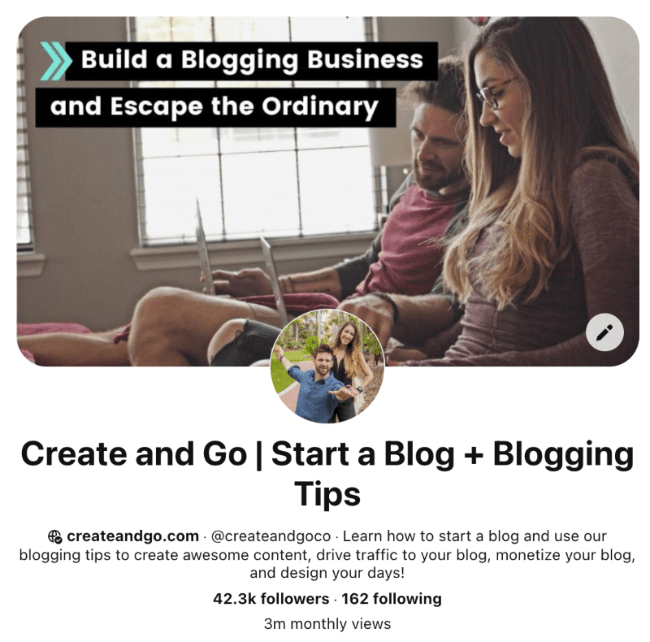 Take a second to imagine what more traffic can do for your blog...

💬 The comments and engagement you can get on each blog post.
📧 The ability to grow your email list to tens of thousands of people.
💸 The money that you can make from having an email list that size...
Let us show you how...
Meet Amy, the Wherever Writer!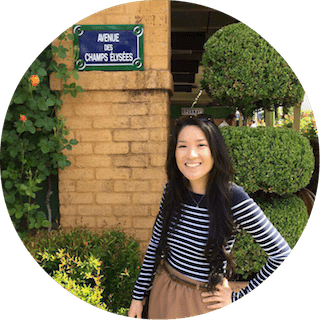 "I bought your course Feb. 5 and devoured it in 2 days. I am obsessed with learning about Pinterest and all things digital marketing.
I really mean it when I say your course is one of my favorite (if not THE favorite) courses!
I've completed 4 online courses about various marketing/social media-related topics, and yours was the only one that showed me real results after I put in the work.
My Pinterest traffic doubled in 4 weeks and continues to grow.
I bought Pinterest Traffic Avalanche on February 5 and was getting an average of 50 clicks from Pinterest per day. By March 5, I hit a record number of clicks in one day EVER at 132!
And it's been climbing ever since, as you can see from this screenshot from my Pinterest analytics dashboard:"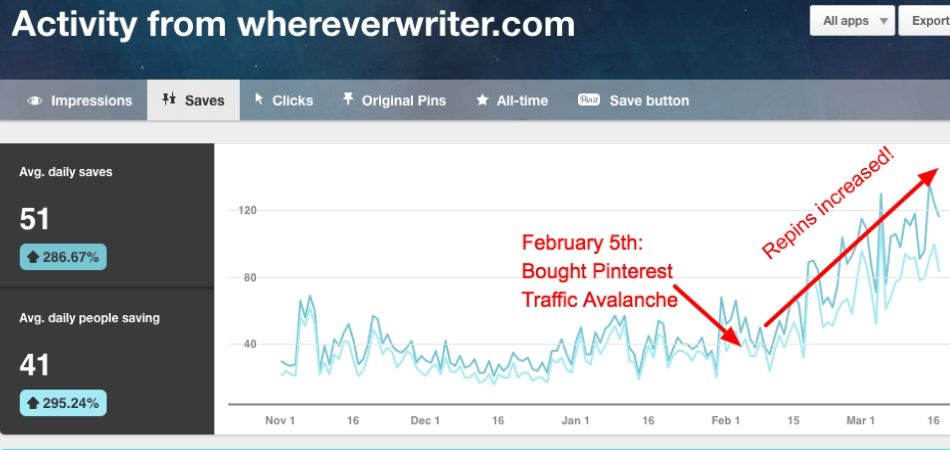 - Amy, The Wherever Writer
Pat Reached 3,000 Views in Just a Couple Weeks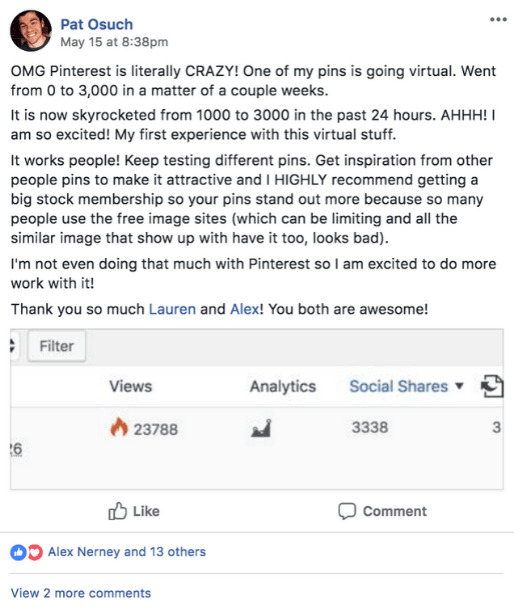 "OMG Pinterest is literally CRAZY! One of my pins is going viral. Went from 0 to 3,000 views in a matter of a couple of weeks.
It is now skyrocketed from 1000 to 3000 in the past 24 hours. AHHH! I am so excited! MY first experience with this viral stuff.
I'm not even doing that much with Pinterest so I am excited to work more with it! Thank you so much, Lauren and Alex! You both are awesome!"
- Pat Osuch
Introducing...
Pinterest Traffic Avalanche
---
The solution for beginner bloggers to drive thousands of FREE monthly visitors to your blog (no ads required) - on autopilot!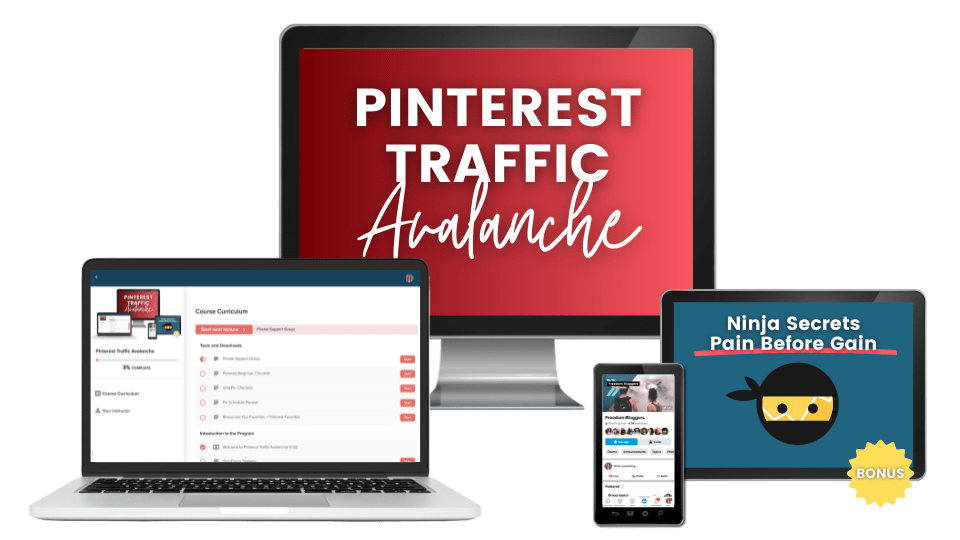 Build a Successful Pinterest SEO Strategy
Pinterest is a search engine and understanding SEO (search engine optimization) will help you increase your reach in Pinterest search and ultimately your visibility on the platform. We'll show you how to optimize your profile, your content, and more.

Create Viral Content that Stands Out
It's not just about having visually stimulating content... It's about designing that content in a way that stimulates engagement and clicks to your website. This is how you will grow and how you will translate Pinterest impressions into views.

Schedule Content and Automate Traffic
Keeping up to date with posting content everywhere is a drag. We'll share our recommended pinning strategies and show you how you can quickly automate your Pinterest traffic so you can spend more time on other areas of your business.

Use Collaboration Tools for Faster Growth
Driving any amount of traffic can be tough when you're just starting out with no followers. The beautiful thing about Pinterest is that you don't have to have tons of initial followers to start driving traffic to your blog. We'll show you how you can use collaboration tools to boost your reach.

Track Progress and Analytics
We'll show you what tools and metrics to pay attention to in order to track your progress and growth, so you always know what's working and what's not! This will help you continue to change and improve your strategies over time.

Grow Your Email List
It's hard enough getting people to visit your blog the first time. Getting someone's email address gives you a way to reach them again and again. We'll share our best strategies for using Pinterest to quickly grow your email list.
And soooo much more!
Course Curriculum
Tools and Downloads
Available in days
days after you enroll
Laying the Foundation to Pinterest Success
Available in days
days after you enroll
How about some bonuses?
When you purchase the course today, you'll also get access to these FREE bonuses!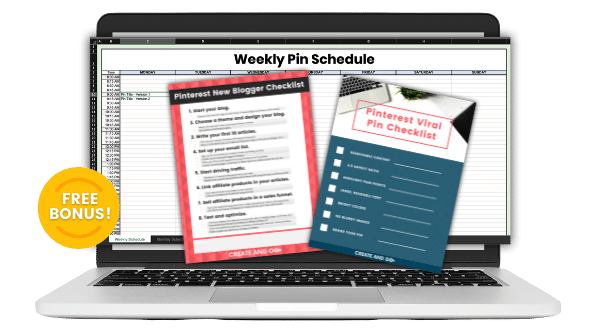 Worksheets and Checklists ($37 Value)
---
Make sure you're taking the right steps at the right time. These downloadable checklists and worksheets will help you stay on track!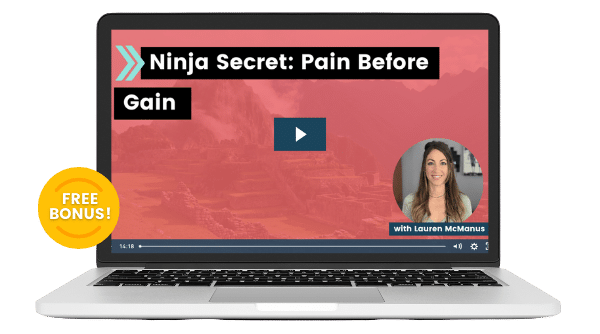 Get the Ninja Secrets Pinterest Bonus Lessons ($97 Value)
---
These are a couple of our best strategies for growth on Pinterest. They're the things that most other people don't pay all that much attention to. But you're going to want to take a closer look here to get ahead of the game!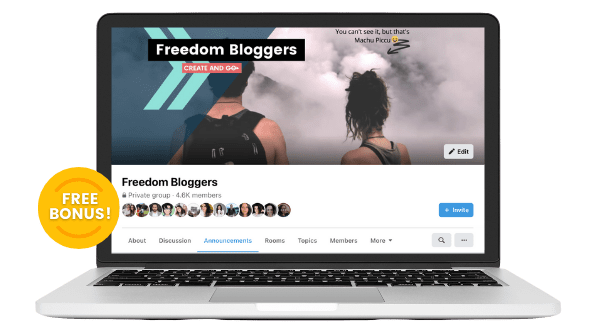 Private Student Support Group ($47/m Value)
---
In this group, you will be able to ask us questions about the course, get updates, discuss strategies, and more. You can also chat with other members to toss around ideas, develop new strategies, and get feedback on your progress!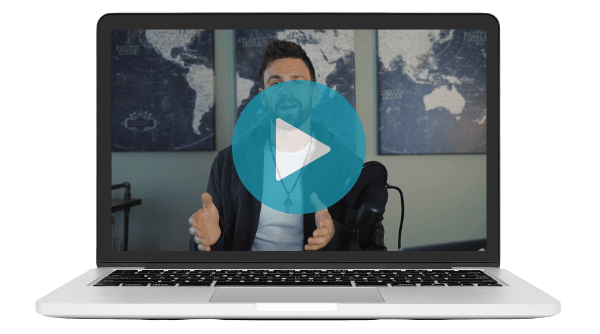 PLUS + Lifetime Access and Updates
---
If there is one thing we know for certain in this life besides death and taxes, it's that Pinterest likes to change sh*t. Most of these changes are small and pointless and don't amount to much. But some do. And you better believe we are constantly updating the course accordingly.
Ramona Started Getting 1800 Visits/Day to Her Blog in Just a Few Weeks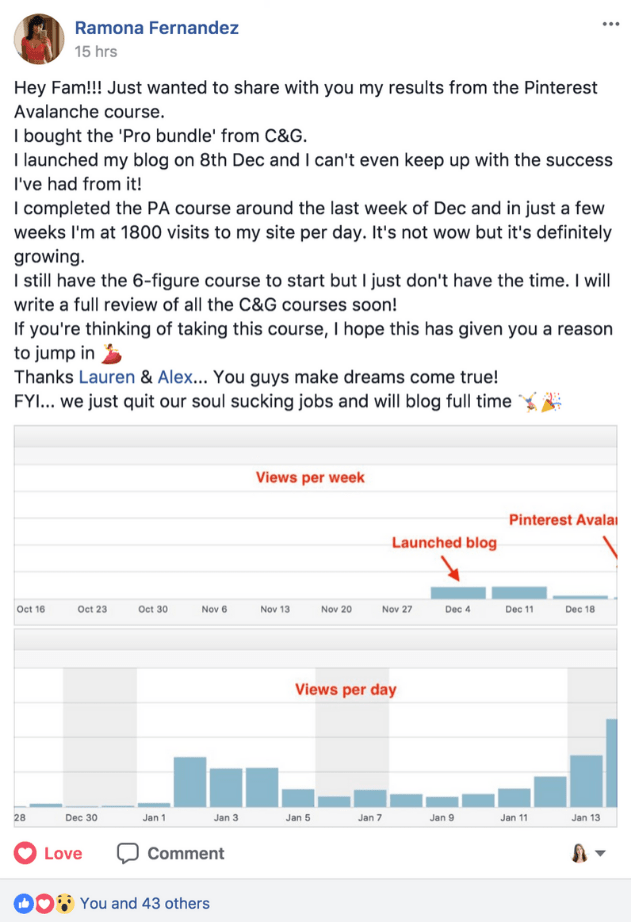 "I bought the Pro Blogger Bundle from Create and Go. I launched my blog on the 8th of December and I can't even keep up with the success I've had from it! I completed the Pinterest Traffic Avalanche course around the last week of Dec and in just a few weeks, I'm at 1800 visits to my site per day.
Thanks, Lauren and Alex... You guys make dreams come true! FYI... we just quit our soul-sucking jobs and will blog full time!
- Ramona, Fitnizfury
Is Pinterest Traffic Avalanche Right for Me?
This course is a good fit for you if...
You currently have a blog or have just started a blog and want to get some traffic to it pretty quickly.

You've been blogging for a while but you are new to Pinterest or are not getting the results that you want.

You want to diversify your traffic and add another platform to your mix.

You're ready to put in some work to learn a new platform. Success on Pinterest won't happen overnight. You need a focused approach to build an audience.

You'd prefer not to go the influencer route on Instagram or YouTube.
This course is not going to be a good fit for you if...
You have not started a blog yet.


You have been using Pinterest for a while and are only looking for that secret golden nugget of information that you think will skyrocket your success.

You have an eCommerce website with no real long-form content.
Hey there! We're Lauren and Alex.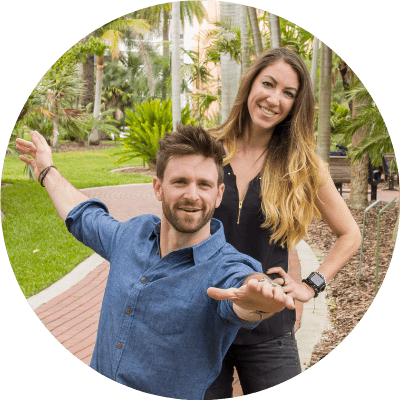 Alex Nerney & Lauren McManus
Co-Founders, Avocadu & Create and Go
Hey there, blogger! We're Alex and Lauren, and we own TWO successful, six-figure blogs. A health and wellness blog at avocadu.com and a business blog at createandgo.com, where we teach people just like you how to turn your passion into a profitable business you love.
We absolutely love what we do here at Create and Go, and we've been featured on some major websites for what we do.

In less that 9 months of working online together, we turned our health and wellness blog into a passive income machine that generates over $20,000 per month in blogging income.
We were able to quit our full-time jobs working as a personal trainer (Alex) and a CPA (Lauren) to pursue our dreams of being able to work from home and we now make over $100,000/month with our two blogs. We have even been able to travel to countries like Nicaragua, Peru, Portugal, and more - all while working on our blogs!
Don't get us wrong... It takes hard work and dedication, but you'll find that working on something you LOVE and that has the ability to majorly impact your future is a million times more rewarding and fun than a job that you hate. Now, it's your turn to experience the fun and success that we've been able to achieve!
Let's do this thing together!

Frequently Asked Questions
Will this work for me if I have an eCommerce store?
If you have just eCommerce store with no blog or long-form content, then this course is not for you. Most of the strategies that we teach are focused on content marketing -- not product marketing.
What format is the content delivered in?
This is an online course primarily consisting of videos, although we do include transcripts and some written summaries.
How often is this course updated?
As often as it needs to be! Pinterest changes often. Sometimes the changes are small and we update 1 or 2 related lessons. Sometimes the changes are huge and we update the entire course. Pinterest is still a big source of traffic for both of our blogs, so we pay close attention to algorithm changes and update our strategies and the course as necessary!
How long do I have access to the course?
Your access to the course doesn't expire, so you can go at your own pace and access it again at any point in time in the future (along with any updates to the course)!
Do you offer any refunds or guarantees?
Absolutely. We want you to be super happy with your purchase and feel like our courses are the right fit for you. If you are unhappy or feel that this isn't the right investment for you, you can request a refund within 30 days of purchase. Please see the refund policy linked at the bottom of this page for the full terms and conditions.
How long will it take before I can expect to see results?
That depends on a variety of factors, including how much time you put into the strategies each day, how much existing content you have, how often you publish new content, etc. There is no magic number here, but people that put in focused work and dedication generally see results within 2-4 weeks.
Will this help me if I already have some experience with Pinterest?
This course is designed for beginners and therefore covers all of the basics of getting set up and started on Pinterest. It also contains our more advanced strategies, but this course probably isn't for you if you pretty much know everything already and you're just seeking out the single golden nugget of knowledge that you think everyone is keeping close to the vest. A small piece of information can certainly pay for an entire course itself. But we don't offer refunds just because you went through the entire course and decided you knew everything already.
Can I find this information for free online?
Most content creators save their best information for their paid courses, because it's how they earn a living. Our course is no different. The information that you find for free online is generally more or less outdated, incorrect, and/or fragmented at best. As we said before ... we update our courses as necessary when algorithms or strategies change.
Do you have another question that we didn't answer?
You can send us a message through the chat box at the bottom corner of this page OR you can send us an email to
[email protected]
and we'll do our best to help you figure out if this course is right for you!
Meet Darlene, a diehard country music fan from Texas!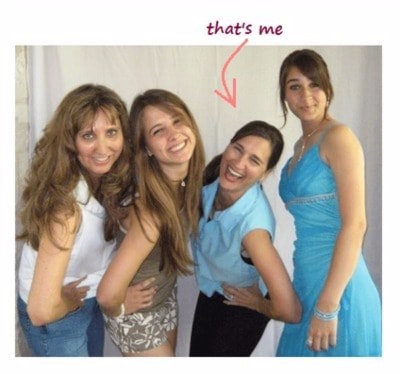 "I purchased several Pinterest courses in the last few months because when I want to master something I don't mind spending the money.
Pinterest Traffic Avalanche gives all the good basics that I found in the other courses. The basics are important so you don't want to skip, but here's where it gets interesting...
Oh, those Ninja tips! There are several that gave me huge "Aha!" moments. But I'll speak of one, in particular, that should explode your sales. It's when Alex explains how to use curiosity.
This one shows you the difference between merely getting a lot of repins versus getting repins WITH people clicking through and buying your product. FYI, I'm not talking CTA. This is much bigger than that.
The Ninja tips are worth the price of the course alone, but you also get a well-rounded course, plus a closed Facebook support group for questions and assistance."
- Darlene, Her Country Music
Student Results From Our Course Support Group