Are you ready to increase your traffic and build an audience with Pinterest?

Learn how to create click-worthy content that drives organic visitors in droves!

Does the thought of driving traffic in any of the following ways make you queasy?
💁🏻‍♀️ Becoming an Instagram Influencer Following the Follows
Everyone is showcasing their life and featuring the hottest product. These days, you really need a massive following or an ad budget to be able to compete in this space.
🤳🏼 Creating Endless 10-Second TikTok Videos
I've seen my brother spend 5 hours creating a 2-minute TikTok video before... Sure, he's got high standards. But still... It's a commitment for growth.
🎥 Producing High-Quality Videos for a YouTube Channel
YouTube is a great way to build relationships with your audience, but it requires putting yourself out there on camera in a totally new way that is often difficult for many (including myself).
💀 Waiting for Months for Your Google SEO Traffic to Kick In
Google SEO is a great source of high-quality traffic, but it usually takes some time to get the ball rolling here. It can be difficult for a new blog.
The truth is... It can be difficult for a new blog to get any real traffic in the beginning.
But Pinterest provides you with a unique opportunity to...


👩🏽‍💻 Compete with Small Bloggers - Not Massive Media Publishers

Google, we're looking at you. How is a small business ever to compete against an entire team of ghost authors and writers?


📈 Get Traffic Without Waiting for Algorithms and Followers

Pinterest, mercifully, doesn't place much emphasis on followers or subscribers. It's generally much easier to start at 0 in this platform compared to others.


📄 Drive Traffic Straight to Articles - No Influencing Required

Maybe it's just me, but I like driving my traffic from sources that don't require me to constantly be in front of the camera.

🙌🏼 And Share Content on a Far Less Competitive Platform
Google SEO will give you the potential for more traffic, but it's also FAR more competitive. Pinterest is still a better place to get some initial traffic coming in.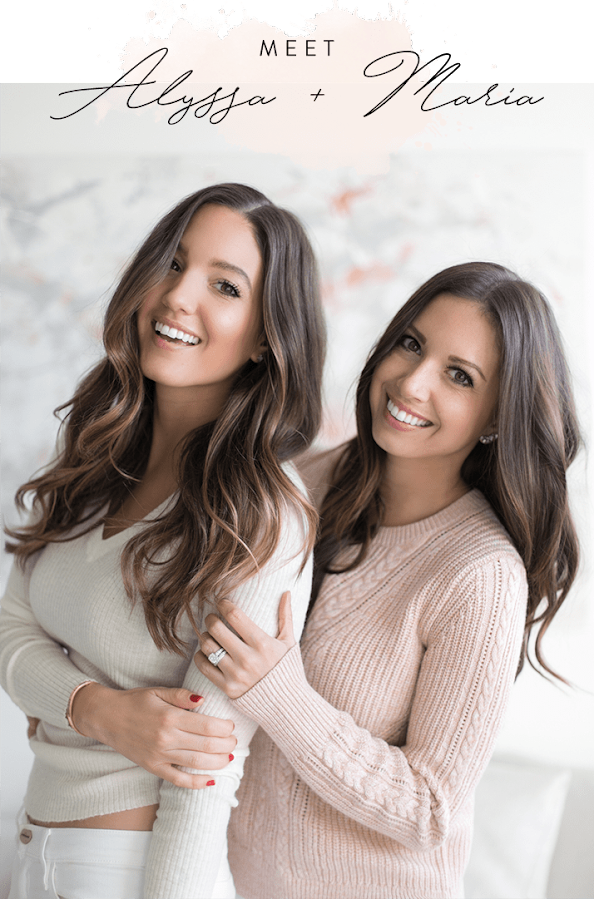 Meet Maria and Alyssa, the Spinach 4 Breakfast girls!

Their Traffic Increased to 50k Page Views in Just the First Month
"Thanks so much, Lauren! I've been binge-watching the course since yesterday, and I'm almost all the way through!
This course is unbelievable! It's so easy to follow. You guys did an amazing job!
I can't believe how much we were not doing on our Pinterest account. It's embarrassing haha. I am so happy I naively reached out to you!"
-Maria, Spinach 4 Breakfast


Pinterest helped us (and thousands of our students) launch a successful online business.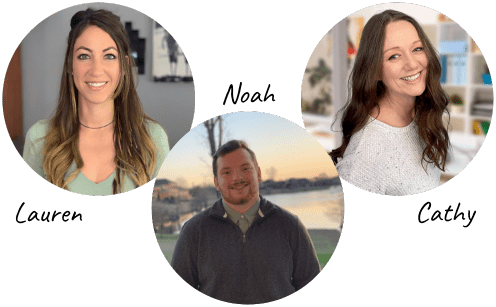 Hey, there! Welcome to the crew!

Here are Create and Go, we're all bloggers too. Our team is comprised of several bloggers all running their own online businesses in various niches. Because of that, we bring a LOT of different experiences to the table. We have so much to share with you!
But it's important to remember that we all started out just like you...

When we first started, we didn't know anything about starting, running, or monetizing a website.
We did what most other people do when they get started... We created all the social media accounts (Facebook, Instagram, YouTube, etc.). We tried to grow organically on the traditional channels like Facebook and Instagram, but we got absolutely nowhere. Even Google SEO can take MONTHS before you see any fruits from your efforts.
Then, everything changed when we heard about how to use Pinterest to drive traffic in a marketing forum. This is what put us on the path to earning our first $1,000/month, then $10,000/month, and even $20,000/month.
These are the same strategies that the entire Create and Go team has used to build multiple successful websites in various niches, and we are ALL now sharing these strategies with you in this course!


With Pinterest, we've been able to...


📊 Generate THOUSANDS of new unique views for FREE.

This is especially important in the beginning when you don't have a budget for ads yet (or any idea how to even run successful ads).


🤑 Spend LESS time on traffic and more time on profits.

There is never enough time in the day. Having a more automated source of traffic allows you to focus on building your business in other areas.


💛 Build an audience and email list full of incredible people.

We've used Pinterest to grow our email list into the tens of thousands, build better relationships with those people, and sell more products.

🎙 And open the doors to so many other opportunities.
The audience that we built helped us to diversify our traffic and launch our YouTube channel, a podcast, and so much more.

Meet Mia from Sweden.
From 121 - 86,000 views in just 5 months!

"Now I'm at 3-5k page views per day, which is exciting, and I'm focused on growing that. It's crazy. Sometimes I have to close the Google Analytics tab because I find myself staring at it too much. Because I can't believe that those people are on my blog reading my stuff. It's really exciting."

Here is an update from Mia:

Introducing Your Step-By-Step Plan for...


Build a Successful Pinterest SEO Strategy

Increase your reach in search by optimizing your profile, your content, and more for Pinterest SEO.


Create Viral Content that Stands Out

Great content that stands out from the rest wins the game on any platform. It's important to differentiate your content on the platform.


Maximize Clicks to Your Content

It's not just about having visually stimulating content... It's about designing that content for engagement and clicks to your website.


Schedule Content and Automate Traffic

We'll share our recommended pinning strategies + how to automate your Pinterest traffic so you can spend more time on profits!


Track Progress and Analytics

We'll show you what tools and metrics to pay attention to in order to track your progress and growth, so you always know what's working.


Grow Your Audience and Email List

Pinterest was a HUGE tool for growing our email list. We'll share our best strategies for using Pinterest to get more subscribers.

Plus, lifetime access + all future updates!
The online business world is constantly changing. As algorithms change and we update our strategies, we continue to update all of our courses! You will always get access to these updates right within the course!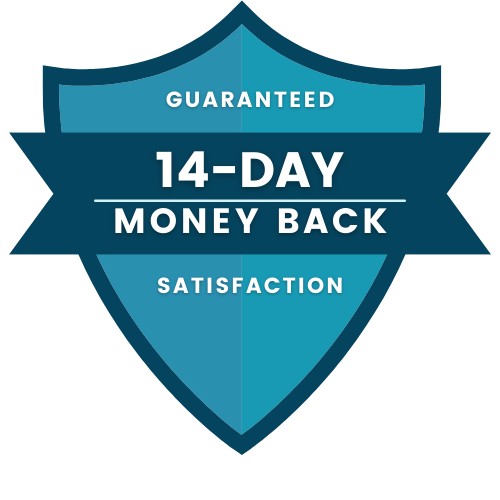 14-Day Money-Back Guarantee


We want this to be a good fit for you.
We also know that we can't please everyone, even when we try our damnedest.
So here's the deal... Just give it a try.
If you don't like it for any reason or just feel that it isn't right for you, you can request a refund within 14 days of purchase.
We want you to be happy and have warm fuzzies about your decision.



Meet Rusty Moore from Seattle!

Rusty went from 1,500 views a day to over 5,000 views a day and even up to 30,000 views in a single day - all with Pinterest!
"The #1 thing I like about the course is that it's always growing and updated!"

Meet Darlene, a diehard country music fan from Texas!

"I purchased several Pinterest courses in the last few months because when I want to master something, I don't mind spending the money.
Pinterest Traffic Avalanche gives all the good basics that I found in the other courses. The basics are important so you don't want to skip, but here's where it gets interesting...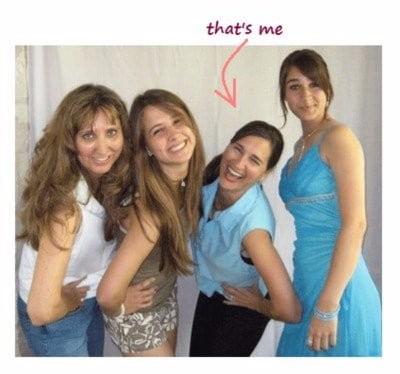 Oh, those Ninja tips! There are several that gave me huge "Aha!" moments. But I'll speak of one, in particular, that should explode your sales. It's when Lauren explains how to use curiosity.
This one shows you the difference between merely getting a lot of repins versus getting repins WITH people clicking through and buying your product. FYI, I'm not talking CTA. This is much bigger than that.
The Ninja tips are worth the price of the course alone, but you also get a well-rounded course, plus a closed Facebook support group for questions and assistance."

- Darlene, Her Country Music



Still have questions? We Still have questions? We have answers! answers!


Will this work for me if I have an eCommerce store?

If you have just eCommerce store with no blog or articles, then this course is not for you. Most of the strategies that we teach are focused on content marketing -- not product marketing.

How often is this course updated?

Pinterest changes fairly often, and so does this course with it! Sometimes the changes are small and we update 1 or 2 related lessons. Sometimes the changes are huge and we update the entire course.


How long will it take before I see results?

That depends on a variety of factors, including how much time you put into it, how much content you have, how often you publish new content, etc. There is no magic number here, but people that put in focused work generally see results within 2-4 weeks.


Will this course help me if I'm not new to Pinterest?

This course is designed for beginners and covers the basics as well as the more advanced strategies. While even one single strategy can pay for the course, this isn't for you if you're just seeking out the single golden nugget you think we're hiding.


Do you offer any refunds or guarantees?

Absolutely! We want this to be a good fit for you. If you aren't satisfied or feel that this isn't right for you, you can request a refund within 30 days of purchase. Please see the refund policy linked at the bottom of this page for the full conditions.


Do you have a question we didn't answer?

You can send us a message through the chat box at the bottom of this page OR you can send us an email to [email protected] and we'll do our best to help you figure out if this is right for you!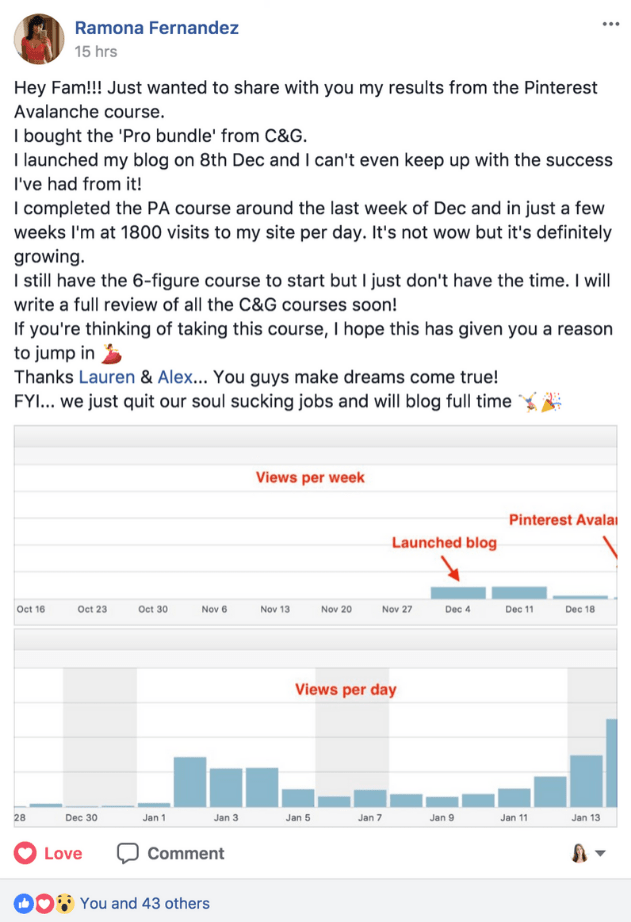 Ramona Started Getting 1800 Visits/Day to Her Blog in Just a Few Weeks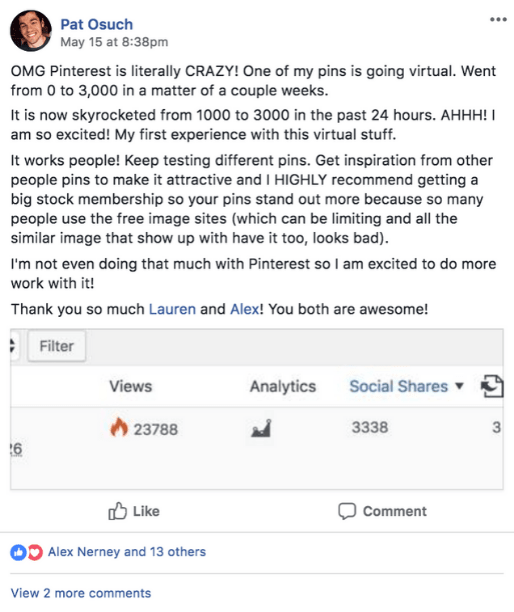 Pat Reached 3,000 Views in Just a Couple Weeks