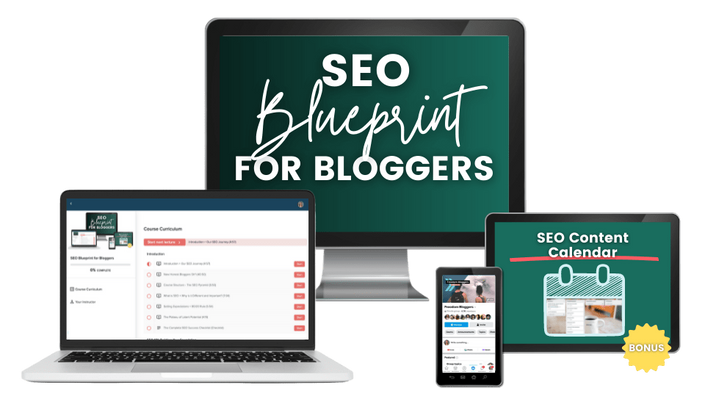 SEO Blueprint for Bloggers
The ultimate blueprint for turning your blog into an SEO traffic machine that brings in thousands of consistent, reliable, and profitable visitors!
Are you feeling anything like we first felt about SEO?
Confused about what the heck SEO even is?
---
"SEO, backlinks, algorithms..." It's okay if you're lost when people talk about SEO! We felt the same way when we started blogging.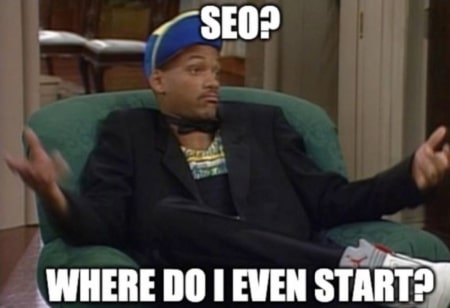 Overwhelmed by conflicting information?
---
Not only is it hard to understand, but everything you read seems to be totally different from one "expert" to the next...
Guru 1: "The length of your articles don't matter"
Guru 2: "Your articles should be SUPER long to rank."
Guru 3: "You have to publish new articles constantly to be successful!"
Guru 4: "The best articles ALWAYS win."
Guru 5: "Your articles don't matter. It's all about backlinks."
🥴😭🧐
Thinking maybe you're just not cut out for SEO traffic?
---
SEO seems pretty technical, and it can be scary to try to learn something totally foreign to you. Maybe you think it's probably just not a great investment of your time and you'd rather focus on something that seems a little less daunting.
Nervous about ever-changing social media traffic?
---
Ugh, the uncertainty that comes with social media... It all feels like a popularity contest and you're just waiting for the other shoe to drop.
The ups and downs in traffic numbers feel like a roller coaster, and it can be terrifying relying on just one source of traffic.
Needing more, PROFITABLE traffic?
---
You know you're not doing everything wrong. You think your content is just as good (or better) than everyone else's. But you still don't have that profitable "system" that all the successful people talk about.
Maybe you have some visitors, but people just aren't buying what you've got. It's not just about traffic. It's about getting the right traffic. PROFITABLE visitors.
If you're feeling any of these, you're in the right place, my friend…
The story about how these two unlikely goofs became the SEO experts who are going to actually get you results…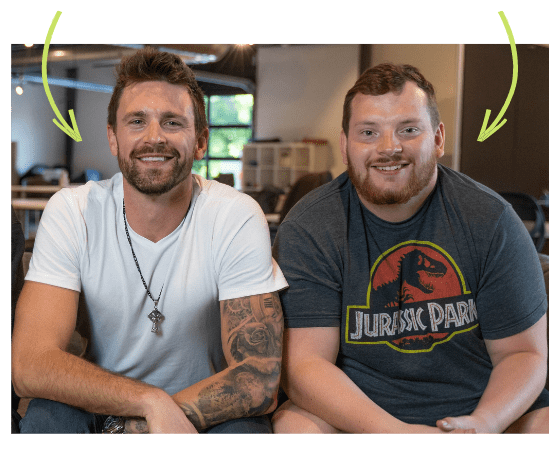 All because of a "broken" million-dollar blog...
If you've been following Create and Go for a while, you probably already know that Lauren and I (Alex) are pretty decent bloggers...
(There we are, in case you forgot or you're new around here.)
We've now started several six-figure blogs, regularly 100k+ per month blogging, and have been featured on all those fancy websites bloggers are featured on (Forbes, Yahoo, Inc, etc.).
After dominating Pinterest traffic and running a crazy successful course on it, Lauren and I felt that SEO was truly the long-term future of blogging.
Soooo... We did what we always do at Create and Go...
We went all in.
We really don't know any other way than foot-to-the-pedal, all-gas-no-brakes, look-ma-no-hands, pursuit of results!
We bought every course...
Watched every YouTube video...
Listened to every podcast...
Read every Brian Dean post...
Considered sacrificing a virtual lamb to the Google gods in search of SEO salvation...
All over the course of 6-12 months... (felt like years)
We began the journey excited, put hundreds of hours into the project, and here's where we were at after months of work: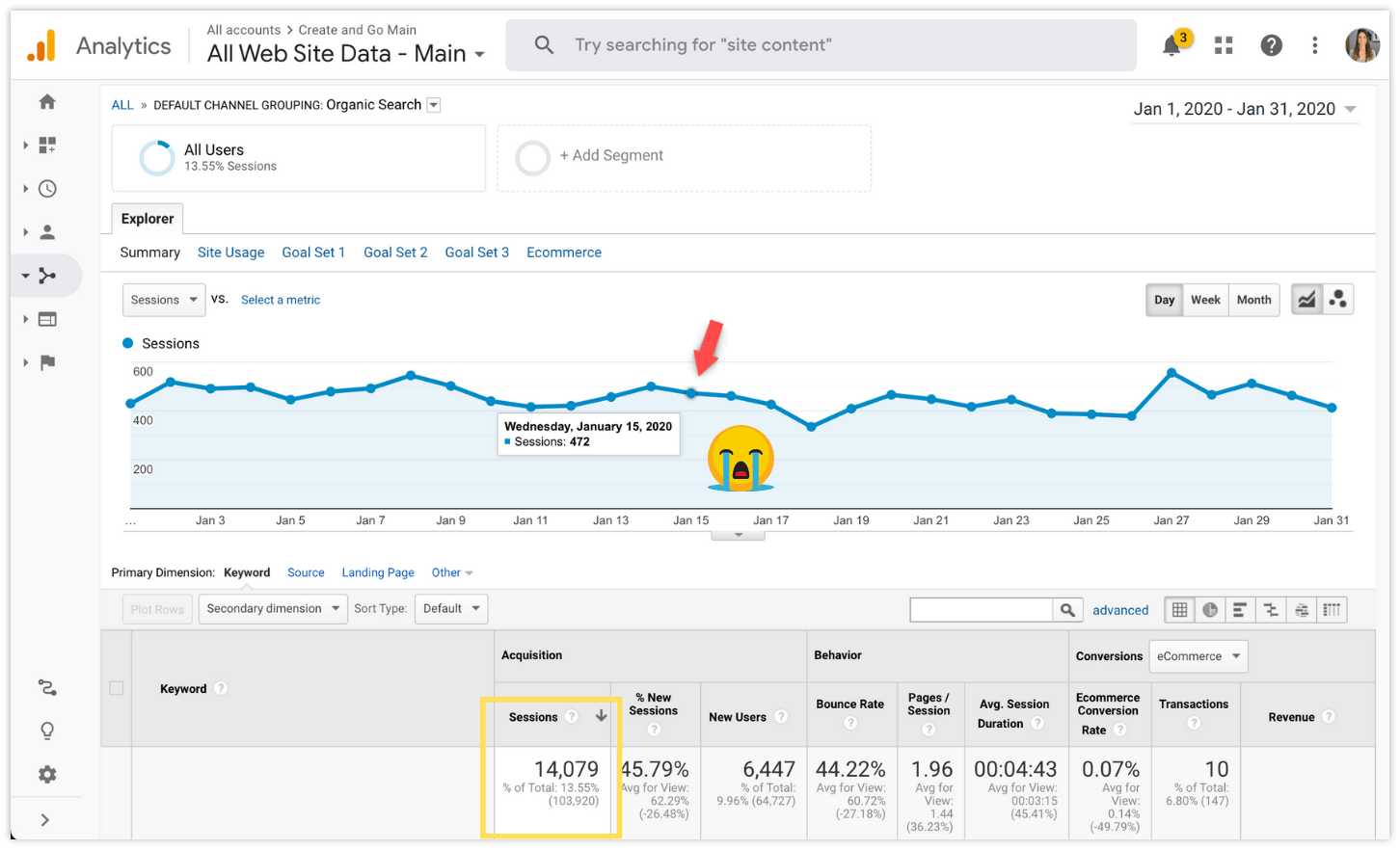 We were averaging about 450 views per day. 😒
To some, that might seem like a lot. But for us, who have been blogging for years and working on SEO very intensely for the last several months, this was not good enough.
We were aiming higher, and we're aiming higher for you.
So, I decided to try something different.
I decided we needed to put a dedicated member of our team on the project. To eat, sleep, and breathe SEO...

Meet Noah.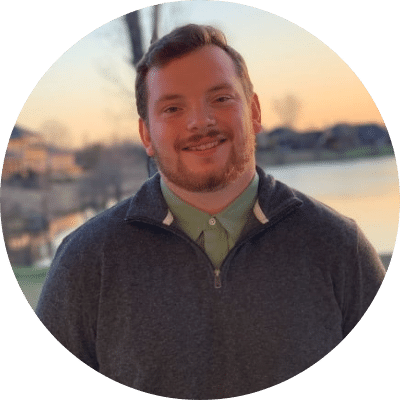 Noah started out as a student of Create and Go that we hired to help us do some admin work, and he quickly rose to become a prominent member of our team.
I enlisted Noah to help us solve this SEO problem and we went to work.
He took a shovel to the hole I had started digging to get SEO traffic and together, we dug it 10x deeper and 10x faster.
But we were still not getting results...

We got so desperate that we reached out to every SEO expert you've ever heard of or not heard of because we couldn't get any traffic to our blog.
And after a while, we realized, they simply couldn't help us...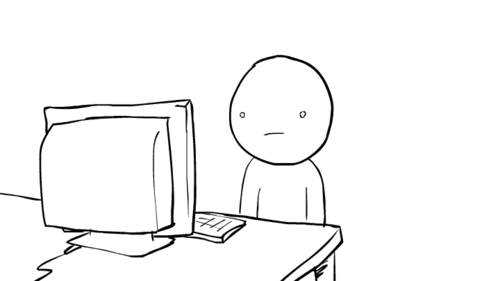 Some of the most credible experts on the internet, and they just kind of threw up their hands like (Idk bro... backlinks 🤷🏻‍♂️).
This made us stupidly frustrated, as you can imagine...
Our insane frustration with this project and getting NOTHING from it led us to a complete shift in mentality.
After listening and learning from all of the best, we did the only thing that there was left to do.
Get creative AF.
Specifically, instead of doing what experts were telling us to do, Noah and I started to seek out what they were not telling us.
What are the crazy things nobody is talking about that are working?

What are the examples of bloggers ranking that shouldn't be ranking?

Who's cheating the system and what are they doing right?
This led us to...
4 Important Discoveries About SEO
1. We f'ed up bad in the beginning and it still haunts our blogs results to this day.
---
We didn't have the right information from the start so we made the wrong choices at the beginning at Create and Go. We made mistakes that still hurt us to this day even though we have overcome them to get massive results.
2. A lot of people cheat at SEO.
---
At Create and Go we always strive to tell it like it is.
A lot of people cheat their way to the top. But that's okay because they will eventually be punished for it (in fact, a lot of them have been already). Google sniffs more of them out like a truffle pig with every algorithm update.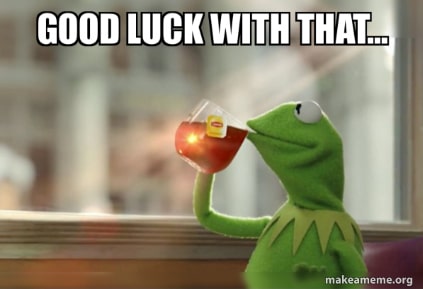 3. It's not too complex, but it takes a very careful approach.
---
Think of Google like your 13-year-old sibling. He's sensitive. He's going through some stuff. Puberty is quite the experience and saying the wrong thing might send him into a crying fit.
SEO is not too different. It's about getting the little things right and keeping Google and you from hysteria.
4. You need to get started now or get left behind… forever...
---
This is an ugly truth, blogging fam...
Most people ranking now are only ranking because they've been there for a while. The longer you've been on top, the more likely you are to stay there. It is very much a game where starting TODAY is the best thing you can do for yourself.
It's like that old investment saying:
"The best time to invest was yesterday, the second-best time is today."
And here's the great news!
Our wacky experiments actually started to get us REAL results.
By going down the rabbit holes of basically black hat SEO, seeing how bloggers were cheating the system, testing things nobody was talking about, etc....
We made discoveries that no one knew about.
And the levies for the damns against our blog finally broke...
None of the experts at the time understood that Create and Go was a broken blog. And cracking the case took a deep dive into the matrix of SEO that we never anticipated.
Due to a subdomain redirect, some bad links to courses that were out of our control, and a lot of tech jargon I don't need to go into – we fixed our blog.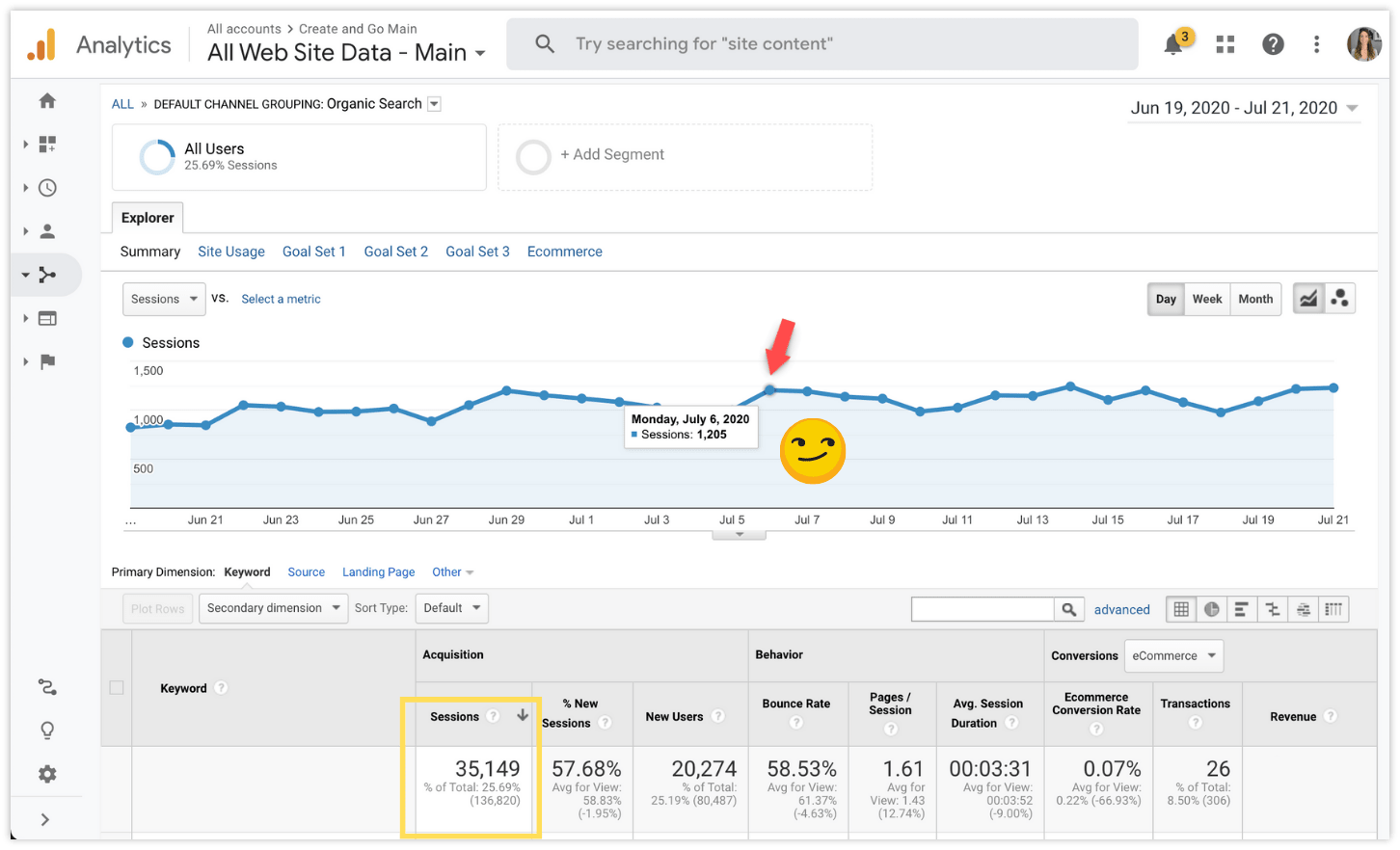 Our views had TRIPLED! 📈
We went from 14,079 views in January, which is normally one of our BEST months, to 35,149 just 6 months later!
And here is a graph of the overall results from those next few months of efforts...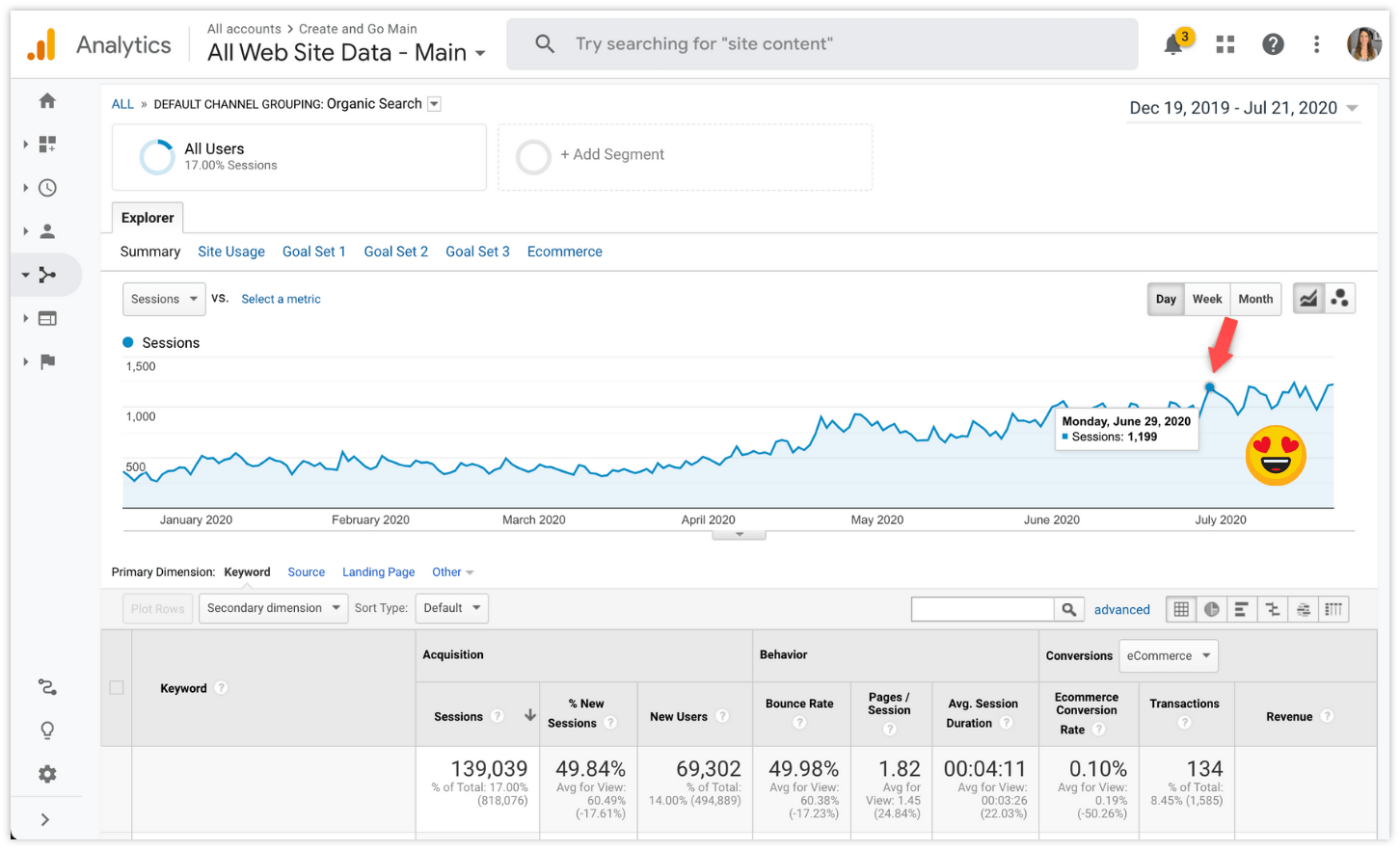 This insanely complex problem we had faced and the solutions we had found led us to a realization...
Along the way, Noah and I had learned basically everything there is to know about SEO and then some to figure this sh*t out.
Which led to 2 Results That Should Get YOU Excited...
1. We became accidental experts on everything SEO, especially my man Noah.
---
While I now know more than 99% of people about SEO, Noah knows more than 99.9% of people. No bullshit, he's in a league of his own now doing SEO consulting for Fortune 500 companies because of this.
2. Getting results for our other websites became comically easy (like it will be for you).
---
One of the niche sites we own had over 1,000,000 visits in 2020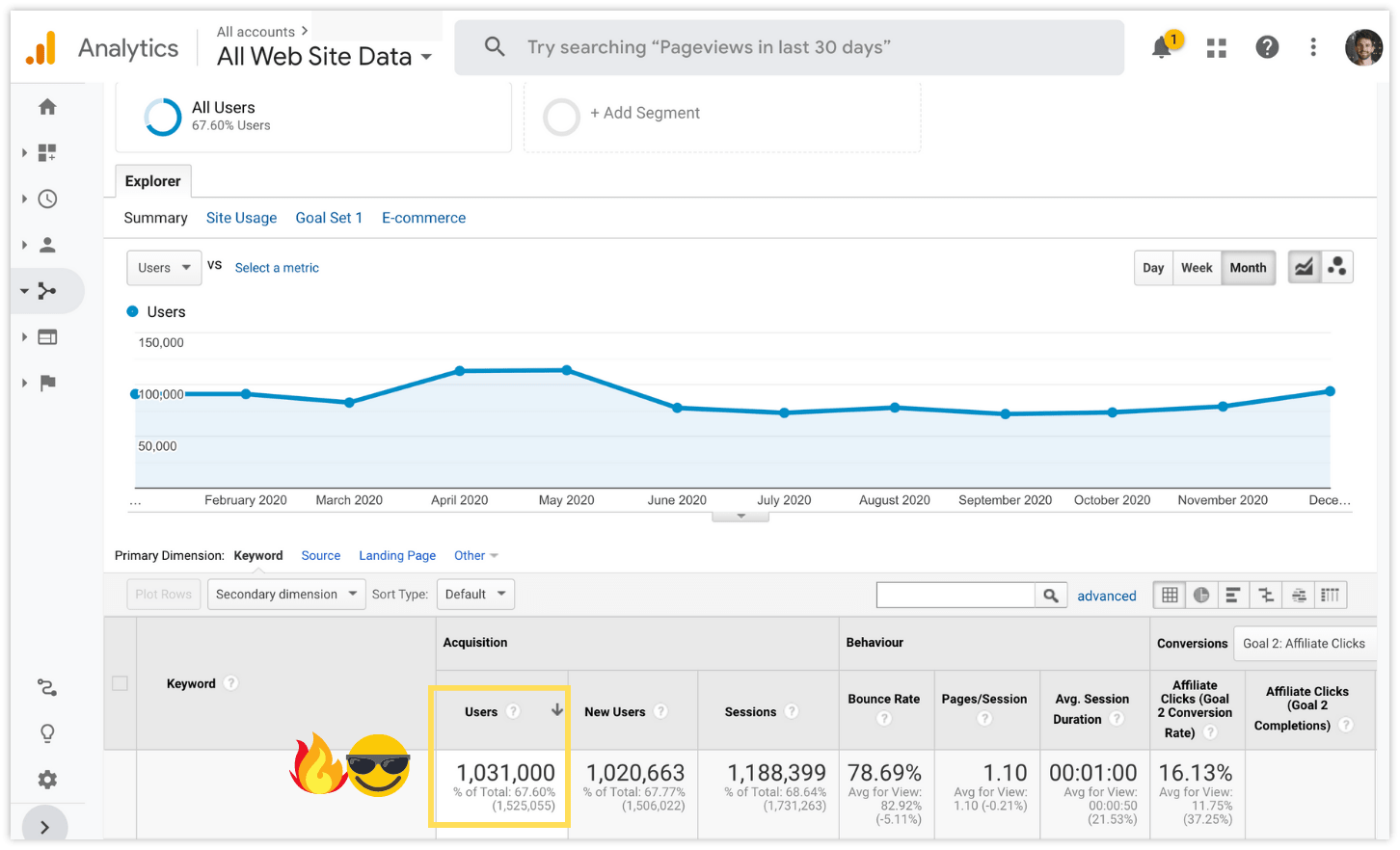 Oh yeah, did you know that we run other blogs?
We don't publicize this much because of the hundreds of copycats we've invited on our health and wellness blog, Avocadu.
But here is another blog we run: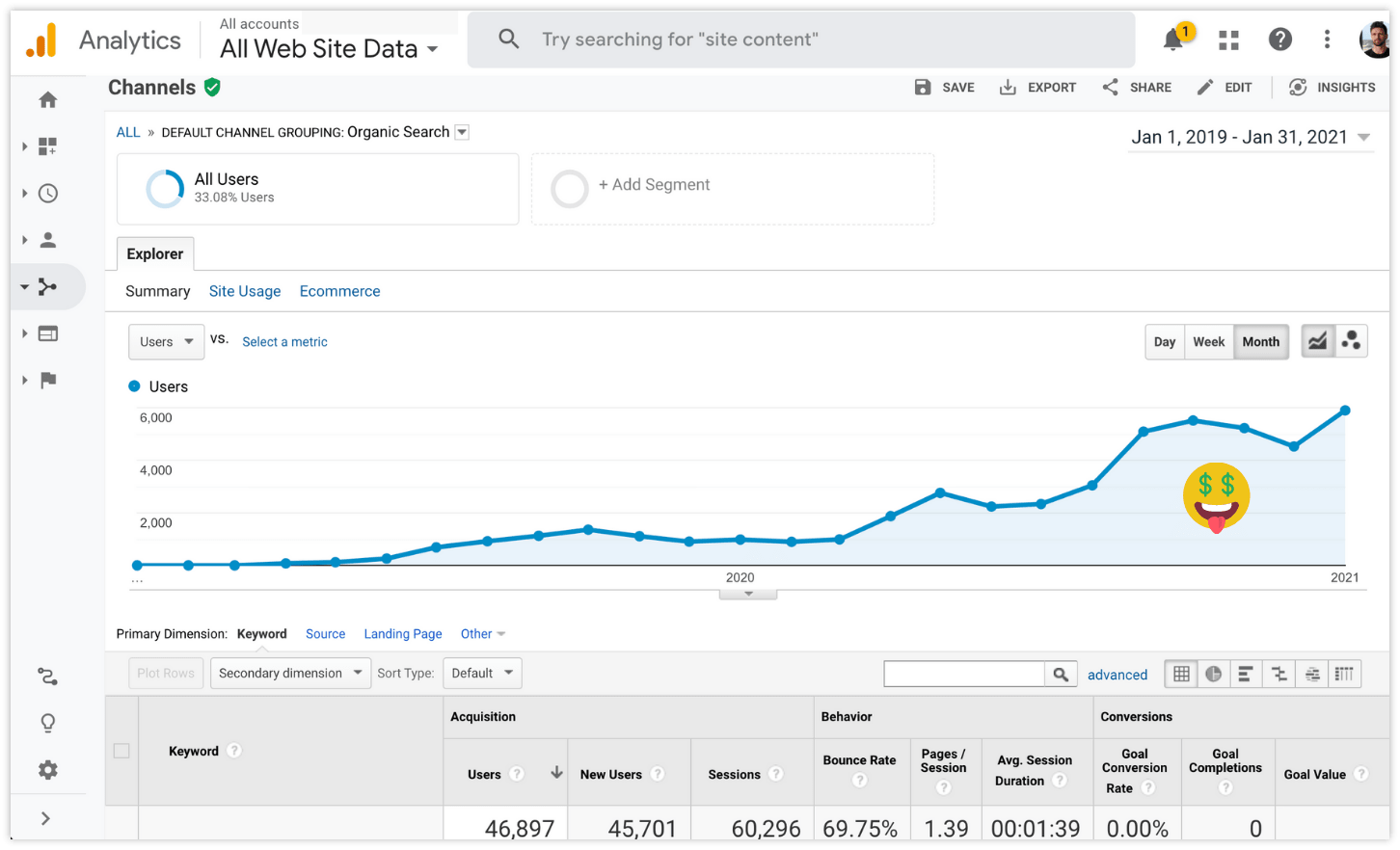 Once you make it through a maze once, going through it again becomes formulaic.
Keep in mind, this is all of the RIGHT traffic too. Traffic that actually converts and makes money. You can see that proof from our income reports.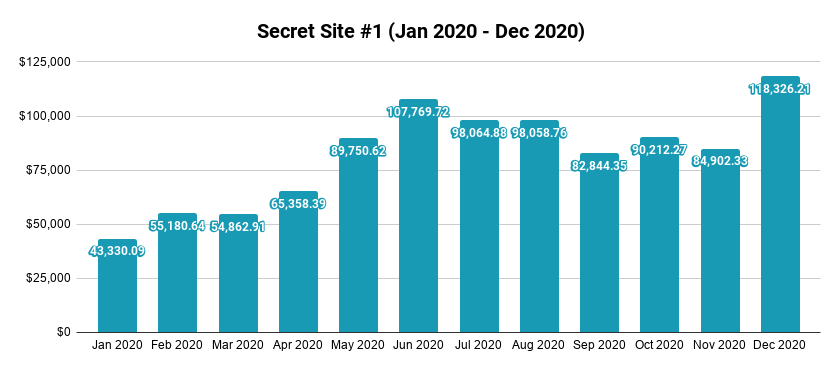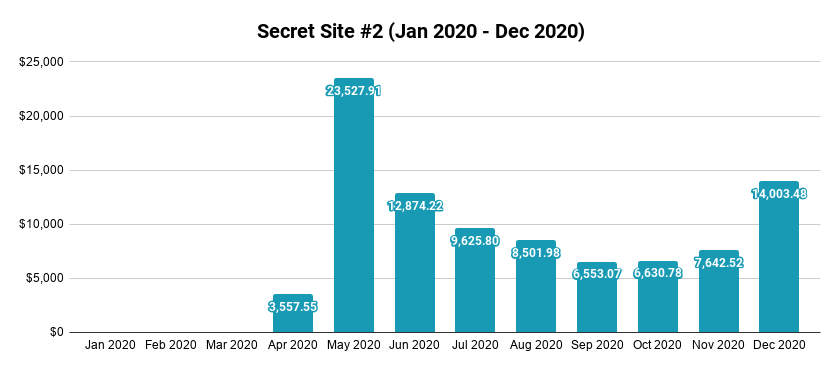 NOW HERE'S THE FUN PART.
Imagine what SEO results we can help you get.
Our excitement to finally publish this course is overwhelming!
If we can get results in a variety of highly competitive niches, it's going to be pretty damn fun watching what it does for y'all in less competitive spaces! We're stoked!
Welcome to the best SEO course ever made (in our humble opinion).
Introducing…
SEO Blueprint for Bloggers
---
The ultimate blueprint for turning your blog into an SEO traffic machine that brings in consistent, reliable, and profitable visitors!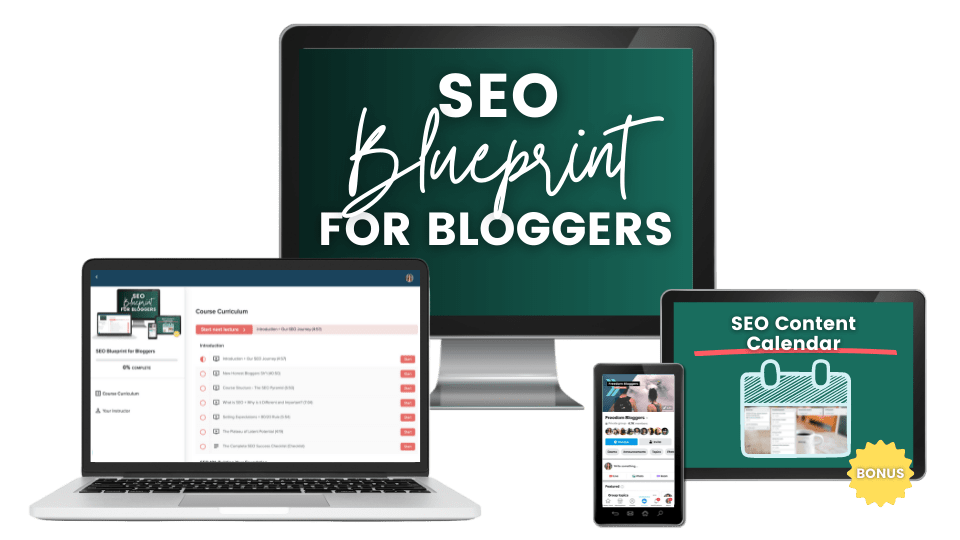 Build Your SEO Foundation
Bust through all of the overwhelm and misinformation out there and build a solid SEO foundation that will pay off for years to come. You'll learn how to choose a great niche that will make you money, set the right expectations, and feel confident that you are taking the right approach from the very beginning.

Set Up and Optimize Your Website
Are your pages set up properly? Categorized? Headings, keywords, content, etc. etc. Learn what website and content setup you need to focus on and what's actually important and helpful for SEO.

Take a Deep Dive Into Keywords
There is a bit of an art to selecting the right keywords, but it doesn't have to be so hard. We're breaking down keywords so that you can better understand what you should focus on, how keywords generate income, and where to find the best ones.

Go the Extra Mile with Ahrefs
Ahrefs is without a doubt one of the most powerful SEO tools on the market right now. But it's also expensive AF for new bloggers on a budget. BUT... Our training specifically focuses on teaching you exactly how to use Ahrefs and get everything that you need within their 7-day trial for $7.

Create Top-Notch Blog Content That Ranks
It can be pretty difficult sometimes to identify what makes others in your niche successful while you remain stagnant. We're going to teach you how to figure out what they're doing right, so that you can create the best content out there -- that ranks, converts into more money, and that your readers will go crazy for!

Improve Your Foundation and Scale
We're going to teach you how you can continue to optimize your blog and your existing content to make sure it's as awesome as it can possibly be! You will learn exactly how to audit your content and your site and figure out exactly how to take your results from good to GREAT!

How to Use Outreach
We'll break down exactly how to find the right people to reach out to, how to collaborate with them in a mutually beneficial way, and how to build successful connections with other blogs -- all while growing your business in the process.

Get in the Right SEO Mindset
Understanding SEO all the way through to its core and putting yourself in the right mindset for success is KEY. It also takes time, and knowing that not every single thing you touch will turn to gold is so important. We want you to be as prepared as possible for what this journey is going to take!

Scale Your SEO Efforts
How do you keep the momentum going and ensure that you're STILL moving in the right direction? In this module, we're going to show you exactly what to look for in writers and other employees and how to create a system for building and scaling your business in a way that sets no limits!
And so much more!
Course Curriculum
SEO 101: Building Your Foundation
Available in days
days after you enroll
SEO 101: Website Setup
Available in days
days after you enroll
Pssssst. Someone told us you liked bonuses…!
Well okay, EVERYONE likes bonuses. So, not only are you going to get those incredible modules, but you're also going to get...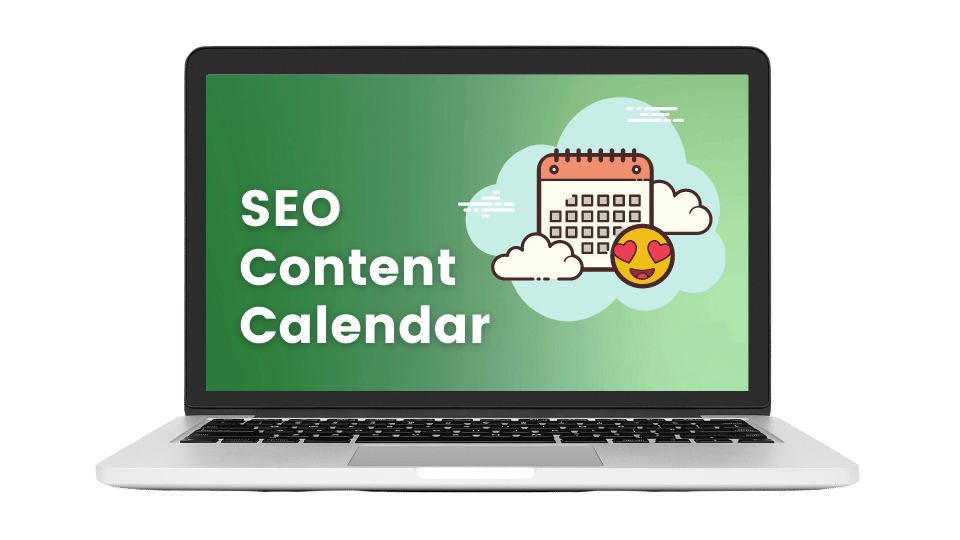 Bonus #1: Content Calendar 📅
---
We're going to teach you how to take the knowledge you have learned about finding keywords and key phrases and organize them into a completely organized and functional content calendar.
It will keep you organized and on schedule, help you delegate writing to a team, and keep you on track with your SEO journey.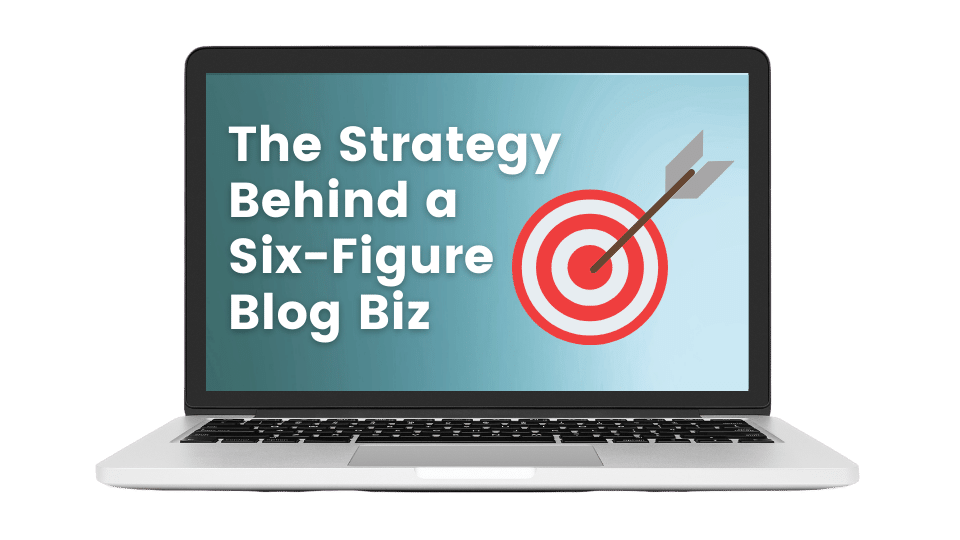 Bonus #2: The Strategy Behind a Six-Figure Business 🎯
---
This lesson is on the importance of building the right framework behind the products that you are selling to your audience.
Most people start out with creating that they think their audience is interested in, without a clue as to what their audience actually wants and needs. This is what the six-figure framework for success is built off of.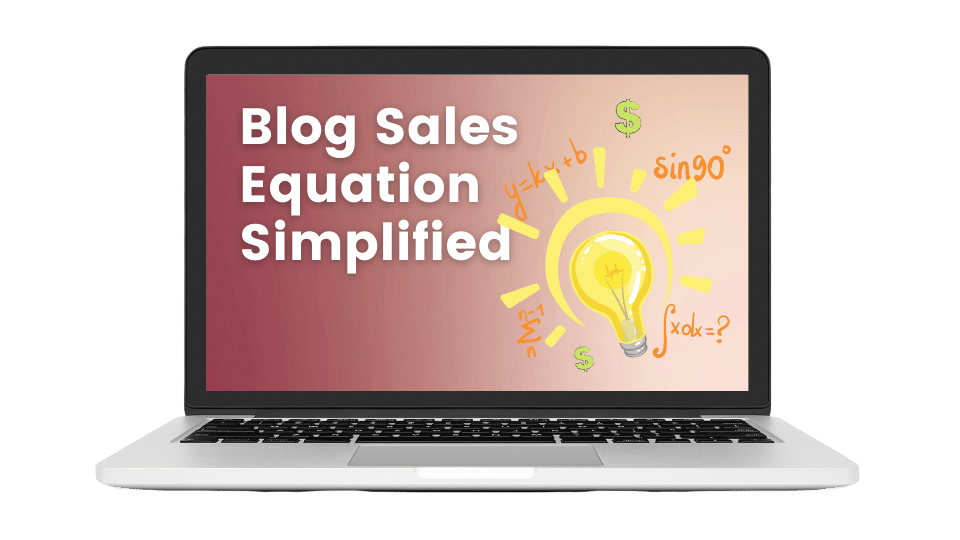 Bonus #3: Blog Sales Equation Simplified 🤑
---
The worst thing that you can do is create a product and then sit and wait for people to realize how great it is and come and buy it.
This bonus lesson is going to help identify what adjustments and improvements that you can make and simplify the process of converting visitors into sales, making YOU more money and your customers even happier!
"Hey Everyone! Just wanted to say a huge thanks to Noah & The Create And Go Team for creating the SEO course.
The lessons are insane. Exactly what I've been looking for in an SEO course and I've taken a few lol. Unbelievable lessons and I can't wait to start implementing everything already"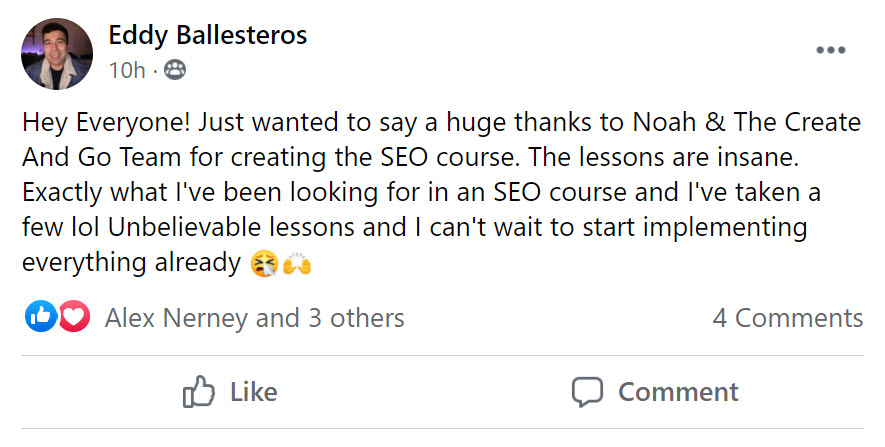 - Eddy, Create and Go Student
Who is SEO Blueprint for Bloggers for?
---
Beginner Bloggers
This course is going to be perfect for brand new bloggers. If you've started a blog and are looking for more information on how to start getting traffic to it, then you are in the right place.
People Who are Passionate About a Niche
If you are interested in being an expert in ONE topic and being the go-to resource for that topic. Not someone who wants a vague blog or a lifestyle blog. Then this course will be right up your alley.
People Who Have a Blog With No to Low SEO Results
If you haven't seen any SEO results in the past, look no further, This course is the perfect place to craft an SEO strategy that works and gets results!
Hard-Working, Honest People
This course is for people who are willing to put in the hard work -- willing to do things the right way and not cut corners or try things that are sketchy and shady and ultimately not sustainable.
Who is SEO Blueprint for Bloggers NOT for?
---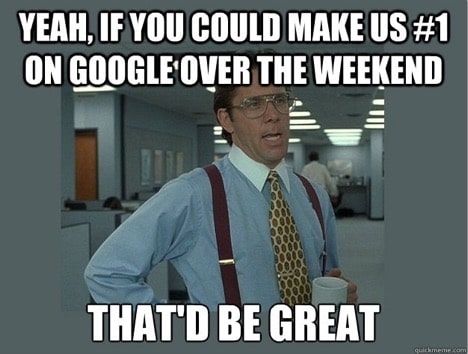 People Looking to Get SEO Rich Quick
This course will not help you get rich quick. Good SEO takes time and effort and it does not come with IMMEDIATE gratification. But as they say, all good things in life take time. SEO traffic is no different.
People Who Have Not Started Their Blog
The information inside of this course is not going to be very helpful to you if you haven't started your own blog already. We do have resources and a course for starting your own blog and we ecommend you start there before diving into SEO.
People Who Only Care About Vanity Metrics
If you only care about getting 1,000,000 visitors a month so you can brag to your friends and other bloggers, this course isn't for you. It's what you do with those visitors that counts. This course focuses on getting traffic for keywords that matter and that actually make money! Not just bringing in random visitors. Quality > Quantity.
People Who Want to Buy Links and Cheat Their Way to The Top
If you think you can buy your way to the top of Google and think this course is going to tell you exactly how then you are in the WRONG place. You are lost and we can't save you. The Create and Go blogging community is for honest people looking to build a profitable and sustainable business. No cheating or shady sh*t here.
People Who Want to Watch One Video and Master SEO
This is not an hour-long course. This course has a lot of information that will cover many different aspects of blogging and SEO in general. This is not a brief overview. It will take time to complete and learn everything in this course, and it will take time for you to implement it.
Do you know what the problems with most SEO courses are?
1. They are too vague.
---
"Get some backlinks... write good titles... choose a good keyword..."
I can't tell you how many courses we have seen that brush over the little stuff that is actually pretty darn important. Too many people try to be as vague as possible and only give away the minimum amount of information that you need to find success.
Leaving you wondering... "Yeah, but how do I do that thing that you just recommended???"
We share all the strategies that we use and are constantly updating all of our courses when we try new things, learn new strategies, and as our business evolves.

If you don't succeed, we don't succeed.
2. They use old/outdated/ancient techniques that just don't cut it anymore.
---
Ugh, we're all busy enough already without spending so much time on techniques that are outdated and ineffective.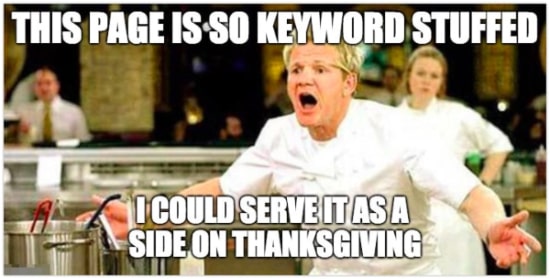 The techniques shared by bloggers and marketers who have been around for 10-15 years, and they're posting what worked for them. That's great.
But things change.
Times have changed, and Google has changed. Most of those textbook traffic lessons don't work anymore.
You need to learn from someone who's still got skin in the game!
3. They are not truly beginner-focused.
---
They may be packed with information, but they never help you build a foundation. They start at level 100 when most bloggers need them to start at level one and work their way up!
We take the better approach with our SEO pyramid, where we focus on the basics and most important strategies first, then begin teaching you more advanced things as the course progresses.
4. They get you traffic but it doesn't translate into money.
---
Getting a lot of traffic can be exciting. Trust us, we know. That first hit of traffic feels INCREDIBLE.
But the truth is, not all traffic is created equal.
While a lot of bloggers try and play it safe and beef up their numbers by going after SUPER easy keywords that aren't worth anything, we believe in going after the RIGHT keywords.
We don't write something just for the sake of adding 100 visitors a month if we know those visitors won't make us more money. This course focuses on monetizable and transactional traffic.
Quality > Quantity
The Deal of a Lifetime, Baby…
Do you know WHY you're getting a sweeeeet deal today?
---
Because we don't have any customer testimonials yet.
Just our own success with our few niche blogs.
And we want to give you the early bird pricing for being a loyal fan of us here at Create and Go.
We made this with YOU in mind.
We're going to give this out cheap [for now], and when they start flooding in, we WILL raise the price.
I promise. No takesy backsies.
Who are the bloggers teaching this madness??
Hey, it's us again! 👋🏻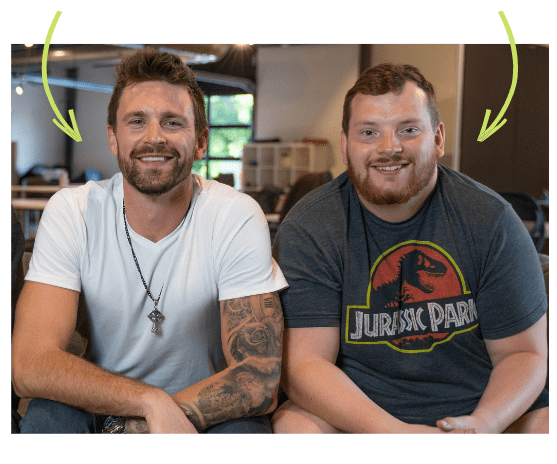 Alex Nerney
Co-Founder of Create and Go
and Noah Riggs
Lead SEO Strategist of All Create and Go Projects
Hey there! We're Alex and Noah (aka the unlikely duo that is going to make it rain SEO traffic on your blog). We are also two vital parts of the blogging success we have across all of our blogs, including createandgo.com, where we teach people just like you how to turn your passion into a profitable business you love.
We absolutely love what we do here at Create and Go and with the blogging community. We've been featured on some major websites for what we do.
Our mission at Create and Go is to help as many people as possible make a full-time income blogging so that they have the time and resources to live how they want. We are dedicated to being the #1 resource for making money blogging on the internet and are so excited to help you along the way!
Let's do this together!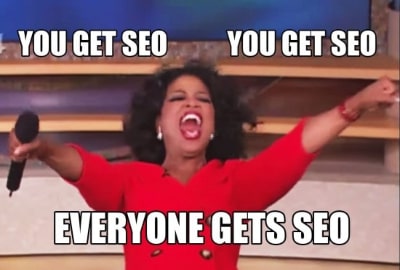 Frequently Asked Questions
Can SEO work for me in any niche?
Yes! We won't lie to you -- it can be easier to succeed in some niches than others. But this doesn't mean that you won't be able to get SEO traffic. Even some traffic can make a HUGE difference. You really just need to have the right understanding of how to do things from the start and how to set the right expectations. We've got you on this and on the strategy part.
Will this course help me get traffic to my blog?
Absolutely! This course is completely focused on bringing in SEO traffic from Google! It's centered on optimizing your website and the blog content you create to bring in as many visitors as possible, ranking for keywords that make you money and grow your blog's presence.
Can I find this information for free online?
No, not this stuff. If you're willing to spend hundreds of hours researching, reading posts, watching videos, experimenting (and failing), the answer is… maybe you'll start to scratch the surface. But is that really how you want to spend your time? We don't think so. That's why we've cut the BS and the useless strategies out of this course -- so you can focus on what's really important and leave the rest of it for the other internet scavengers.
What format is the content delivered in?
Video + a few written explanations and summaries here and there. The bulk of the content is delivered through video content, which allows us to explain and demonstrate our strategies for success.
Is there a time limit to complete the course? How long do I have access?
There is no time limit to completing the content in this course. It's totally a go-at-your-own-pace thing! Your access to the course doesn't expire, including any and all future updates to the course, which are added regularly as software, strategies, and algorithms change.
Will I need to purchase anything else once I buy the course?
The only thing that you really need is a $7 trial of Ahrefs. We've structured our tutorials in such a way that you can get everything you need from this $7 trial. There are a couple of other paid tools that we'll show you but they're totally optional and not necessary for your success with this course.
Do you ever update the course?
Absolutely. We update this course regularly as software is updated, algorithms change, and as we learn new strategies that are working! We still run our two blogs full-time, so we've got a lot of skin in this game too!
Do you offer any refunds or guarantees?
Absolutely. We want you to be super happy with your purchase and feel like our courses are the right fit for you. If you are unhappy or feel that this isn't the right investment for you, you can request a refund within 30 days of purchase. Please see the refund policy linked at the bottom of this page for the full terms and conditions.
How do I get started?
Scroll down, click the big red button, checkout, and you'll get immediate access to the course!