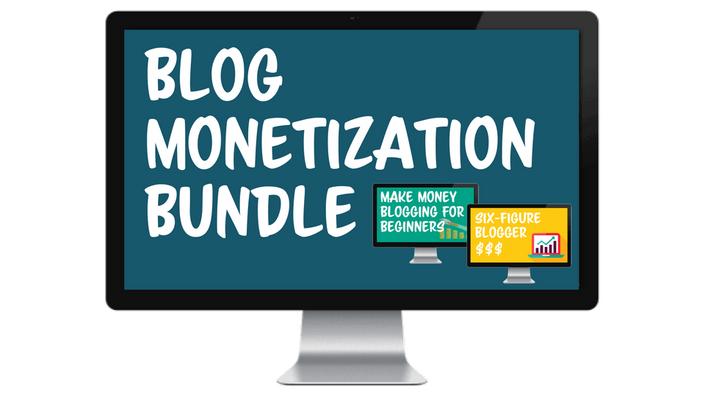 Blog Monetization Bundle
The Blog Monetization Bundle of Our TWO Best-Selling Courses on How to Make Your First $1,000 Blogging All the Way to Earning Six Figures!
Maybe some of these feelings will resonate with you…

Overwhelmed about making the correct next step.
Webinars, launches, email funnels, ads, etc. What's the right next step? If you've been blogging for more than a moment, you know it can be a bit frustrating trying to figure out what direction you should go in. The sad truth is that it can also turn out to be overwhelming and disappointing when you find out most "strategies" and "guru tricks" out there don't actually work without buying some $2,000 course.
Everyone is now an expert about being an expert.
Launches about launching. Blogging about blogging. Webinars about webinars. I can't scroll through my Facebook feed these days without some new "guru" popping up trying to sell me their webinar system for $1,000+. From personal experience, we know how different it is making money from our health blog than it is from our make money blog at Create and Go. That why we share the lessons from Avocadu (our health blog) because we don't want to be those people who only blog about blogging.
Spending a lot of time working for little money.
If you're a little more seasoned blogger, this can be a very real feeling. You just don't understand why some bloggers can make so much while you hustle your butt off and hardly make anything. You constantly feel like they know something you don't.
Losing your motivation.
You know you are a smart person and able to be a full-time blogger, but some of the doubts are starting to creep in. "Will I ever make this work?" or "Are the people who make it just lucky??"
Sick of working your job and ready to become a full-time blogger.
It can be so draining waking up and working at a job you don't like to build someone else's dream. You want to be a full-time blogger, but you need a formula for making a full-time income!
If you're feeling ANY of these, you are in the right place, my friend.
We went from $0 blogging to making over $50,000 per month from our blogs… in less than two years…

It might sound insane, but Lauren and I started in the exact same seat as where many of you are sitting in now. We started from $0.
Non. Nada. Zilch. In fact, it was less than $0, because of the money we were spending trying to educate ourselves on blogging.
Yet, despite ourselves and our colossal and constant errors, in our first year, we were able to progress into this…
Stripe Earnings:

Paypal Earnings:


Those are snapshots from our first year blogging. where we made over $103,457.98 with our health and fitness blog.

Note that the above income reports reflect more than the $103,457, because we have our some other sales from our health and fitness Youtube Channel in that mix as well.
Our health and fitness blog, Avocadu.com, was registered on Sep 25, 2015, and a year later on Sep 25, 2016, that's how much money we had earned! Over 90% of the total sales volume came from sales of our digital products and services.
It was amazing, and we were perfectly content with how it had progressed already… But it didn't stop there!
Actually, it got wayyyy better over time...
We currently make over $20,000/month with our health and fitness blog, and the income that we make on Create and Go puts us over the $50,000/m mark, which is just mind-boggling to us!
Plus, more importantly than making money is what the money has done for us and the experiences it has allowed us to have! The life it has shown us…


We've gotten to travel to Machu Picchu, Bali, and all over the world because of blogging. It has allowed us incredible time and life freedom that we really never dreamed of...
Please take a second to imagine a world where...
You are making your first $1,000/month or more from your blog.
Take a moment to imagine how that kind of money would impact your life. Like seriously, just pause for a second.
That's an extra $12,000 per year.
You start your blogging career off with a HOT START!
You're sizzling… you're hot to touch… you're on fire!
A fast start helps you build momentum and success breeds success. You don't waste your time anymore trying to be a professional "value hunter" on the internet and get results FAST.
You are building the foundation for your blog to grow and eventually THRIVE.
These are the lessons you need to understand not only how to take your blog to $1,000 per month quickly but also to $10,000 per month and BEYOND.
You have built a list of raving fans and subscribers - on autopilot.

These people open your emails, talk about you in community groups, and love the products you recommend. They follow your blogging journey eagerly and share your posts.
The best part is, this happens automatically without a ton of additional work.
You learn all of this and more from six-figure bloggers who don't just blog about blogging.

Our first six-figure blog, Avocadu.com, is a health and wellness blog that has made over $200,000 this year already. No, we don't just blog about blogging.
This is why our information WORKS.
It's not just fluff to build up your ego, it's results-based information that can change your life.
And we WANT to change your life…
It's now your turn to make some serious income blogging!
You can accomplish all of this and more with our discounted Blog Monetization Bundle!
This bundle includes BOTH of our successful blogging courses on monetization:
---
1. How to Drive Traffic to Your Blog and Monetize with Affiliate Marketing and Other Strategies
2. How to Earn Six Figures From Your Blog by Creating and Selling Digital Products and Services
[Each course in the bundle also is 20% off!]
Make Money Blogging for Beginners Course
---
The Solution for Taking Your Blog From $0 to $1,000/Month with Free Traffic, Affiliate Marketing, and Other Awesomesauce Strategies!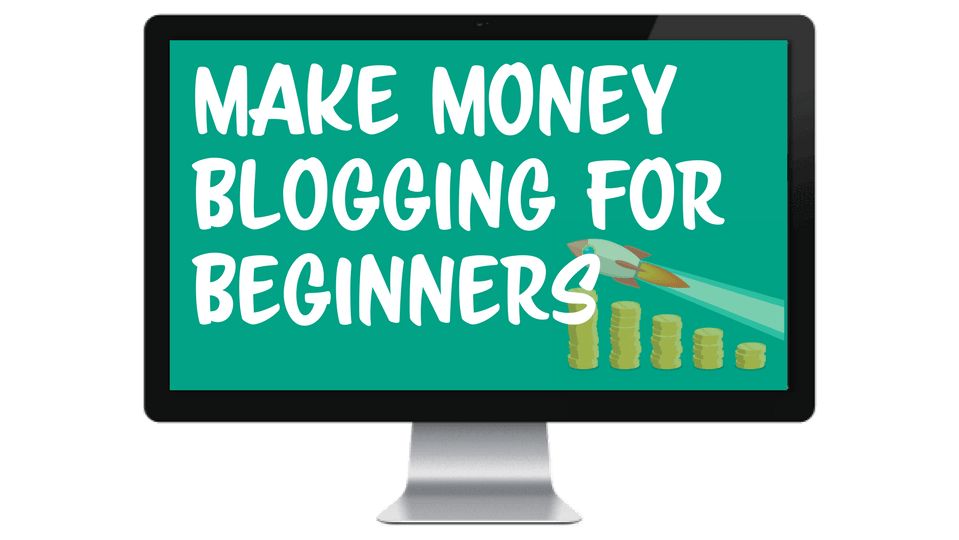 With this course, you will learn how to...
---
GET LOADS OF FREE TRAFFIC TO YOUR BLOG
Using techniques from Pinterest, Google, and YouTube, we will show you how to get thousands of visitors checking out your blog posts for FREE.
CONVERT THAT TRAFFIC INTO ACTUAL DOLLARS
There are lots of people who get traffic to their blog and never make any money. This is because they usually don't know how to get the right kind of visitor to their posts who are actually looking to buy. We will teach you how to get visitors who love spending money!
BECOME AN AFFILIATE MARKETING NINJA
Much of this course is about mastering affiliate marketing in a way that has never been taught in any other course on the blogging market. You will learn how to sell thousands of other people's products consistently and effectively without ever being shady or ruining your relationship with your audience.
LEARN ABOUT ADS, SPONSORED POSTS, AND GUEST POSTS
How to use them, when to use them, and why to use them.
BUILD A LIST OF EMAIL SUBSCRIBERS AN FANS
Part of building a successful blog is building a list of engaged subscribers and fans to send your new content and products to buy. We'll show you how to do this the right way with little time or involvement.
"After trying other courses and information, I was left confused and frustrated until I purchased courses from Create and Go. These guys are so genuine and honest and really helped me launch my blog as well as get on the path to making an income blogging."

- Sarah, Make Money Blogging for Beginners Student
This is our NEWEST course and it solves that every beginner bloggers faces on whether to start focusing on traffic or monetization after building and launching your blog. Well, this course covers BOTH!
Learn the strategies that took us from our first $172.82/month blogging to over $1,000 and more!
Amazon Associates: $85.62

Clickbank Marketplace: $87.20

Get started making your first $1,000/month blogging!
"I just finished the 'Make Money Blogging for Beginners Course!' This was my first course investment for my blog and it was worth it. ...Alex and Lauren are honest, funny and have a no b.s. manner about blogging."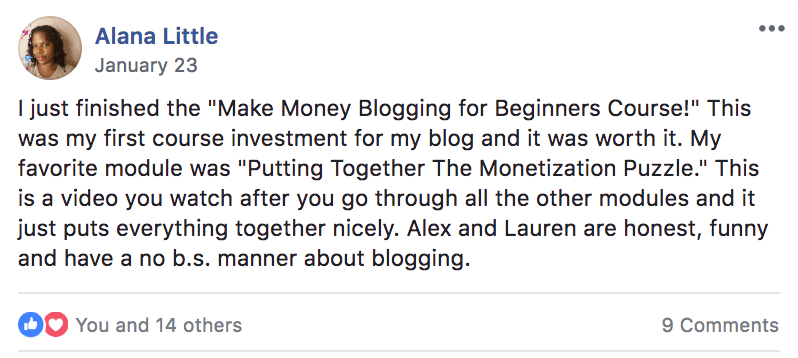 - Alana, Make Money Blogging for Beginners Student
"Lauren and Alex are amazing because they teach you all the little things that you may have skipped over while still covering the big topics. I have purchased each of their courses, and I can honestly say I love them.
I had a general idea of how to start and what I wanted to accomplish, but there is no way I would be moving as effectively or efficiently right now without their courses!"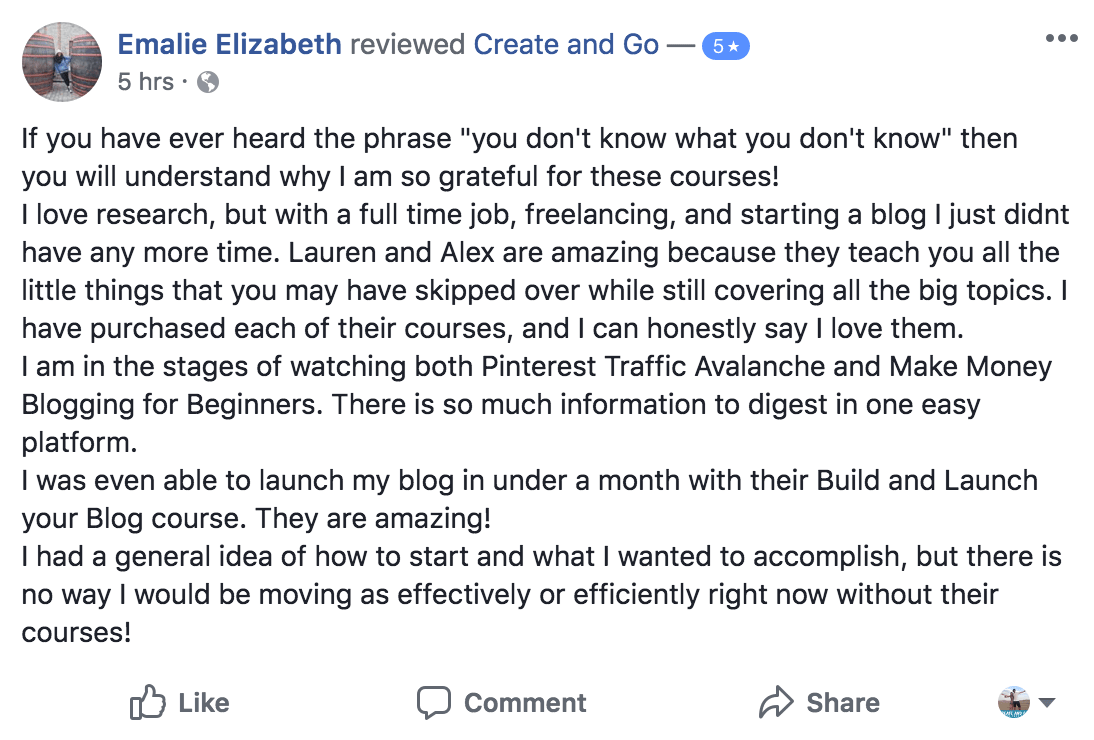 - Emalie, Make Money Blogging for Beginners Student
Six-Figure Blogger Course
---
The Formula for Making Six Figures from your Blog with Digital Products and Services, Without Being Scammy or Spending Thousands on Over-Priced Courses!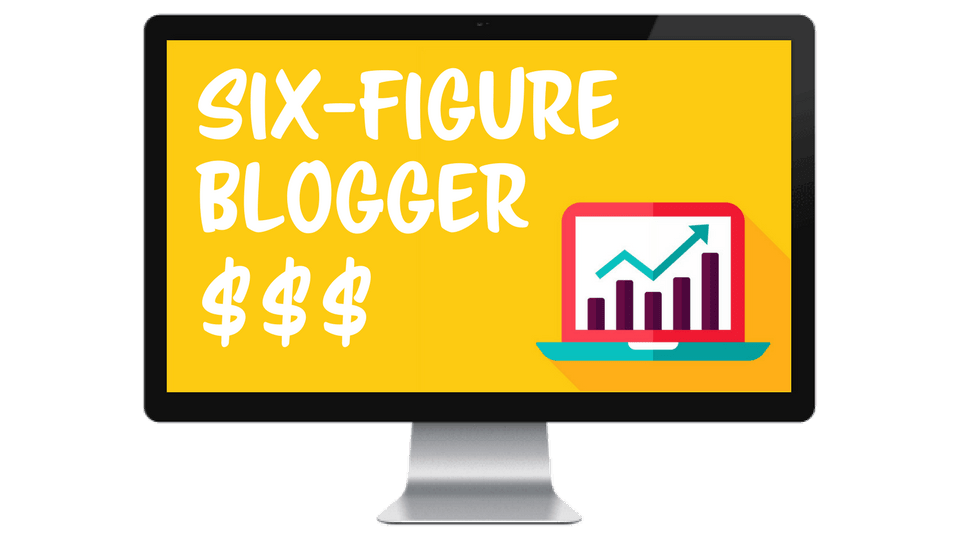 With this course, you will learn how to...
---
BUILD THE FOUNDATIONS AND FRAMEWORK FOR YOUR SIX-FIGURE BLOG
You'll see the insider framework of our multiple six-figure blogs, learn how to build better relationships with your audience, and discover the real way 99% of six-figure bloggers make their money.
SELL DIGITAL PRODUCTS VIA AFFILIATE MARKETING
Did you know you can sell thousands of digital products and services without having to actually create your own? You will be able to find and discover incredible products to promote on your blog that your readers will LOVE you for recommending.
CREATE DIGITAL PRODUCTS - IDEA FORMING AND PLANNING
From forming the idea, to gathering research, and actual product creation, we break down everything for you. That way you know your product has the best chances of massive success.
CREATE PROFITABLE EBOOKS FROM SCRATCH, STEP-BY-STEP
The exact formula we have used to launch 5+ successful products in a step-by-step process. Everything from creating your products name to outlining your product and finalizing the design is covered for you in this section.
CREATE PROFITABLE ECOURES FROM SCRATCH, STEP-BY-STEP
The exact system we use to launch our courses (including this one) in another step-by-step, virtually impossible to mess up, format.
CREATE HIGH-CONVERTING SALES PAGES
You know the difference between a sales page that coverts at 1% versus a sales page that converts at 3%? – IT'S TRIPLE THE PROFITS. In this lesson, we bring you the lessons we learned while split-testing hundreds of thousands of visitors on our own sales pages.
GET THOUSANDS OF THE RIGHT KIND OF VISITORS TO YOUR SALES PAGES
One of the biggest differences between a blog than makes millions and a blog that make $0, is visitors. You will learn how to get thousands of the right visitors to your blog and to your sales pages by creating sales-centered content.
BUILD RELATIONSHIPS WITH THE EMAIL TRUST FUNNEL
We show you exactly how to build an automated trust funnel that turns your new subscribers into raving fans and customers in less than a week!
Take a look at our successful eBooks from our popular program, the 21-Day Fat Loss Challenge, that we have created for our health and fitness website:

We have now sold over 2,000 copies of this diet program, which includes 5 eBooks and tons of video content and is designed to help our clients lose 10-21 pounds in just 21 days!
"Finally launched my course today. I've had 2 sales even before it was launched. I'm starting to product content around the course to drive more traffic to it.
Thank you again Lauren & Alex. Your course simplified the process for me and I really think the quality of the course was 10 times better because of your instruction."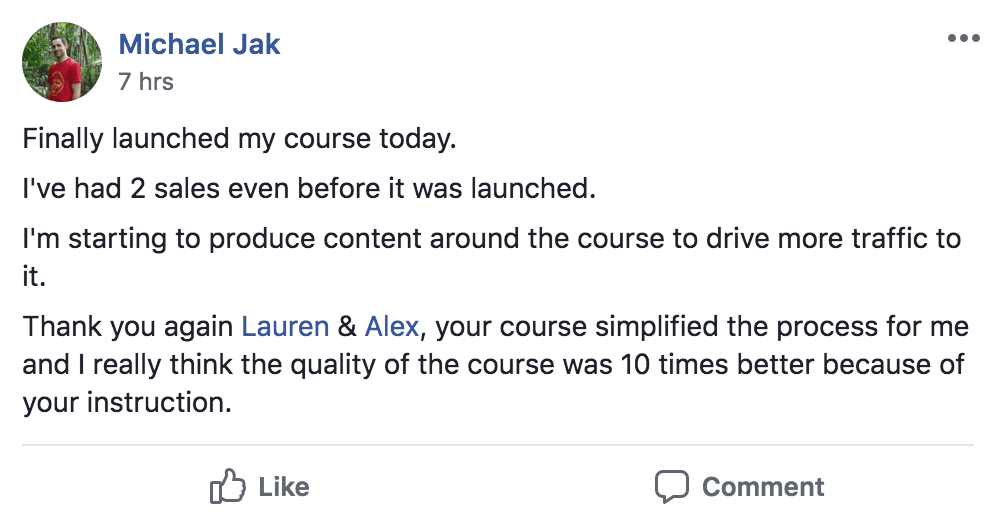 - Michael, Six-Figure Blogger Student
You'll Also Get These Awesome Bonuses...
Bonus #1. Affiliate Programs and Marketplaces Round-Up ($97 Value)
---
Hunting for good affiliate programs, networks, and marketplaces is time-consuming and can be overwhelming at times. We've done some homework for you and compiled a list of some of the best affiliate networks and marketplaces as well as some great affiliate programs in various niches!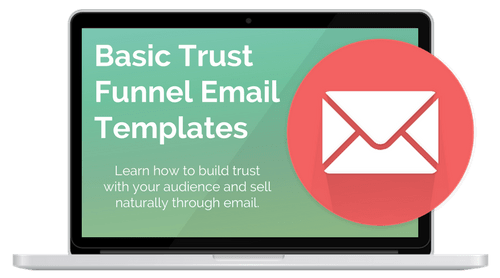 Bonus #2. Basic Email Trust Funnel Templates ($297 Value)
---
The money really IS in the list. The email list, that is. These templates will guide you through creating your first email sales funnel designed to build trust with your audience and sell your first affiliate product!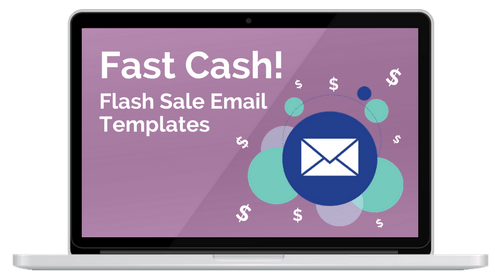 Bonus #3. Fast Cash Flash Sale Email Templates ($497 Value)

---
Already got a list of fans? That's awesome, because this simple email template is going to show you how to turn your new product or affiliate product into fast cash with a proper flash sale.
It's likely you will probably soon pay for the entire course with this one product alone. These are pre-made templates, where all you have to do is plug in your name, a few minor details, and hit send to start rolling in the dough.
It's great for brand new bloggers too, for later on down the road.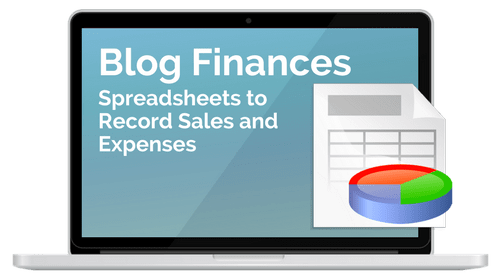 Bonus #4. Blog Financials and Spreadsheets ($297 Value)

---
Keeping up with your blog's progress and money can be a pain in the a$$.
That's why we have given you the exact same spreadsheets we use to organize and keep track of of blog's finances. Remember that saying, "If you treat it like a business, it will pay you like a business?" It's true.
These spreadsheets are awesomesauce and a huge timesaver for any blogger.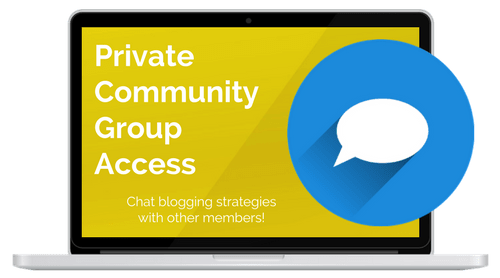 Bonus #4. Private Community Support for BOTH Courses ($47/m Value)

---
Just like with all of our other courses, these courses also come with access to a private community support group where you can chat with other members about what's working, what's not, other blogging strategies, and what steps you need to take next!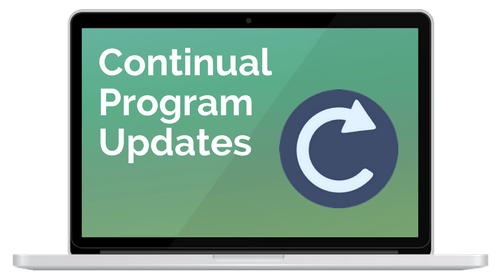 Bonus #5. Lifetime Access and Updates
---
As we all know, the world of blogging is changing constantly. It seems like every month a major change happens changes everything and we'll be there for you when that happens.
We will update the course as needed and help you overcome any unforeseen hurdles that may arise (as they will!).
"These courses give you everything you need in order to succeed and make money blogging. Thanks Alex and Lauren for what you're doing... you make everything so easy to understand in this complicated blogging world!"

- Kari, Six-Figure Blogger Student
Courses Included with Purchase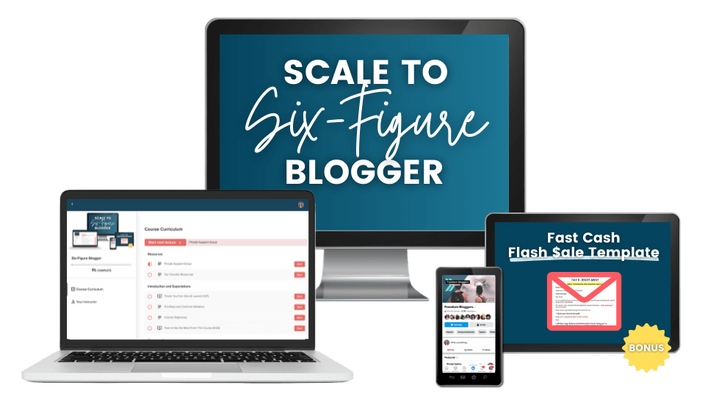 Six-Figure Blogger
Learn how to earn six figures from your blog with digital products and services - without scammy selling tactics or needing to be an "expert."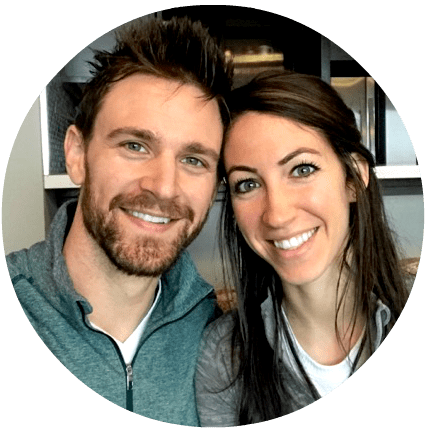 $297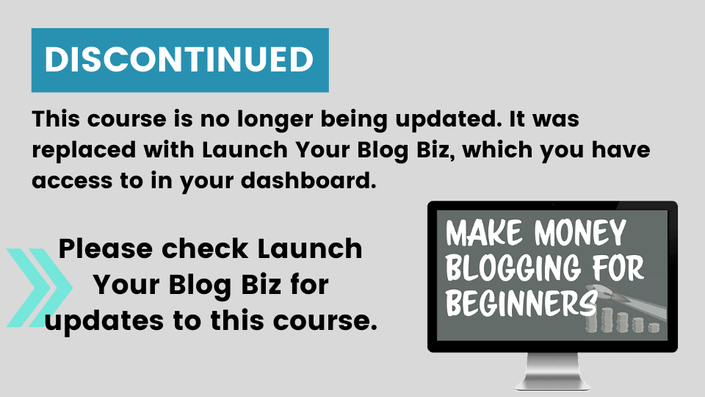 Make Money Blogging for Beginners
The Solution for Taking Your Blog From $0 to $1,000/Month with Free Traffic, Affiliate Marketing, and Other Awesomesauce Strategies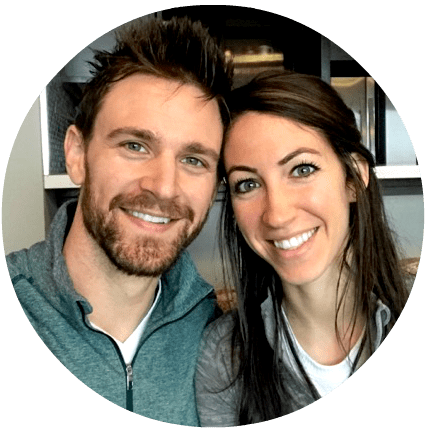 $197
Original Price: $494
Who is Blog Monetization Bundle for?
---
Beginner Bloggers
Newbie bloggers, this is your jam.
You have purchased a domain name and hosting, have built a blog (hopefully using our Launch Your Blog Course), and are ready to start building an income from your blog.
Intermediate Bloggers Not Making Money
Are you six months or more into blogging and...
Have ads on your blog and are not making any money from them?
Tried linking random affiliate products and are only make a couple dollars every day?
Want to pull you hair out because it seems like some bloggers flourish so easily? (especially those who blog about blogging)?
This course is also for you.
In fact, the funnel tactics will likely take you to $1,000 per month and beyond quickly if you already have an established fan base.
Plus, the traffic coaching could lead to additional visitors if you've only tried Instagram or Facebook so far.
Busy People
We've taught everyone from busy young professionals to moms with 3 kids how to make $1,000 a month.
We like busy people because we too are busy. You will still be able to make this work for you even if you're up to your eyeballs in to-do's.
Busy people > Lazy people in our opinion!
Those Interested in Affiliate Marketing
Much of what is in this course is based on affiliate marketing, so be ready for that. The best parts of affiliate marketing for those who don't know are:
You don't have to create a product.
The products are already established, selling well, and people like them.
The product creator will be taking care of the customers after purchase, so there is nothing left to worry about after the product is sold.
Affiliate marketing will teach you much of what you need to know about making sales online.
So, be ready to rock affiliate marketing like a pro!
Those Interested in Creating Their Own Products
If you ARE interested in creating your own products, even better! That is how you turn $1,000/month into $5,000, $10,000, and beyond!
Who is the Blog Monetization Bundle NOT for?
---
Those Who Have Not Started a Blog
If you have not purchased a domain name and hosting. you need to start there instead of buying this course. Please visit our post on How to Start a Successful Blog.
Those Who Have a Blog But It's Completely Blank
If you have purchased a domain name and hosting but still have a completely blank Wordpress blog with nothing on it, please check out our Launch Your Blog Course and build your blog FIRST.
Personal Blogs Not Interested in Making Any Money
Hobby bloggers, I love ya, but this is not for you. This course is about income and maximizing your blog for making money.
Lazy People Afraid of Putting in the Work
Do you like cutting corners? Do you often look for ways around the work? Are you already thinking about outsourcing certain parts of you blog?
If so, this product is not for you.
It's going to require you to roll up your sleeves and do work. But guess what, that's what it takes to be successful at anything in life! This course is no different.
Who are the bloggers that are teaching this madness??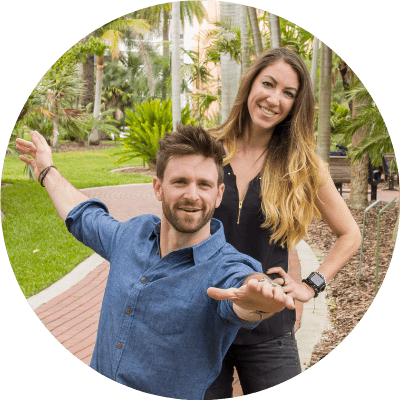 Alex Nerney & Lauren McManus
Co-Founders, Avocadu & Create and Go
Hey there, blogger! We're Alex and Lauren, and we own a health and wellness blog at avocadu.com as well as a blog called createandgo.com, where we teach people just like you how to turn your passion into a profitable business you love.
We absolutely love what we do here at Create and Go, and we've been featured on some major websites for what we do.

In less that 9 months of working online together, we turned our health and wellness blog into a passive income machine that generates over $20,000 per month in blogging income.
We were able to quit our full-time jobs working as a personal trainer (Alex) and a CPA (Lauren) to pursue our dreams of being able to work from home and we now make over $100,000/month with our two blogs. We have even been able to travel to countries like Nicaragua, Peru, Bali, Portugal, and more - all while working on our blogs!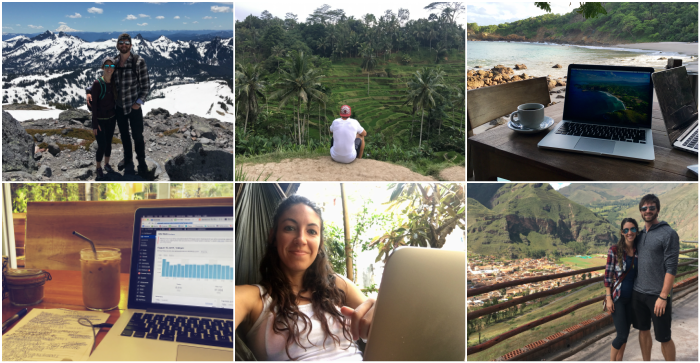 Don't get us wrong... It takes hard work and dedication, but you'll find that working on something you LOVE and that has the ability to majorly impact your future is a million times more rewarding and fun than a job that you hate. Now, it's your turn to experience the fun and success that we've been able to achieve!
Let's do this thing together!

Frequently Asked Questions
What if I haven't started my blog yet?
If you haven't started your blog yet, this course will not be ideal for you. Our Launch Your Blog Course is dedicated to teaching you how to start, build, and launch your blog and we recommend starting their first. You can always hop into this monetization bundle afterward when you are ready! :)
Do you offer any refunds or guarantees?
Absolutely. If you go through the course, implement our strategies, and don't see any results, then you can email us within 60 days for a full refund. All we ask is that you provide evidence that you've put these methods into place and can show that they have not worked for you. All refunds are subject to the terms of the full refund policy linked on the footer of this page.
How quickly will I get results?
That depends on a variety of factors, including how much time you put into the strategies each day, how many articles you currently have, how many you are publishing each week, what methods of traffic you are working on, and others. There is no magic number here, but if you put in serious work and dedication, you should see results within just a couple of months!
What if I am unhappy with the course?
We would never want you to be unhappy! If you are unsatisfied with your purchase, contact us in the first 30 days and we will give you a full refund.
Will this bundle help me get traffic to my blog?
Absolutely! This course is both on driving organic (free) traffic from Pinterest, Google, and YouTube as well as making money - the two things every newbie needs for their growing blog!
Will I need to purchase anything else once I buy the course?
At some point, you will need to purchase software to host your sales pages, but that will be further into the monetization process in Six-Figure Blogger. You will need an email marketing service, although we offer a free recommendation as well as a paid. We do our best to give you free options whenever possible!
Can I find this information for free online?
No chance! Sure, you might be able to hunt down some of it if you spend what equates to hundreds of hours researching, reading posts, and experimenting like we did, but that's an atrocious waste of your time. Even then, most of the email marketing tips and traffic tips pale in comparison to what we teach here. You can only expect surface level information to teach you so much. These strategies come from the thousands of hours that we have put into growing our blogs over the last two years.
What format is the content delivered in?
Video! You will have video instruction and step-by-step walkthroughs of every major topic. This is by far the best way to learn the material we provide - by us demonstrating exactly what we have done to have so much success.
Is there a time limit to complete the courses? How long do I have access?
There is no time limit to going through the content in our courses. They are a completely go-at-your-own-pace thing! Your access to the courses also doesn't expire. The blogging world is an ever-evolving and changing monster that you have to stay on top of if you want to win! This is why you get lifetime access to this content, including videos, worksheets, and any future updates to the courses!
Do you ever update the course?
Absolutely. We will update everything as needed. We will pay close attention to the information and it's relevancy to our newbie bloggers.
Is my credit card secure?
Credit card security is extremely important to us. That's why we've partnered with Stripe to handle the billing and provide a secure socket layer, 128-bit encryption. Frankly, your credit card data is safer making an online purchase through our secure site than it is using it to pay for gas or buy food at a restaurant. So feel comfortable knowing your transaction is 100% completely protected from fraud. You also have the option to checkout with PayPal as well!
How do I get started?
Scroll down, click the big red button, checkout, and you'll get immediate access to the course!
Courses Included with Purchase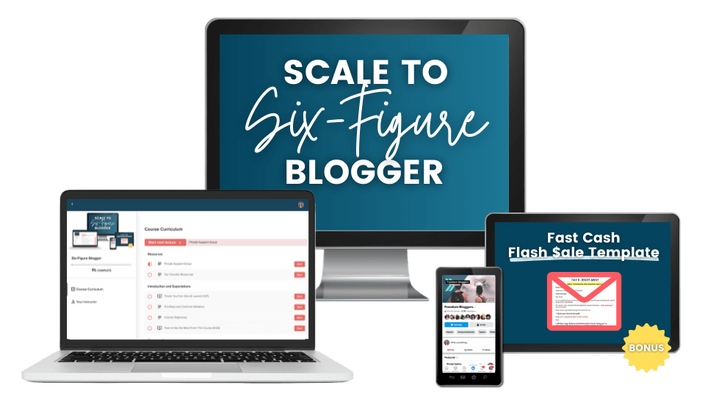 Six-Figure Blogger
Learn how to earn six figures from your blog with digital products and services - without scammy selling tactics or needing to be an "expert."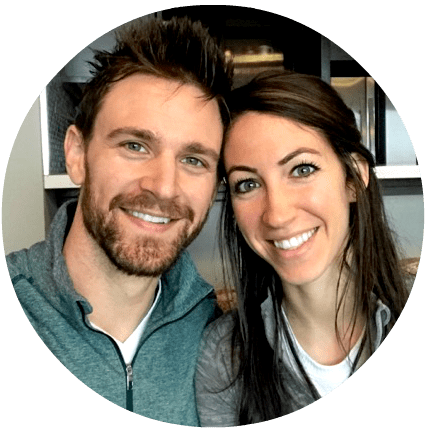 $297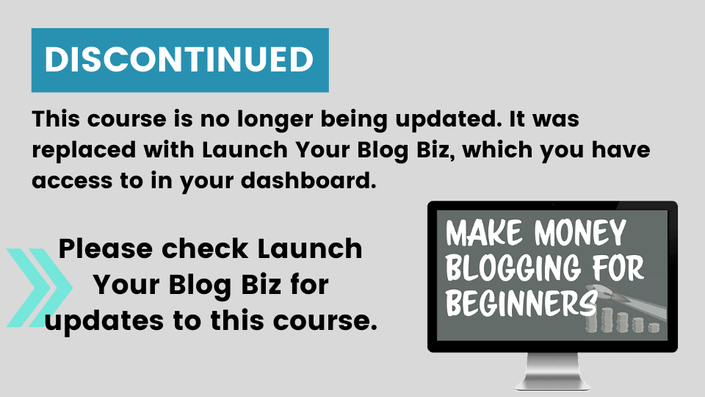 Make Money Blogging for Beginners
The Solution for Taking Your Blog From $0 to $1,000/Month with Free Traffic, Affiliate Marketing, and Other Awesomesauce Strategies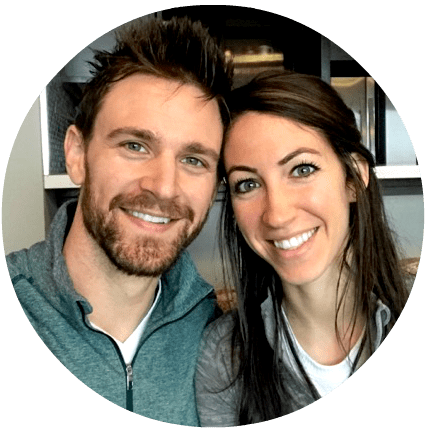 $197
Original Price: $494