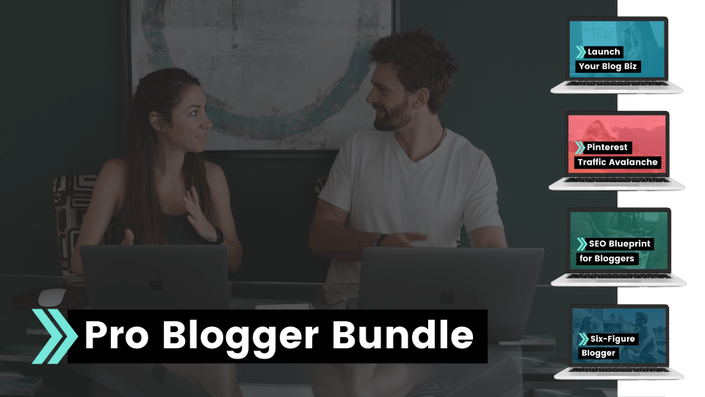 Pro Blogger Bundle
The ultimate discounted bundle of our 4 best-selling courses on how to start a blog business and earn six figures from home!
Our First Blog Failed, But We Still Made $103,457.98 in Our First Year
Alex and I didn't start off with any prior experience or anything that would give us an ace up our sleeve. I was a CPA and he was a personal trainer.
When we started our first health and fitness blog, we actually thought we could get drunk off mimosas and put pictures of our food on the internet to make money.
(No joke. Evidence below.)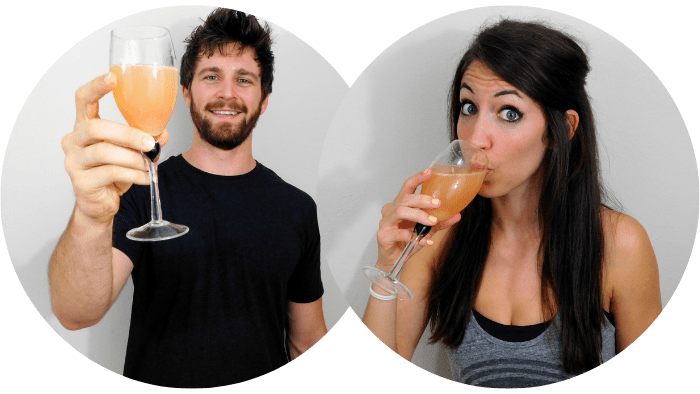 Hats off to all you influencers that have that one figured out! 🥂
We're pretty average people that led pretty average lives before we started a blog.
I was a recently licensed CPA and tax accountant at a small firm in Dallas. Alex was a personal trainer advising people to please-for-the-love-of-god-stop-eating-so-much.
Like many people, we had thoughts of escaping our 9-5 and traveling the world before we were old enough to retire.
We were tired of limited vacation time and chasing weekends that never lasted long enough.
We were tired of capped salaries to build someone else's dreams.
So, we started a blog.
We worked nights and weekends and poured our hearts and souls into it. We had so many great ideas and we truly wanted to help people.
But it wasn't enough.
We had absolutely NO idea what we were doing, and our first blog BOMBED HARD because of it.
And it wasn't just the wasted time... We spent a LOT of money on software and other things that we didn't need at the time.
Courses on courses. Webinars on webinars. Launches on launching. The things everyone was else was saying would lead us to our online money tree.
But a few months later, we learned that none of it was truly a waste.
Because it was through these experiences, early failures, and trial and error that we finally found our path.

We Started a Second Blog...
Despite the failures, we were REALLY enjoying working on our blog and learning so much from it. We weren't giving up.
We stayed in our lane with health and wellness, because this was the only thing we knew. And we started a completely new blog called Avocadu.
After months of blogging with zeros across the board, we had a breakthrough.
We made our first $172.82 with our blog!
It doesn't sound like much, but it meant the world to us.
It meant that we could do this. We proved it was possible.
It was gas money. Grocery money. Money to pay for some of our blogging expenses

We just needed to learn how to make MORE!
And that we did...
You see, the setup is everything.
If you build the right foundation and you focus on the right things, you'll save yourself months of zeroes and question marks.
From here, we grew and grew.
We earned $103,456.98 in our first year, but that was just the beginning.

Now, We Have Two Six-Figure Blogs and Earn Over $75,000 Every Month
Here are a couple of screenshots of a portion of recent earnings as of July 2021: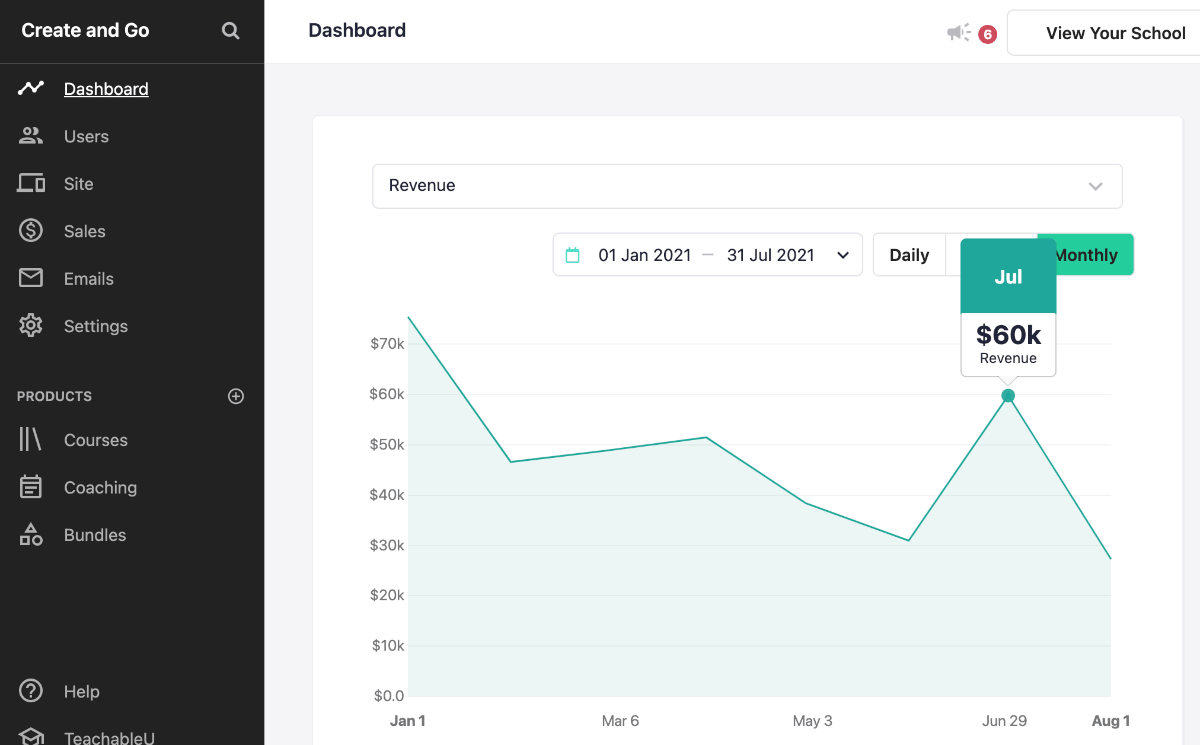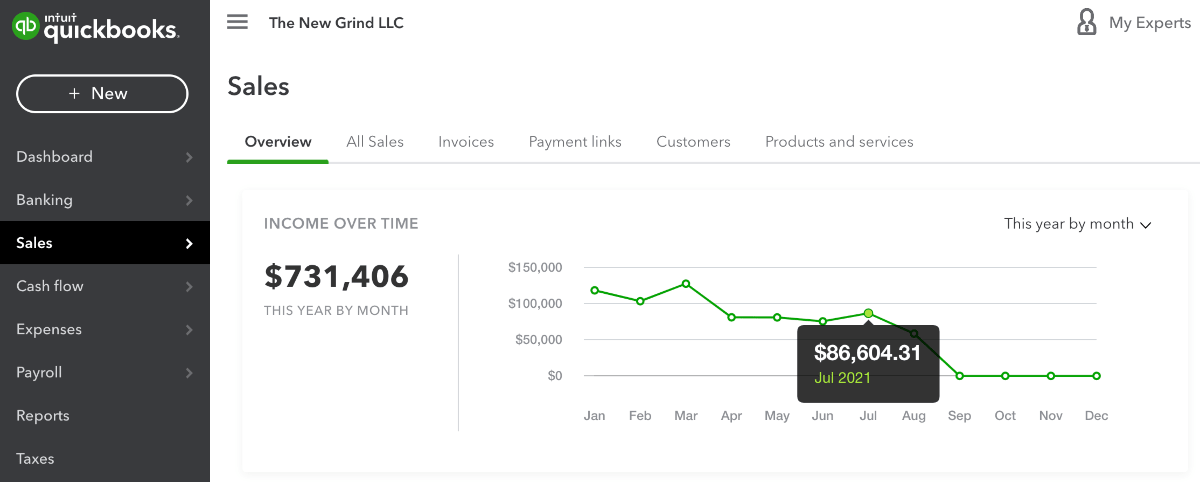 But more important than the money is what this business has given back to us. The lifestyle that it has provided for us...
Since we started our first blog, Alex and I have been able to quit our full-time jobs and travel the world -- all while working and earning a full-time income.
We've been all over the world from the beaches of Bali to the deserts of Peru...

Our blogging income has provided us with time and financial freedom beyond what we believed was ever possible for us.
Believe me, I never thought any of this was possible when I was sitting in my office in my accounting firm in Dallas.
We had limiting beliefs just like you.

And then we took the next step...
Learning this path to success has allowed us to help thousands of others start a money-making blog...
The right way.
Kari is Finally "Making Money in Her Sleep"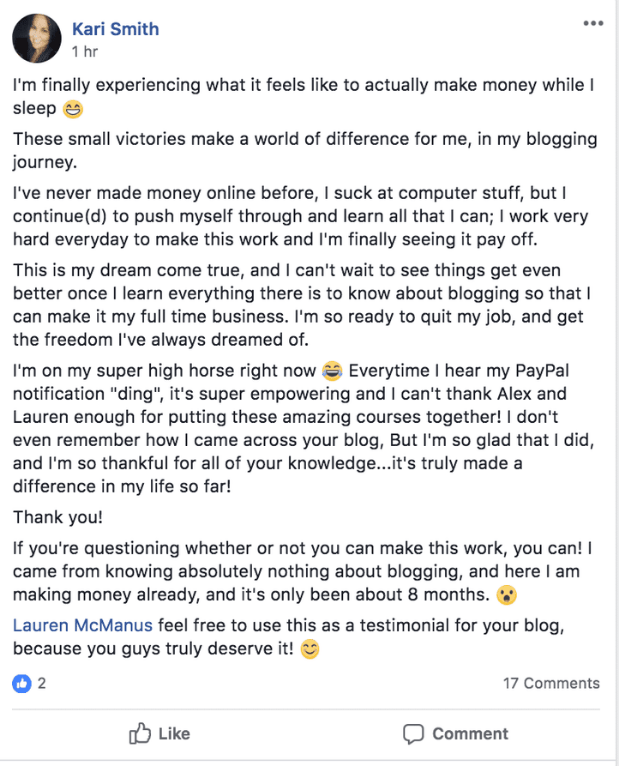 "I'm finally experiencing what it feels like to actually make money while you sleep.
This is my dream come true, and I can't wait to see things get even better once I learn everything there is to know about blogging so that I can make it my full-time business.
If you're questioning whether or not you can make this work, you can! I came from knowing absolutely nothing about blogging, and here I am making money already, and it's only been about 8 months!"
- Kari, Launch Your Blog Biz Student
The Pro Blogger Bundle is a Discounted Bundle of All 4 of Our Best-Selling Blogging Courses

Courses Included with Purchase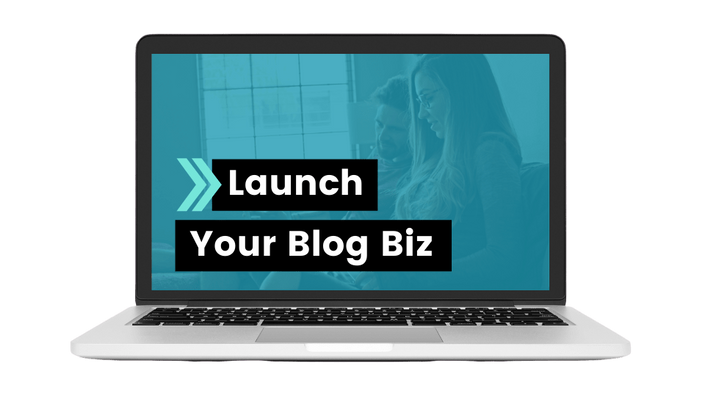 Launch Your Blog Biz
Your solution to launch and grow a blog to $1,000/month – without tech wizardry or scammy sales tactics!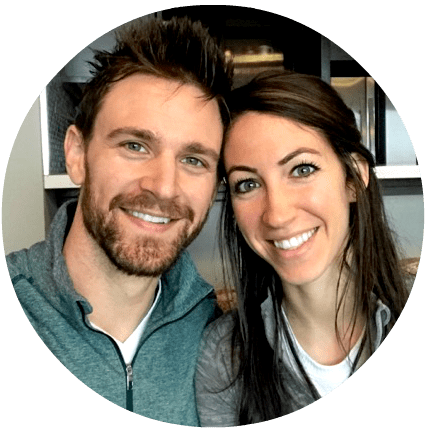 $297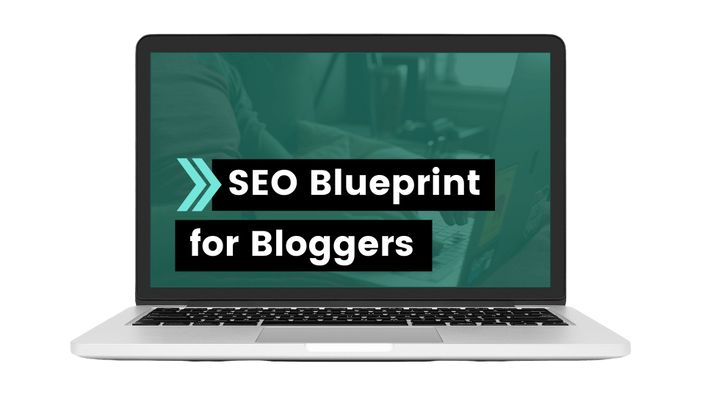 SEO Blueprint for Bloggers
The ultimate blueprint for turning your blog into an SEO traffic machine that brings in thousands of consistent, reliable, and profitable visitors!
$197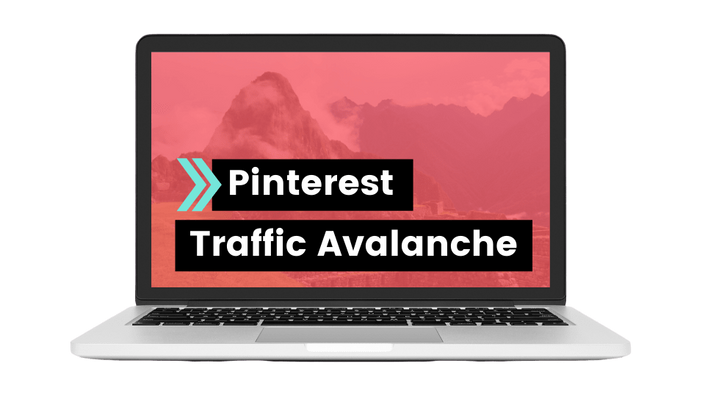 Pinterest Traffic Avalanche
The solution for beginner bloggers to drive thousands of FREE monthly visitors to your blog (no ads required) - on autopilot!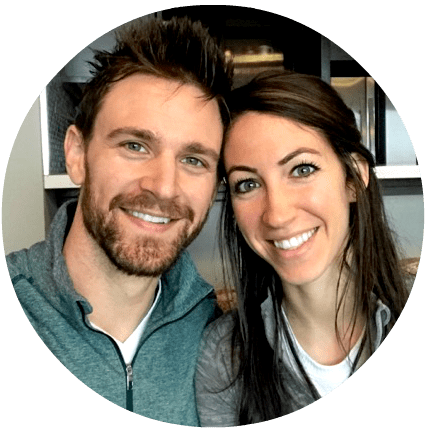 $197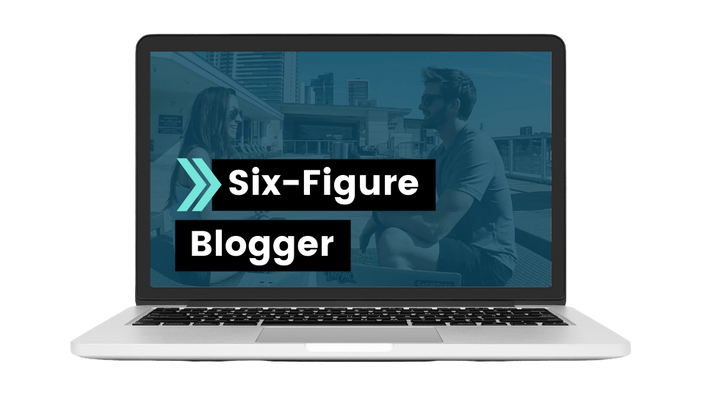 Six-Figure Blogger
Learn how to earn six figures from your blog with digital products and services - without scammy selling tactics or needing to be an "expert."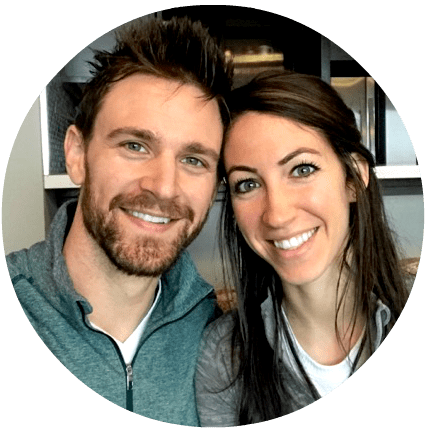 $297
Original Price: $988
Launch Your Blog Biz
---
Your solution to launch and grow a blog to $1,000/month – without tech wizardry or scammy sales tactics!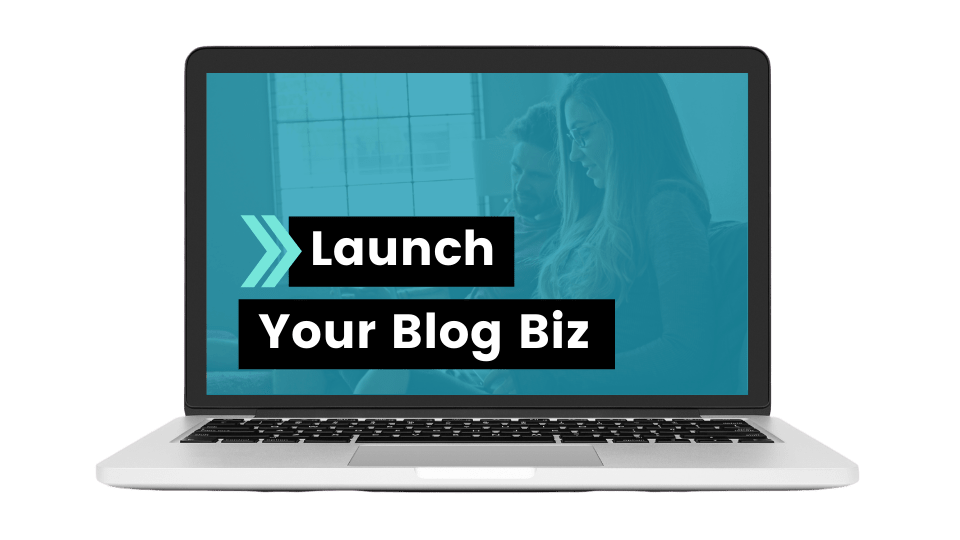 With this course, you will learn how to...

Set Up and Launch Your First Blog
In the first few modules, you will learn how to set your blog up with WordPress. This part can get technical if you aren't careful, but we'll show you the ropes and help you stay focused on what's the most important. Everything from menus, categories, plugins, images, and more.

Design Your Blog with a Customizable Theme
This is the part where most people get really hung up in the beginning. Website design does require coding, so it's important to use a theme that allows you sufficient customization without needing to touch the coding yourself. We'll give you some solid recs so you can design your blog the way that you like it in as little time as possible.

Create Great Content That Stands Out
Before I started blogging, the extent of my writing skills was B+ research papers in college. There are all sorts of different types of content out there now – articles, videos, photos, and more. We'll help you figure out what path is right for you and make sure you're always creating content that attracts the right people.

Get Tons of Visitors to Your Blog
Getting people to actually read, listen, and/or watch your content is often the most difficult part. There's nothing more disappointing than creating great content only to have it never see the light of day. In our traffic modules, we'll take a deeper dive into multiple platforms, including Pinterest, YouTube, Google, and even Podcasting!



Build an Audience and Email List of Raving Fans
Your email list is going to be the lifeblood of your business. It connects everything that you do. It's how you will build relationships with the people that you are helping and how you will offer them solutions (and earn money). It's also how you get your new content in front of people again and again – with little to no effort on your part.
Earn Your First $1,000 of Income
Money money money! That's why you're really here, right? We have several monetization modules on everything from how to earn a little bit of income (ads and sponsored posts) to earning your first $1,000 with your blog (mainly through affiliate marketing).
And so much more!
"I Just Started Making Money with My Blog for the First Time"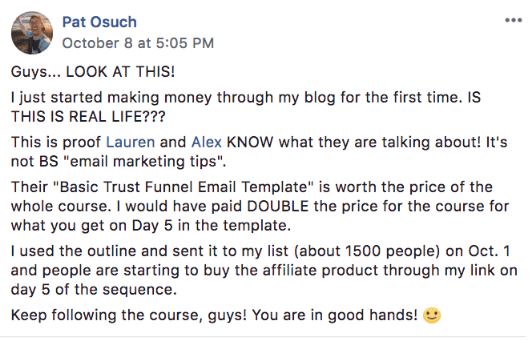 "I just started making money through my blog for the first time.
IS THIS REAL LIFE???
This is proof Lauren and Alex KNOW what they are talking about!
Their "Basic Trust Funnel Email Template" is worth the price of the whole course. I would have paid DOUBLE the price for the course for what you get on Day 5 in the template."
- Pat, Create and Go Student
SEO Blueprint for Bloggers
---
The ultimate blueprint for turning your blog into an SEO traffic machine that brings in thousands of consistent, reliable, and profitable visitors!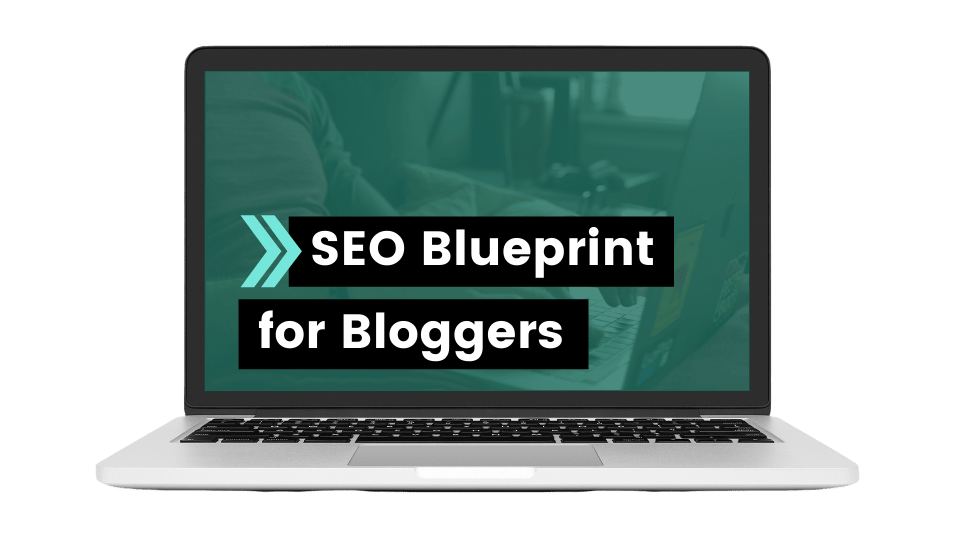 With this course, you will learn how to...

Build Your SEO Foundation
Bust through all of the overwhelm and misinformation out there and build a solid SEO foundation that will pay off for years to come. You'll learn how to choose a great niche that will make you money, set the right expectations, and feel confident that you are taking the right approach from the very beginning.

Set Up and Optimize Your Website
Are your pages set up properly? Categorized? Headings, keywords, content, etc. etc. Learn what website and content setup you need to focus on and what's actually important and helpful for SEO.

Take a Deep Dive Into Keywords
There is a bit of an art to selecting the right keywords, but it doesn't have to be so hard. We're breaking down keywords so that you can better understand what you should focus on, how keywords generate income, and where to find the best ones.

Go the Extra Mile with Ahrefs
Ahrefs is without a doubt one of the most powerful SEO tools on the market right now. But it's also expensive AF for new bloggers on a budget. BUT... Our training specifically focuses on teaching you exactly how to use Ahrefs and get everything that you need within their 7-day trial for $7.

Create Top-Notch Blog Content That Ranks
It can be pretty difficult sometimes to identify what makes others in your niche successful while you remain stagnant. We're going to teach you how to figure out what they're doing right, so that you can create the best content out there -- that ranks, converts into more money, and that your readers will go crazy for!

Improve Your Foundation and Scale
We're going to teach you how you can continue to optimize your blog and your existing content to make sure it's as awesome as it can possibly be! You will learn exactly how to audit your content and your site and figure out exactly how to take your results from good to GREAT!

How to Use Outreach
We'll break down exactly how to find the right people to reach out to, how to collaborate with them in a mutually beneficial way, and how to build successful connections with other blogs -- all while growing your business in the process.

Get in the Right SEO Mindset
Understanding SEO all the way through to its core and putting yourself in the right mindset for success is KEY. It also takes time, and knowing that not every single thing you touch will turn to gold is so important. We want you to be as prepared as possible for what this journey is going to take!

Scale Your SEO Efforts
How do you keep the momentum going and ensure that you're STILL moving in the right direction? In this module, we're going to show you exactly what to look for in writers and other employees and how to create a system for building and scaling your business in a way that sets no limits!
And so much more!
Pinterest Traffic Avalanche
---
The solution for beginner bloggers to drive thousands of FREE monthly visitors to your blog (no ads required) - on autopilot!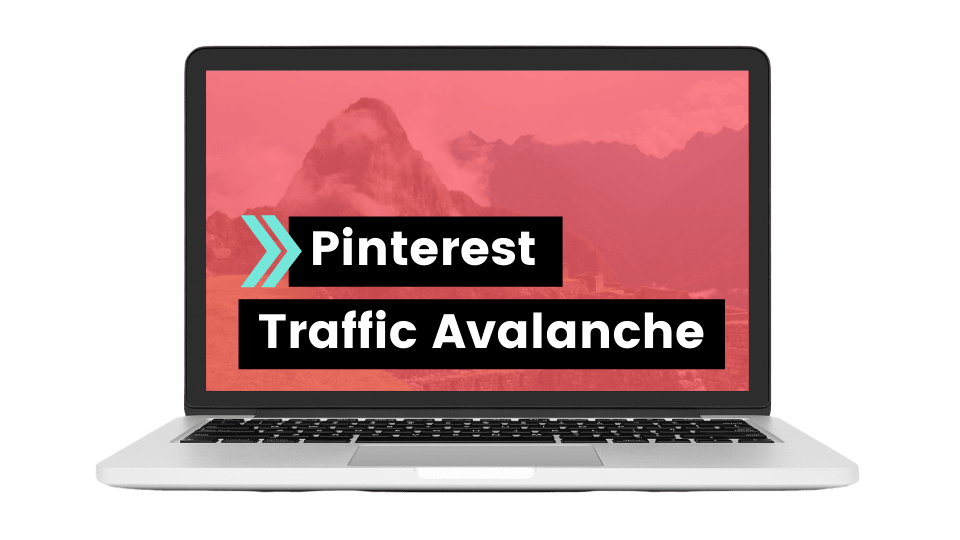 With this course, you will learn how to...

Build a Successful Pinterest SEO Strategy
Pinterest is a search engine and understanding SEO (search engine optimization) will help you increase your reach in Pinterest search and ultimately your visibility on the platform. We'll show you how to optimize your profile, your content, and more.

Create Viral Content that Stands Out
It's not just about having visually stimulating content... It's about designing that content in a way that stimulates engagement and clicks to your website. This is how you will grow and how you will translate Pinterest impressions into views.

Schedule Content and Automate Traffic
Keeping up to date with posting content everywhere is a drag. We'll share our recommended pinning strategies and show you how you can quickly automate your Pinterest traffic so you can spend more time on other areas of your business.

Use Collaboration Tools for Faster Growth
Driving any amount of traffic can be tough when you're just starting out with no followers. The beautiful thing about Pinterest is that you don't have to have tons of initial followers to start driving traffic to your blog. We'll show you how you can use collaboration tools to boost your reach.

Track Progress and Analytics
We'll show you what tools and metrics to pay attention to in order to track your progress and growth, so you always know what's working and what's not! This will help you continue to change and improve your strategies over time.

Grow Your Email List
It's hard enough getting people to visit your blog the first time. Getting someone's email address gives you a way to reach them again and again. We'll share our best strategies for using Pinterest to quickly grow your email list.
And so much more!
Six-Figure Blogger
---
Learn how to earn six figures from your blog with digital products and services - without scammy selling tactics or needing to be an "expert."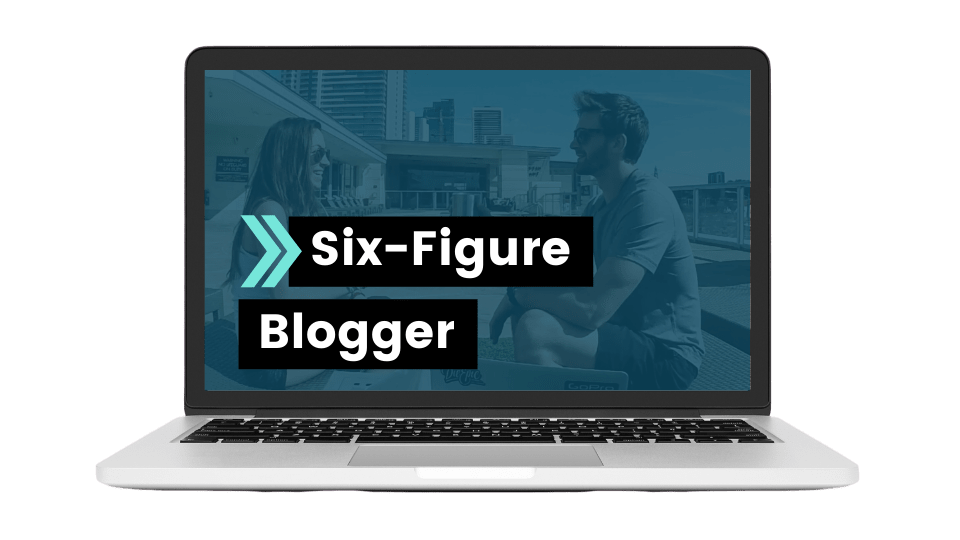 With this course, you will learn...

The Mindset of a Six-Figure Blogger

Mindset matters. Any self-help book will tell you that. In this module, we're diving into some mindset shifts that will help you prepare for what's to come. These lessons cover topics like problem-solving, becoming an "expert" in what you do, and other tips on building an actual business.

Build the Framework for Your Six-Figure Blog
In these lessons, you will learn more about the overarching strategies that are involved to take your blog to the six-figure level. These lessons really set the stage for the rest of the course and are important to keep in mind at every stage of the selling process, from creation to after the sale.

Sell High-Priced Affiliate Products
Did you know you can actually earn six figures from your blog without ever having to create or sell your own products? We also make six figures with affiliate marketing, and it makes up a large percentage of our income today. We'll show you exactly how and where to use affiliate marketing in your business to maximize your earnings.

Generate Ideas and Plan Out Your Product
Just thinking about what you might want to sell is enough to scare most people off. But it doesn't have to be that way, and it shouldn't be. In this module, we'll help you generate some ideas for your new product, gather research, and do some proper planning before you start getting to work -- ensuring that your product is a success from the start.

Create and Design Your Product or Service
Okay… you're ready! It's time to get into "product creation mode" as we call it. We're going to show you exactly how we created our eBooks and online courses. Everything from the creation of the guides and videos to the cover pages and software that we use. Everything is laid out in a step-by-step process from start to finish.

How to Sell: Create Sales Pages that Convert
The difference between a sales page that converts at 1% vs. 3% is TRIPLE the profits. These are the lessons and strategies that we learned while split-testing hundreds of thousands of visitors on our own sales pages. We're going to show you the small changes that can have major impacts on your sales.

Get the Right Visitors (Buyers) to Your Sales Pages
When you communicate in a certain way in your content and your emails, you're going to attract a more targeted audience to your sales pages. People that are super interested and ready to hit the checkout button. Creating sales-centered content will get the right people in the door.

Build Relationships With an Email Trust Funnel
This is, in our opinion, the most valuable module of them all. Learning how to communicate with your audience in a way that makes them want to communicate back is a game-changer. This email funnel template will help you launch your product and continue making sales each month.
And so much more!
You'll Also Get All Course Bonuses, Including...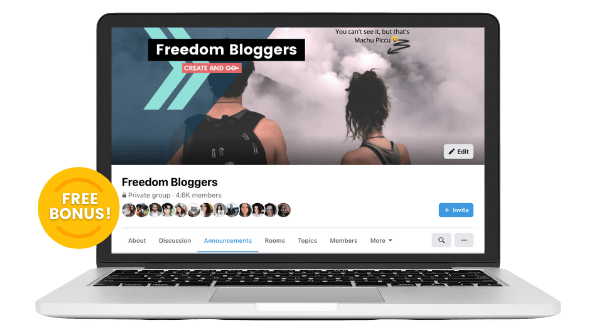 Access to Our Private Student Support Group ($47/m Value)
---
In this group, you will be able to ask us questions about the course, get updates, discuss strategies, and more. You can also chat with other members to toss around ideas, develop new strategies, and get feedback on your progress!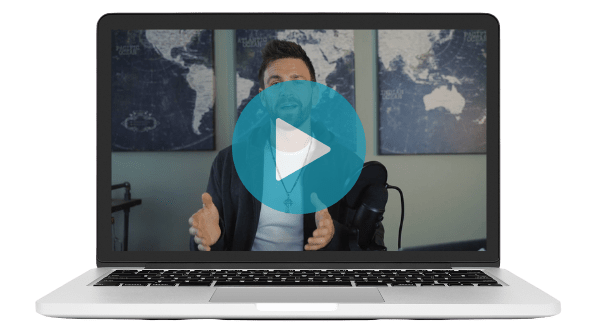 Lifetime Access and Updates to All Courses

---
The online business world is constantly changing. As algorithms change and we update our strategies, we continue to update all of our courses! You will always get access to these updates right within the courses!
Courses Included with Purchase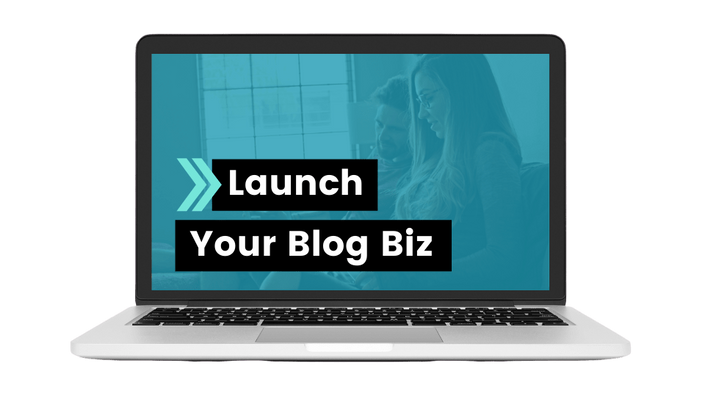 Launch Your Blog Biz
Your solution to launch and grow a blog to $1,000/month – without tech wizardry or scammy sales tactics!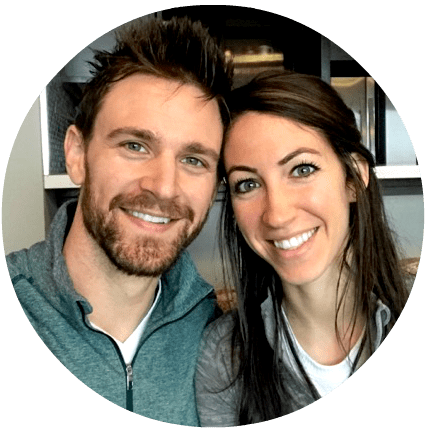 $297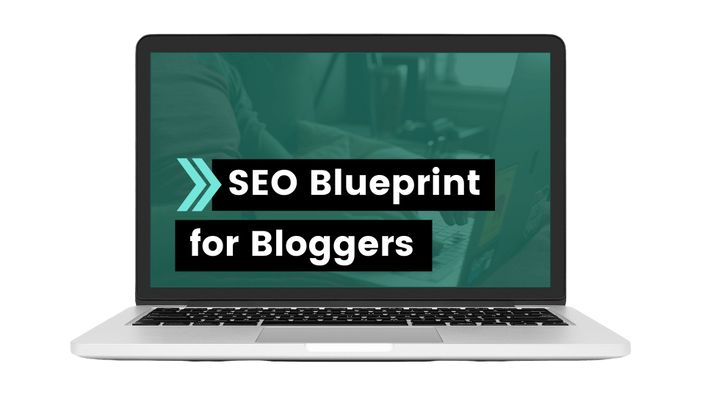 SEO Blueprint for Bloggers
The ultimate blueprint for turning your blog into an SEO traffic machine that brings in thousands of consistent, reliable, and profitable visitors!
$197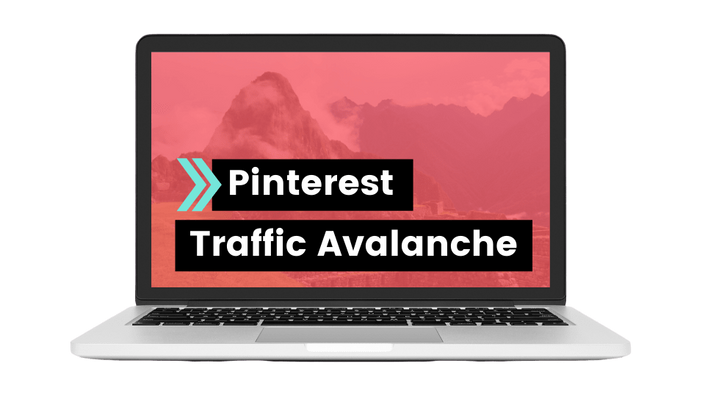 Pinterest Traffic Avalanche
The solution for beginner bloggers to drive thousands of FREE monthly visitors to your blog (no ads required) - on autopilot!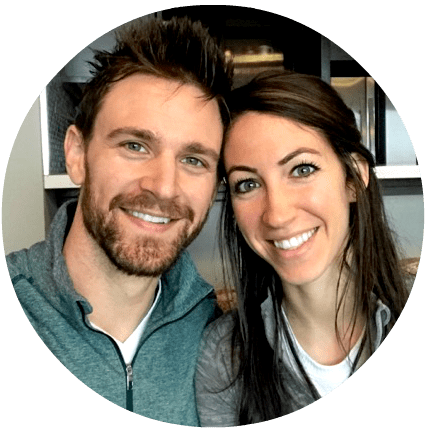 $197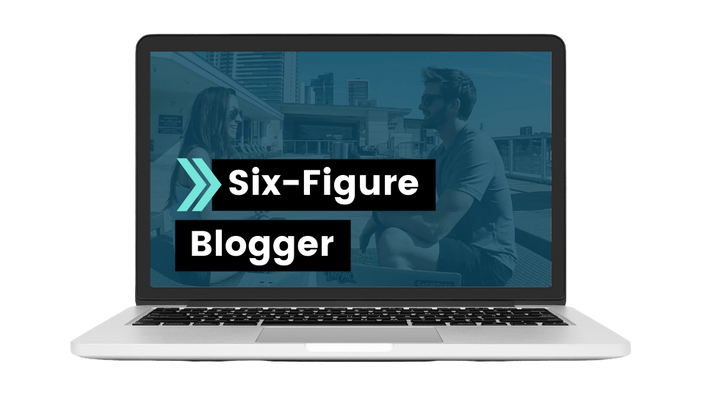 Six-Figure Blogger
Learn how to earn six figures from your blog with digital products and services - without scammy selling tactics or needing to be an "expert."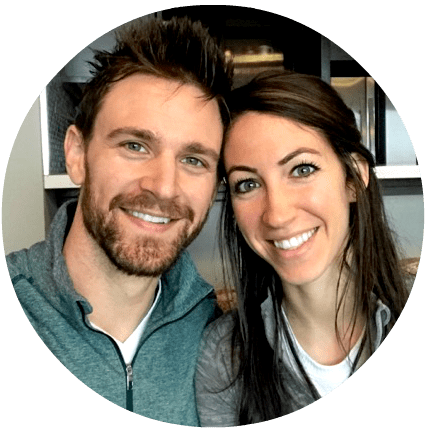 $297
Original Price: $988
"Hands Down the Best When It Comes to Making Money Blogging"

"Of all the courses I've taken (I've taken a lot), Alex and Lauren's Pro Blogger Bundle is hands down the best when it comes to making money blogging. The content they provide is easy to understand, but most importantly, it's easy to put into action and actually create... and go!"

- Stacey, Pro Blogger Bundle Student
Frequently Asked Questions
What is included in this course bundle?
This bundle contains all FOUR of our best-selling courses: Launch Your Blog Biz, SEO Blueprint for Bloggers, Pinterest Traffic Avalanche, and Six-Figure Blog Biz. This bundle of courses gives you ALL of the tools and resources that you need to start your blog, drive traffic to your blog, and monetize your blog to six figures and beyond!
What if I haven't started my blog yet?
No problem! We will walk you through the steps to selecting the best domain + hosting package to get your blog started and launched. We've got you covered!
Will I need to purchase anything else once I get the course?
The only thing you really need is a paid hosting service for your blog, if you don't have one already. We do strongly recommend a few other paid software services, but they are optional and we also provide free alternatives. When it comes time to create and sell your own product, you'll also need to spend $39-99/month to host that product, but you won't have to worry about that right away! Oh, and you need a computer! (duh)
Can I find this information for free online?
Free information is generally fragmented and/or outdated. Course creators will always keep their best secrets and strategies for their paying customers. It's how they earn a living. We are no different. This course contains all of the strategies that we wish we had access to in the beginning and everything that has worked and continues to work for us!
Is there a guarantee or refund?
Absolutely. We want you to be super happy with your purchase and feel like our courses are the right fit for you. If you are unhappy or feel that this isn't the right investment for you, you can request a refund within 30 days of purchase. Please see the refund policy linked at the bottom of this page for the full terms and conditions.
What format is the content delivered in?
Video + a few written explanations and summaries here and there. The bulk of the content is delivered through video content, which allows us to explain and demonstrate our strategies for success. There are also transcripts available for most lessons.
Is there a time limit to complete the courses? How long do I have access?
There is no time limit to completing the content in these courses. It's totally a go-at-your-own-pace thing! Your access doesn't expire, including any and all future updates, which are added regularly as software, strategies, and algorithms change.
Do you have another question that we didn't answer?
You can send us a message through the chat box at the bottom corner of this page OR you can send us an email to
[email protected]
and we'll do our best to help you figure out if this course is right for you!
Who Are the Bloggers That Are Teaching This Madness??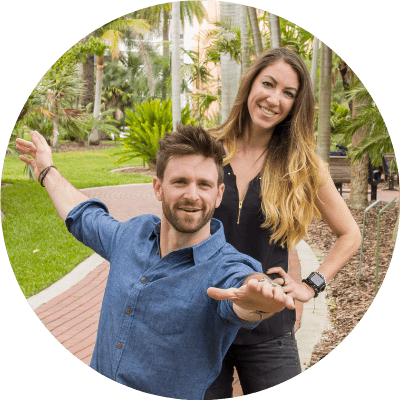 Alex Nerney & Lauren McManus
Co-Founders, Avocadu & Create and Go
Hey there, blogger! We're Alex and Lauren, and we own a health and wellness blog at avocadu.com as well as a blog called createandgo.com, where we teach people just like you how to turn your passion into a profitable business you love.
We absolutely love what we do here at Create and Go, and we've been featured on some major websites for what we do.

In less that 9 months of working online together, we turned our health and wellness blog into a passive income machine that generates over $20,000 per month in blogging income.
We were able to quit our full-time jobs working as a personal trainer (Alex) and a CPA (Lauren) to pursue our dreams of being able to work from home and we now make over $75,000/month with our two blogs.
We have even been able to travel to countries like Nicaragua, Peru, Costa Rica, Portugal, and more - all while working on our blogs!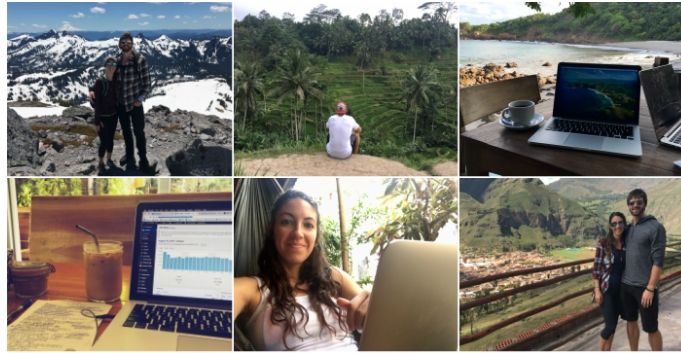 Don't get us wrong... It takes hard work and dedication, but you'll find that working on something you LOVE and that has the ability to majorly impact your future is a million times more rewarding and fun than a job that you hate.
Now, it's your turn to experience the fun and success that we've been able to achieve!
Let's do this thing together!